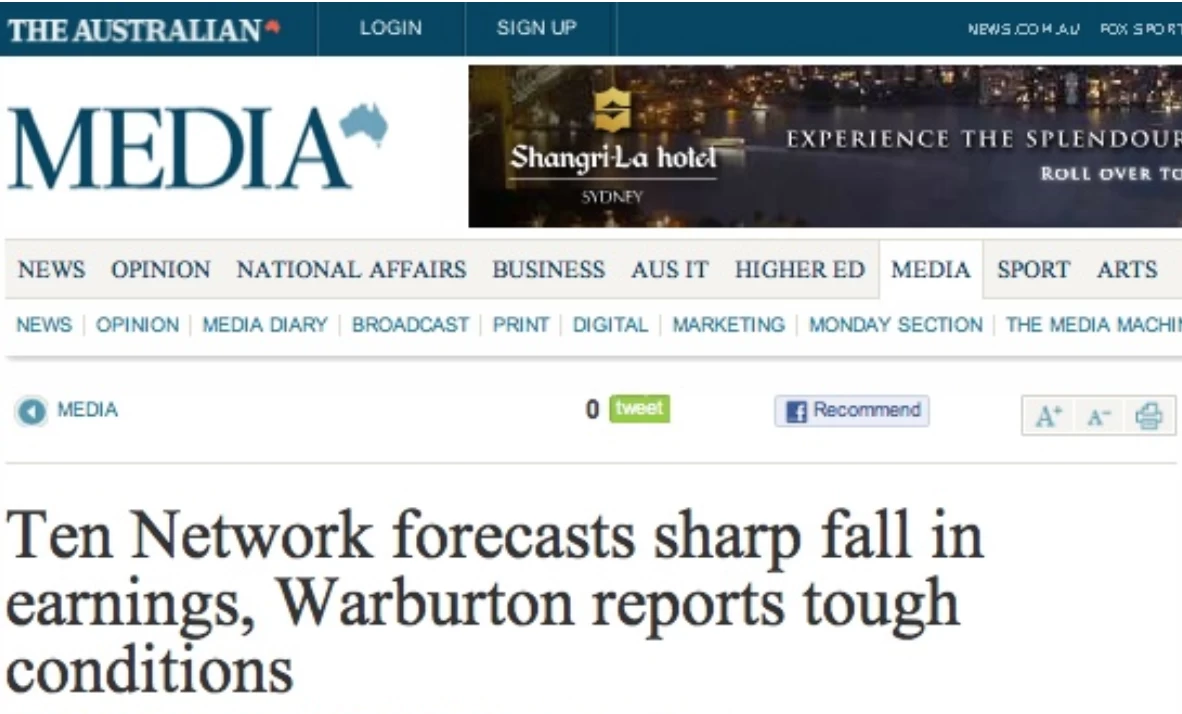 Recently John Steedman, Chairman CEO of WPP Group M Asia Pacific, said at the AANA Congress that "a conservative approach from advertisers has created the shortest advertising market he has seen in a long time".
So while the cost penalties for short-term bookings are well documented, media reports of softer markets confound, confuse and frustrate the marketer that plays by the rules. While book your TV early to avoid disappointment remains the catch cry of the vast majority of media agencies wherever you turn there seem to be discounts on offer.

So is this the truth or 'media fuelled' fallacy?
 
Well there is no quick answer. Late commitment can work for some marketers but severely penalise others. It depends very much on what you are trying to achieve and against whom.
The savings when booking early
It is universally accepted that the 'ideal' booking window is around thirteen weeks prior to the on air date and that as time shortens, so the premium in cost increases on an almost exponential basis.
Certainly, the pundits agree that a cost premium on CPM of 55-60% is very much the norm in the last week or two prior to activity.

 But reports of softer markets invariably imply that the best deals are being done now and that those with money still to spend are reaping the rewards of late commitment.
It depends on your audience
The more mass your audience the less defined your parameters of placement the greater potential you have to make the short term work. 

But in this age of fragmentation, segmentation and accountability, strategies with this level of flexibility are fewer and farther between.
With growing emphasis on 'quality of engagement' the importance of being in the right places is key. The more specific a target audience becomes then the smaller the total number of people who will fall into that target. Exacerbating this is that these tightly defined audiences tend to be over-represented in the most popular (highest rating) programs.
Choice of media properties
Famously, years ago one industry sales icon was heard to remark: "We're in the business of selling s**t airtime, the good stuff sells itself!"
It is hard to believe that premium price inventory remains unsold. If the networks still have it, it is by design and destined to meet the inevitable late requests of a small group of favoured clients.
So in a soft market your average client stands perhaps an even chance of the odd premium spot if they give the network in question a decent slug of the money.
The skill of your media agency


If your media agency has bought ahead of time, they should be monitoring the market and pushing harder as it softens for additional value. 

If you have programming that is under-performing against expectation your buyer should be moving stuff around and compensating for any loss in value.
What remains questionable is whether perennially 'understaffed' media agencies are consistently doing this for their clients. Some have a habit of putting a campaign to bed and moving on to the next.
The secret of buying better


At TrinityP3, we have vast experience in this area and can examine and evaluate the current process in the context of industry best practice or assist in developing a buying process that works to provide the best possible value to meet the strategic requirements.
Want more articles like this? Subscribe to our newsletter: