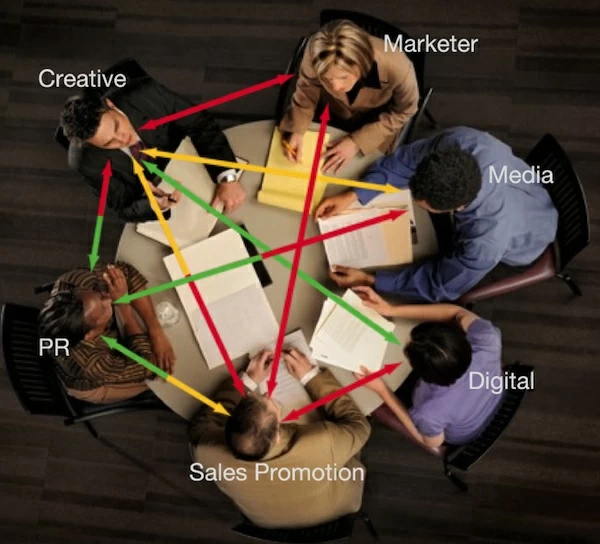 This post is by Darren Woolley, Founder of TrinityP3. With his background as analytical scientist and creative problem solver, Darren brings unique insights and learnings to the marketing process. He is considered a global thought leader on agency remuneration, search and selection and relationship optimisation.
The Christmas decorations are put away for another year, the Sales negotiated and the leftovers either eaten or thrown out and the New Year's Day hangover is a fading memory. Time to get back to work as there is no better time to get some work done than the quiet before the storm when the year gets going.
But there are some disciplines that you can apply to this time of year that will set you up for a more successful year ahead. While it is tempting to rush straight back into that 'to-do list' you left on your desk just prior to the holidays, an ultimately more productive strategy is to use this time to prepare and plan for the year ahead.
Here are seven New Year disciplines for any marketer who is managing a roster of agencies.
1. Reconcile the schedule of work to date
It does not matter if you are starting a new year of work, or mid way through a financial year, or even a quarter or three quarters, it is worthwhile taking the time to review where you are to date against your marketing plan and the schedule of work to date.
This includes looking at what has been produced, the resources required and the associated costs. Ideally you would look at this both internally and externally as increasingly marketers are managing more resources and capabilities within the organisation.
Look for where projects or tasks were incredibly time consuming or protracted, or where budgets have blown out or outputs were under delivered. This is where you will be able to identify the opportunities for improvement going forward and the greatest opportunity for increased effectiveness and improved efficiency.
2. Review the scope or schedule of work for the remainder of the year
Only once you have reviewed where you currently stand in regards to your marketing plan and schedule of work can you start to look at the future requirements to complete the planning period. This is particularly important if you have a planning process approaching for the coming year.
In the media space, look for where your media investment stands against any contracted or agreed spend levels with the media owners. It is better to make plans to either adjust spend to meet these undertakings or inform and negotiate early if it looks like you will fall short.
For your digital investment, look to the level of investment and review this against performance to date. Is this under performing or over performing and look to adjust the coming investment accordingly.
Also look for the spend levels by channels to see where shifts have occurred year on year as this informs you of any overall trends or shifts in investment. Overall you are looking to ensure your budget is appropriately apportioned to your marketing plan, objectives and expectations.
3. Review results and metrics against investment to date
Obviously an important part of determining your current situation is reviewing the delivery of results to date. Are you on track against your annual goals? And how are you performing against year on year results? Which channels or projects are delivering and where are there shortfalls?

Rather than hoping that 'things will come good', review and identify the areas where you are currently under performing and explore reasons why and devise and consider changes in strategy and tactics that could be implemented to address these issues.
Of course it could be that they are not required, but it is difficult to assess without having an alternative to compare and contrast. Taking the time and applying the discipline of evaluation and review means you are better positioned to make the appropriate changes if and when required.
4. Review proposed investment against projected results
Having identified issues and under performance, the next opportunity is to review the marketing plan and adjust the level and mix of investment against the channels and activities. Of course, this is an on-going process, but at this time of year there is an opportunity to take a more holistic review.
It is an opportunity to minimise the investment in those activities that are not performing and to increase investment against those activities and channels with proven performance.
There is also an opportunity to create an innovation fund within the budget for those activities that test the market. The 70 / 20 / 10 approach allows for 70% of the overall budget for the marketing plan implementation, 10% for innovation through test and learn projects and the 20% for amplifying those successful innovations.
5. Review the current agency contracts
It is interesting how often we find that marketers will often have agencies and suppliers providing services without the security of a valid and current contract. Or if there is a contract in place, it is often forgotten or out of date and requires significant review to make it relevant to the relationship it covers.
It is an ideal time to find those contracts and review them to ensure they are current, valid and relevant. Do they need renewing? Or do they need updating or revising to meet changing requirements? It is a good idea to not only review the contracts, but also make sure that the agency and your team are aware of the fundamental requirements of both parties under the terms of the agreement.
And if you cannot find a current, valid contract for one or more of your agencies or suppliers? Then it is time to engage with either procurement or your legal advisors to commence the process of putting an agreement in place to protect both the marketer, the company and the agency.
6. Review agency roster against requirements and spend
Once you have the marketing plan requirements finalised, it is worthwhile reviewing the resource you need to deliver these. There are increasing options available to marketers, either through technology or innovation to allow greater management of the marketing plan implementation.
It is also important to not only consider what is required, but how much (what is the level of spend and is this significant?) and how often (how frequently is it required – seasonal or always on?). You should also look for the opportunities to package the requirements with as few suppliers as possible with bundling.
Rather than simply leaving the requirements to the usual roster of agencies, it is worthwhile reviewing the roster against the requirements, looking for the opportunities for either consolidation, re-appropriation or re-alignment. Taking on-going services in-house or finding more efficient ways to utilise your external resources can make your process faster and more cost effective.
7. Schedule agency reviews for the coming 12 months
Regular reviews of your strategy performance and the associated requirements are important and should be undertaken regularly. Depending on the volume and dynamics of the market this could be weekly, monthly or quarterly. Likewise the management and evaluation of your agency and supplier performance should be undertaken regularly.
At the very minimum it is an annual review, but increasingly, like the strategic performance review, it should be undertaken more frequently, especially for those strategically important agency relationships. This is usually quarterly or six monthly. The key is to schedule these reviews for the year ahead and lock the process into all of the stakeholders' schedules up front.
The review, at a minimum, should include performance evaluation and discussion and scope of work and remuneration review. Where there are multiple agencies working together on the brand or business, it is also worthwhile involving all parties in the review process to increase alignment and promote collaboration.
New Year's Resolution?
So while you may have made the resolution to make 2014 happier, healthier and wealthier, if you are managing multiple agencies then it is time to get wiser. Use this time before the rush commences to lay down the disciplines to manage the efficiency and effectiveness of these resources and relationships.
And have a productive and successful 2014.
This post was republished here in Marketing Interactive on January 17 2014
Want more articles like this? Subscribe to our newsletter: