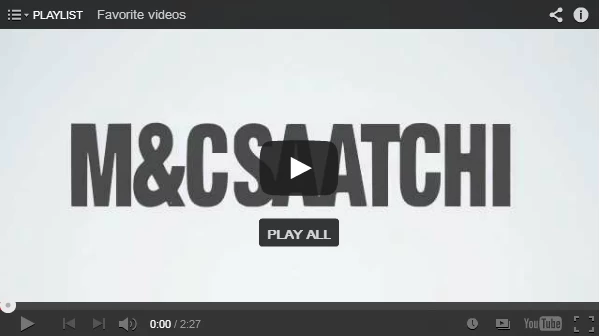 This post is by Darren Woolley, Founder of TrinityP3. With his background as analytical scientist and creative problem solver, Darren brings unique insights and learnings to the marketing process. He is considered a global thought leader on agency remuneration, search and selection and relationship optimisation.
The marketing and advertising category is about building wealth through building well-known brands. So it would hold that you could select agencies on their brand reputation. After all, if they are in the business of building world class brands, they should be able to do this for their own brand, right?
Think of  the major agency brands:
BBH
AKQA
M&CSAATCHI
TBWA\
LBi
DDB
Y&R
VCCP
Droga 5
BBDO
JWT
WIEDEN & KENNEDY
CP+B
BMB
McCANN
FORSMAN & BODENFORS
But do you really know them by name?
Check out this very clever and funny video that challenges  what you thought you knew about these well known agencies.
So I have written previously on the process and criteria for selecting agencies. You have to consider the time and cost it will take? Whether you should pay pitch fees? What process you should use? And how to filter down from your long list to the short list?
But this got me thinking about agency brands and brand reputations and the role they play in agency selection. Especially when it comes to selecting agencies across a region, multiple markets or globally.
How are brand reputations developed?
Like most reputations, agencies and agency networks develop their reputations through the following:
The profile of key staff members – The appointment or loss of a senior member of staff with an industry reputation can imbue or detract from the reputation of the agency. It is often said it is a people business and this effect is proof of this saying.
The clients they win and hold – You are known by the company you keep and this applies to the clients an agency wins, but more importantly keeps. Retaining clients means there is often cultural alignment. Therefore conservative, risk adverse and boring clients will reflect the same on the agency.
Recognition of the work they do – The mistake here is to discuss the work that the agency does, because reputation is actually based on the work for which they are recognised. Recognition will come in the form of awards, trade press interest or increasingly through social media.
How effectively they manage the trade press – Many agencies are particularly poor at this (Physician heal thyself) but be it M&A, wins and losses, appointments, new campaigns or awards, reputation management is an important way to build a brand reputation for the agency.
How consistent are brand reputations?
Agency brands can be represented across one or two markets, a region, a micro network or a global network. Obviously the consistency of the brand reputation is easier to maintain if there is just one office and increasingly more difficult if there are more.
But consistency is also influenced by a number of other significant factors including:
Origin – Growth of an agency network can proceed by opening a new office, acquiring or merging with existing agencies or a combination of both. With merger and acquisition comes a process of aligning the new office into the culture and to the reputation of the network. However it is often the case with acquisitions that the agency office being acquired has a stronger and more dynamic culture and reputation and that this dominates, what effectively becomes a reverse cultural takeover.
Ownership – following on from the previous point, if  the offices are locally owned or corporately owned has a major influence on the consistency. The more fragmentation in the agency ownership, the more likely there is to be inconsistency in the brand reputation as each owner influences that reputation in their office.
Stability – Client and staff stability (especially senior management) across all offices and levels builds a consistent reputation. Something that becomes increasingly more difficult the larger the agency brand. But lack of stability also affects small agency brands as the owners make changes in staff and approach to either try and achieve growth or in response to growth.
Consistency – Following on from stability is the delivery of consistency. A consistent delivery of results, both financial and business is more important than one off wins or growth spurts that lead to a reputation for inconsistency and unpredictability. This is exacerbated when an agency is represented across multiple markets of varying maturities.
Strategy – As a pitch consultant it is always interesting to ask an agency what their 'positioning' is within their market. A core strategic positioning and a plan to execute this consistently, not only in an agency, but across multiple markets is rare indeed. But having a core strategy makes it easier to obtain the alignment and deliver the stability and consistency.
How reliable is a brand's reputation?
Size and success are powerful attributes for establishing an agency brand. But the fact is that brand reputations have traditionally been inconsistent.
We have had a large number of marketers, who on moving to a new market, will suggest agencies based on the reputations the marketer knows them for in their previous market. But few agencies deliver consistently across all markets for the reasons outlined here.
Likewise, single market agencies will grow successfully on the back of a strong agency brand, only to struggle to maintain this in the face of growth. Expanding into new markets, usually by M&A, will often see the agency brand change or become diluted.
Our Agency Register has undergone a major upgrade to allow us to track and assess all of the major agency brands (and quite a few of the lesser known brands) across all of the regional markets we operate.
So what is in a name?
Want more articles like this? Subscribe to our newsletter: