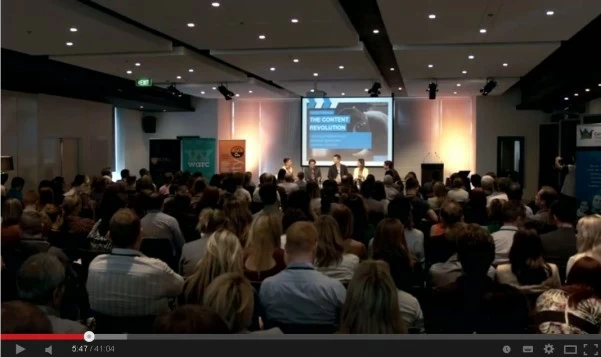 This post is by Darren Woolley, Founder of TrinityP3. With his background as analytical scientist and creative problem solver, Darren brings unique insights and learnings to the marketing process. He is considered a global thought leader on agency remuneration, search and selection and relationship optimisation.
This is the fourth in a series of posts based on the transcript from the video – How to overcome the challenges of content marketing – from the May 2014 seminar, How to be an Effective Content Marketer.
Featuring a number of brand marketers who have established successful content marketing processes, this panel will discuss the challenges associated with content marketing and share strategies to overcome them.
MC:
Featured panellists:
Last time the panel talked about how to manage risk with your content marketing strategy and what they learned from mistakes made on their content marketing journey.
In today's post, the marketing panel discuss whether to outsource their content marketing or do it in-house. They also share their experiences on the best ways they have found to carry out their content marketing strategies.
What is the optimal way to do content marketing?
Ed:
I'd now like to talk about structures and processes so, what does the panel think is the optimal way to do content marketing? Do you need to do it in-house? Do you need to outsource it? Is it a combination of both? What's the best solution? What are your experiences?
Luana:
In our case, we've adopted a combination so we've got external agencies working with us and that's very important because it does help us with strategy and editorial calendar and have it organised and then making sure that we always have content in place and that we stick to what we were trying to achieve.
We are also trying to drive that internally very strongly, but internally is a cultural shift and internally it does take a lot more time. But it's important to try and bring everybody in the organisation with us so it's really trying to get the right mix.
How do you make an internal cultural shift?
Ed:
How do you make that cultural shift internally?

Luana:
I think it's just showcasing the results and what we're actually achieving with the content and making it real for people, what it really means and when it was very theoretical at the very beginning when we had plans and we knew where we were going and we knew what the topics were and all that, but we didn't really have the platform and we really didn't have the content out there, it was very difficult for the stakeholders to understand.
We got the buy-in but we didn't really get the full understanding and as we become more real and we can showcase what we are doing, then I think people understand more and we can drive what we want them to do.
I think it's one thing to say that we want them to participate and that we want everyone to generate content or to generate ideas, but it's something different really to get across what it is that we want them to contribute.
Ed:
So do you generate content internally?
Luana:
We do. We generate more content externally right now but we do generate some content internally as well. For us it's an interesting case as well because we are publishers traditionally so we publish legal and tax accounting books and information services so we've got a bunch of really great authors on board that commercially publish with us so for us it's trying to get them on board but then forget about royalties because they get paid for the other content that they generate for us to help sell and drive demand generation for their product.
And then we've got the commercial owners for products that manage those authors so it's like a spiral. We do have a big content agent but we're not at the moment internally fully utilising it so it's, yeah, we'll get there.
The right type of structure to produce content marketing
Ed:
Skye, any tips for the right type of structure to produce content marketing on an ongoing basis?
Skye:
Well what works for us is joint, in-house and working with an agency and I guess our marketing team is very lean so we just don't have the resources to manage it all on our own.
So I guess it depends on your organisational structure but what I find is it helps that we don't have to be an expert on everything. I work very closely with the agency on the editorial schedule, we both produce content so we do have content, but they have subsidised that.
But it means I can focus on the strategy, where it's going, the distribution and also just internally getting everyone on board and getting that buy-in and looking at the analytics and adjusting as needed so I think having an agency holds us accountable to making sure that the content is consistent, that we have good flow of content as well that we don't just get really busy and forget about it, that there's a strategy in place and
that we can work together to get all the goals.
Don't just hire a publisher in-house
Anton:
I'll just add one more point. Anyone a publisher here? Or copywriter? Good so I'm not going to offend anyone.
Don't just hire a publisher in-house and say, "right, that's my content marketing person and we're going to be into content marketing". I think that's one of the biggest mistakes where you say, "yep, we've hired this expert, he sits or she sits up there and she's writing all this fantastic content and we're into content marketing".
I think that's complete bull. You need to have a proper strategy and group of people, like GE, unearthing innovation stories or angles on the product. They don't have to be publishers but people who can fossick around and find really interesting stories.
Robert Half has some fantastic stories about salary guides and recruitment strategies and next job and all that sort of stuff and I think that's why an outsourced agency model can work for some clients, 'cause they don't want to just get one person into the team and think they've solved it. Outsource to specialists and then maybe in-source over time.
Who else is doing content marketing really well?
Ed:
Who else is doing content marketing really well? Are there any examples that you know of? Apart from your own brands and businesses of course. Is there anyone out there that you admire?
Skye:
This is a personal brand that I like anyway, but I think the Samantha Wills jewellery brand. She's an Australian, she's launched a brand, started off at Bondi markets and she's now living in New York and what I love about her content marketing is, well, it's so authentic, she gives an insight into the woman behind the brand, it's her personal life, it's her personal styling.
It's where she's travelled to around the world and I think that people are wanting to know more and more about what a company really is about. And it's a really unique insight and some of it would be really hard for companies to do because they don't want to give away all the information but I think it's a fairly young company and she's a fairly young woman and they're just open to trying different approaches and it's really working.
Authentic story telling is the key
Ed:
It sounds like authenticity is at the heart of that and just telling their story.
Todd:
And I think a lot of the smaller examples, I see some really interesting ones in fashion, in particular people who basically back into a content model because they're successful on Instagram, Facebook, they develop a following and now they've got a platform and they start doing, start looking at more long-form, more in the video production side.
So it's the people who don't have the advertising budget you've got to hustle and try to do it on your own and sharing your own personality in the forums is a great way of connecting to the audience.
Anton:
Well I think that's the point. You have a story to tell. Similar to Lorna Jane, if anyone's in the Lorna Jane communities, she has a fantastic authentic story to tell.
Aussie girl done great, gone to America, expanded, has almost a million Facebook followers and has a real lifestyle approach to ultimately selling active sportswear. I think, I've always used that as a great example from day one in social media.
I'll just throw two more in quickly. I think the Economist and National Geographic for me. Anyone reads the Economist online or in digital or social groups? They do a great job I think of sticking true to their business.
Is it the wrap up? Quality content rather than sensational headlines which has always been their mantra. You know the magazine, the Economist is an intellectual, interesting, thought-provoking read. It's now really interesting in social media and the commentary they get on their articles I think is fantastic.
National Geographic also on the other side of the coin, very old company, 21 million Facebook fans, they've brought to life the photography and the video and the stories of someone going out there and shooting a leopard or a lion or a community in Africa.
So if any of you read the yellow bordered magazines as kids we went, "wow, that's amazing", now it's the video and pictures and imagery. Instagram, go and look at their pictures each day and the life story behind that photographer that took the photograph.
It's not cheap and cheerful photography, it's still their amazing, authentic Nat Geo quality, but an amazing story and content, a compelling content marketing strategy.
Ed:
Story telling seems to be a consistent theme that's coming out.
In the next post in this series the panel discusses the one thing you can do to make your content marketing more effective.
Want more articles like this? Subscribe to our newsletter: