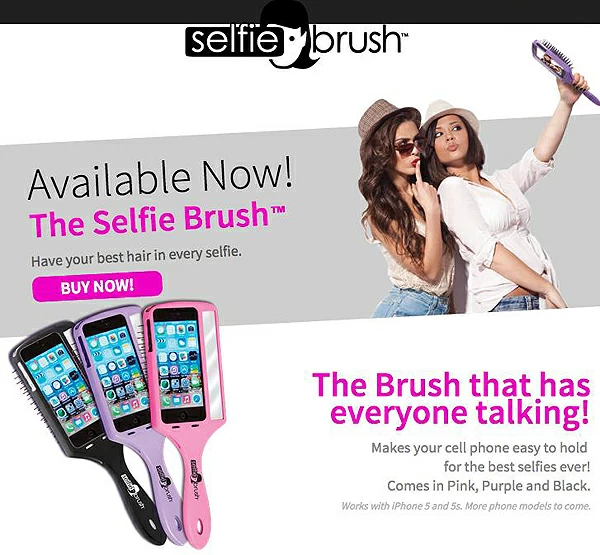 This post is by Anton Buchner, a senior consultant with TrinityP3. Anton is a lateral and innovative thinker with a passion for refocusing business teams and strategies; creating visionary, data driven communication plans; and making sense of a more complex digital marketing environment.
Imagine taking photos with your hairbrush. Well now you can with Selfiebrush. A brush with a compartment to hold your smartphone that claims to make "the best selfies ever!"
Imagine monitoring your baby's breathing rate, movement level and sleep position. Well now you can with MonBaby – the first baby monitor in a smart button that fits to your baby's jumpsuits transmitting vital signs and important alerts directly to your smartphone.
Imagine sharing local artist's stories around the world via your feet. Well now you can with BucketFeet. Their mission is to connect people through art. They claim to have collaborated with over 4,000 artists in more than 60 countries to create their uniquely produced canvas shoes.

Has society gone digital and data mad?
Well apparently not. Sit tight because this is just the tip of the iceberg.
Coming down the line is:
the Apple Watch (with 5-6M units ordered for the first quarter. Note, Apple sold 7.5 million iPads in the first six months after its release in 2010)
a myriad of wearable tech smart devices including jewelry which can be located when lost
StoreDot's ground-breaking nanotechnology including a wafer-thin, bendable smartphone battery that recharges in 30 seconds
drones that can follow you around on auto-pilot (check out airdog.com)
smart garments that can measure your body and exact shape for the perfect fit (check out likeaglove.co.il)
and the Mercedes F015 – an autonomous driving concept car which has been designed with an interior digital 'living space' including six high-resolution displays integrated into the instrument and side panels. Interestingly it was launched at the Consumer Electronics Show 2015 and not the International Auto Show!
Everything is starting to get smart and connected. However with this revolution and transformation, comes an explosion of data.
And for marketers it's a deluge. A tsunami.
Put simply, for many marketers that we speak to, it's a bloody nightmare.
So here are 3 quick win stages to help you uncover the data that matters. The 1% that will make a difference to your business, rather than the 99% that will send you into a tailspin.
STAGE  1 – discover all the data inputs
Sit down with your data, tech and digital divisions to assess what data feeds you have in and around your business. You may be surprised by what you unearth.
Yes more data, but more importantly it will most likely open up new ideas on defining customer segmentation and understanding customer behaviour.
For an airline we uncovered Lost and Found Baggage data that wasn't being utilized by the marketers, yet impacted hugely on Net Promoter Scores.
And for a Telco we unearthed a myriad of mobile network, retail and digital data opportunities that changed the thinking on customer segmentation and the approach to behavioural analytics.
STAGE 2 – collaborate throughout your business
Whilst it's most likely not your KPI, you will need to collaborate with your peers to make sense of all the data that you found in Stage 1.
Get the digital team talking to the call centre managers. Get front line sales talking to the marketing teams. Get the marketing teams talking to the insights and product development teams. Get beyond silo thinking and create radical transparency.
Get together and assess what the data could mean to each division, and then more importantly, what it could mean to the business as a whole.
And get together to demystify terminology and definitions to ensure that everyone understands the meaning of the data and is on the same page in terms of potential opportunities.
I worked on a project recently where a digital team was working as a silo not wanting to be transparent or open with their activity and the data they were utilising.
You can imagine the inefficiencies, friction points, and lack of business alignment. We successfully helped change the structures, knowledge sharing, processes and behaviours.
STAGE 3 – prioritise the opportunities
Most importantly after assessing what the data means to your division and the business as a whole, it will be critical to identify the 'big ticket' data opportunities. Data inputs and variables that will impact on customer behavior, business behavior and ultimately help drive profit growth.
There's the key word – profit. Make sure you are always looking through the business lens from a profit point of view, as well as the customer lens from a benefit point of view. Happy customers drive advocacy which in turn delivers profit.
It is critical in this final stage to have an agnostic view and clear owner to arbitrate and ultimately walk away with action not disgruntlement. So make sure there is a clear owner of the project whether that be a division head, independent party or even the CEO.
So there you have it, it really is as easy as 1, 2, 3
However many companies simply forge ahead with technology implementations, third partner agency appointments, and digital marketing tactics without stepping back, assessing their own data assets and coming together as a united front.
As always, if you would like an independent assessment and industry benchmarked point of view, then simply touch base with Anton Buchner @ TrinityP3 and ask about our Health Check Service.
To find our how TrinityP3 Marketing Management Consultants can help you further with this, click here.
Want more articles like this? Subscribe to our newsletter: