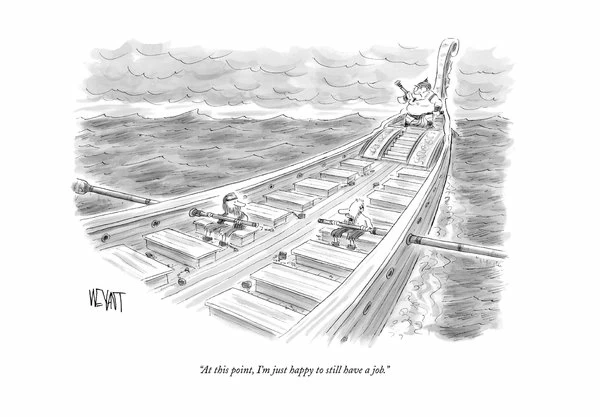 This post is by Michael Farmer, Chairman of TrinityP3 USA and author of Madison Avenue Manslaughter: an inside view of fee-cutting clients, profit-hungry owners and declining ad agencies, which won the Axiom Gold Business Book Award for the best marketing / advertising book of 2016.
ANA was brave to issue a "scathing report" (per AdAge) on the lack of talent in the advertising industry.  Certain outsiders were fingered as contributing to the talent problem: universities that "aren't keeping pace with the industry's changing needs" and consultancies and tech giants that are offering "more generous salaries and perks."  (Shame on them!)
On top of this, Millennials remain an enigma — why aren't they more eager to enter the industry?  What ANA did not describe were the day-to-day operations of advertisers and agencies that have turned the advertising working environment into a relatively unattractive one for job-seeking graduates, a trend that has been in swing and gaining momentum for the past 15 years.
Blame the universities and consultancies if you will, but advertisers and agencies need to take personal responsibility for some of the industry's talent crises.
Before I proceed further, some full disclosure:  For nearly two decades, I was a strategy consultant with The Boston Consulting Group and a Director of Bain & Company.  During the more recent 25 years, I have been consulting to ad agencies and their clients (as Farmer & Co.) and I have observed a deterioration in agency-advertiser working relationships that is a clear source, in my view, of the talent problem.

I recently wrote a book about this — Madison Avenue Manslaughter: An Inside View of Fee-Cutting Clients, Profit-Hungry Owners and Declining Ad Agencies.  Finally, I was invited to teach at The City College of New York (CCNY) in an ambitious and up-to-date program that prepares Millennial graduate students for careers in Branding and Integrated Communications (BIC).  So, in a sense, I have personally checked all the boxes covered by the ANA report: the universities, the consulting firms and the Millennials.
BIC students who complete internships at agencies during their course of study often report that agency people are overworked and understaffed; that they are under various types of pressures if not abuse from clients (who seem to be prepared to change agencies at the drop of a hat); that they carry out a lot of unplanned work; that agency people are relatively underpaid compared to their colleagues at Bain, Deloitte, Accenture, etc., and that they work with people who see career progression as a difficult question.
Industry surveys of agency morale come to the same conclusions. Furthermore, if students were initially interested in the advertising industry to solve brand strategy and growth problems, they see too little of this in their internship agencies.
What they experience is an agency machine that cranks out huge volumes of deliverables by relatively cheerful and energetic agency people on short deadlines to meet client needs.  Despite this, all of our students do their best to enter the industry that they prepared for, although agency jobs are few and far between.  Agencies are not growing.
The contrast with the consulting firms could not be more vivid.  Although consultants work hard and put in overtime and weekends, there is a general feeling that "our work adds value and my contributions are appreciated."  All you need to do is read Glassdoor.com reviews of consulting firms and ad agencies to see the contrast.
Differences in salary levels are not to be sniffed at.  A graduate entering an ad agency may earn $35-40,000 with no bonus; a consulting firm will pay $65-75,000 plus a signing bonus of $20,000 and a guaranteed first-year bonus of another $15-20,000.  It only goes up from there.
The talent gap is real, and the gap is understandable as a long-term outcome of agency-advertiser working relationships that are less than desirable. Agencies need to up their game and help clients improve brand performance; advertisers need to treat agencies with respect and engage them seriously as long-term partners to deal with brand problems.
Both sides need to see their individual and joint contributions as "winning" rather than "failing."  It will take money to make this right, but in today's cost-cutting, procurement-led relationships, it's not clear where the money will come from.  With current trends, agencies will remain underfunded suppliers who cannot afford to hire and retain the kind of talent they need.  And the talent gap will only widen.
This doesn't let the universities off the hook.  There is unquestionably high variability with the quality and breadth of advertising expertise among university faculties across the country.  This is a difficult problem.  Those who have practiced marketing and advertising and are now teaching, teach what they practiced and knew — probably from another era.
Textbooks woefully lag reality.  The principle of "academic freedom" permits teachers to teach what they wish, without much supervision.  So, there may be a double problem — inadequately prepared students with out-of-date information who might end up working in suboptimal agency-advertiser relationships.
ANA's Pathways 2020 initiative to deepen ties with universities is a great step.  The industry can only benefit from closer ties between current practitioners and those who teach.  Next in line is the need for ANA and 4As to examine honestly the current nature of agency-advertiser relationships, whose many dysfunctions contribute so importantly to the industry's deepening talent crisis.
Cartoon credit: Christopher Weyant, The New Yorker, The Cartoon Bank. With permission.
This post was first published at Media Village
TrinityP3 exists to help you drive best possible performance outputs. We can help you innovate to achieve this with these Agency Performance Services.
Want more articles like this? Subscribe to our newsletter: