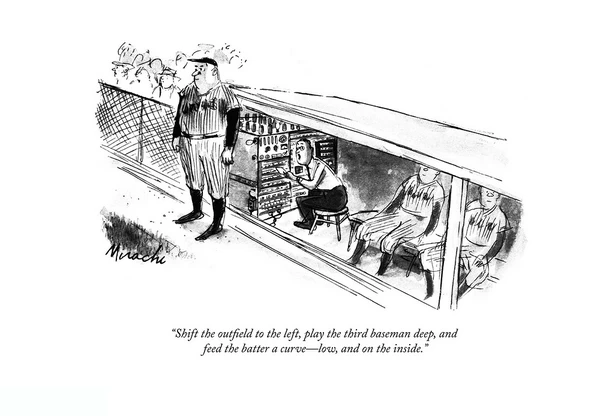 This post is by Michael Farmer, Chairman of TrinityP3 USA and author of Madison Avenue Manslaughter: an inside view of fee-cutting clients, profit-hungry owners and declining ad agencies, which won the Axiom Gold Business Book Award for the best marketing / advertising book of 2016.
By now, we know what "Moneyball" is:  The best-selling book about baseball by Michael Lewis (2003), the Academy Award-nominated movie with Brad Pitt (2011) and — most importantly — the underlying concept that obscure metrics reveal the truth about how the game of baseball works.  Moneyball general managers, like Billy Beane of the Oakland A's, could consistently win games despite payroll disadvantages that prevented the A's from hiring expensive talent.  Lewis asked, "How'd they do it?  What was their secret?"
Is there a moneyball strategy for the game of advertising?  Is there a secret way for beleaguered agency CEOs to compete and become "winners" again?
Baseball fanatics had, for many years, raised questions about the relevance of the statistics gathered by the Elias Sports Bureau, which kept the score sheets for Major League Baseball.  Hits (singles, doubles, triples and homers) were lumped together in batting averages, but walks were completely ignored.
A batter with high RBIs was evaluated as a hero, even though the batters before him made it possible by getting on base.  If batting averages and RBIs were maximised through high player salaries, would a team always win? Not at all.
Beane used a full set of baseball statistics, sabermetrics, to identify how to put together a low-cost team that maximised on-base percentages and runs.  His success challenged the assumptions about what it took to win in baseball.  It wasn't all about money.
The game of advertising is less clear-cut than baseball, but many of the fundamental questions are the same.  What is the nature of competition?  What defines "winning?" What are the generally accepted metrics of the game?  How are teams put together?  How well are game strategies working?  What "hidden" metrics give a different picture of what matters?  Is there a Billy Beane strategy for creative agencies?
1. Competition.
Agencies used to compete with one another for clients.  Agency identities were clear and differentiated.  No longer. Agencies compete today with their clients, not with one another.  The game of advertising is about "outsmarting clients" to be awarded work and money even if for a relatively short period of time.  The game is won or lost on the basis of "give it to me, not to someone else or to yourself."
2. Winning and losing.
Agencies are losing in the game of advertising.  By this, I mean that agencies have less and less to convince clients to give them work and money.  Clients hold the cards, define the criteria and make the decisions.  The centre of gravity has shifted.  Average Creative Agency Account Wins Shrink by 38% as More Clients Move Work In-House – October 30, 2017.
3. Measures and statistics.
Awards and client wins are still prominent measures.  The agency press evaluates "number of wins," not average client duration.  "WPP is the best performing of all the holding companies thus far. Omnicom's BBDO was the best performing creative…"  Of course, a big winning operation could have the largest number of revenue losses.
If they're not growing, this must be the case.  Agencies are measured by operating margin, however achieved, but not by price.  In fact, industry price is declining as agencies surrender to lower fees, growing workloads and downsized staffs.
4. Resources.
Agencies have maintained their investment in expensive senior creative and strategic planning resources, but they have juniorised and downsized account management and production.  They have the equivalent of home run hitters and okay pitchers, but the infield and outfield players are weak in the field and weaker at the plate.
5. Are strategies working?
The game of advertising, as currently played, is failing for clients, whose brands are not growing, and agencies, whose capabilities are being liquidated.  If this were a baseball game, the fans would stop buying tickets.  The quality of the play has gone downhill.
6. ScopeMetrics®.
ScopeMetrics® are the sabermetrics of the advertising industry.  The key missing metric is "how much work is being done, client by client."  With a workload metric, one can evaluate the price of client work (fees divided by workload), the creative output per head and the number of FTEs required.  Billy Beane would have a field day if he were the CEO of an ad agency and the only industry executive who knew the price and productivity of his operation.
7. A Billy Beane strategy for the game of advertising.
Change the nature of the game. The client is not the competitor; the client is the partner that needs improved brand performance.  The enemy is the underachieving brand. Measured Scopes of Work are jointly developed to improve brand performance. Relationships are long and committed.  Average relationship duration is a key measure.
Price per SMU is calculated to assure appropriate remuneration.  Price per SMU should rise as results are achieved over the long term. Creative output per head is kept within measured bounds.  Improved pricing permits agencies to invest across the board in all kinds of people.  The strength and quality of the team rises.
There is a potential Moneyball for Madison Avenue, but it will take an agency CEO like Billy Beane and a lot of committed negotiations to exploit the metrics and enjoy the outcome while others flounder.
Disclosure:  ScopeMetrics® is a proprietary product of Farmer & Company.
Cartoon credit: Joseph Mirachi, The New Yorker, The Cartoon Bank. With permission.
This post was first published at Media Village
TrinityP3's Scope of Work Management service evaluates your current agency scope of work and recommends the best approach, calibrated to your needs. Read more here
Want more articles like this? Subscribe to our newsletter: