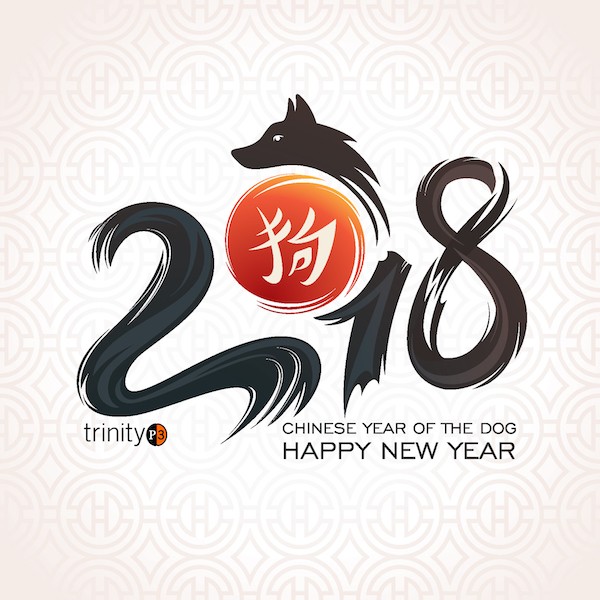 This post is by Darren Woolley, Founder of TrinityP3. With his background as analytical scientist and creative problem solver, Darren brings unique insights and learnings to the marketing process. He is considered a global thought leader on agency remuneration, search and selection and relationship optimisation.
As we end the year of the Fire Rooster we look forward to the Year of the Earth Dog ahead.
While the past year was a time to address the disharmony in the industry, the year ahead looks to be a prosperous time for those marketers who have done the work to transform their approach to their customers.
"2018 is the Year of the Earth Dog. Earth is a stabilising and conserving force, marking a significant shift from the two consecutive years featuring the fire element — the years of the rooster (2017) and monkey (2016), which brought some disharmony and impulsiveness.
Highly perceptive, the Earth Dog is kind, efficient and skilled in communication. As earth produces metal in the zodiac cycle, 2018 is expected to bring prosperity, particularly to those who, like the dog, are proactive, work hard and communicate well. Moreover, experts predict that those who show generosity to others will reap the greatest benefits throughout the year".
Prosperity comes from following the traits of the canine, being kind, efficient and skilled in communication. For marketers this is in parallel with the transformation currently happening in marketing with the increased focus on managing the customer experience to build brand and drive growth.
Specifically this means embracing the insights from customer data to better manage and fulfil customer expectations and enhance the customer experience of the brand, using technology to be able to personalise and respond to the customers' needs in real time and communicating with customers in the way and at the time they are receptive to the conversation.
Being Kind To Your Customer
The dog is kind and for marketers this means that 2018 is a year to be kind to your customers and prospective customers.
So how can you be kind? Or kinder?
Do less of the things they dislike and more of those things that they want and love.
91% of people say ads are more intrusive today than two years ago.
But consumers crave a personalized advertising experience and 71% of respondents prefer ads tailored to interests and shopping habits.
So how well do you know your customers?
Only 6% of all respondents said that they see no issues connected with using big data technologies to better understand their customers with many citing lack of know-how, the cost and concerns over security as major obstacles.
Are you in a position to be kind to your customers and prospective customers?
Perhaps the Year of the Dog is the time to look to improving your marketing and digital performance?
Working More Efficiently
But the dog is more than just kind.
Prosperity demands efficiency.
Time to look at eliminating wasteful and time-consuming out-dated practices and embrace more efficient and effective methodologies and processes.
Yet, when it comes to developing customer insights there appears to be surprisingly little sophistication in the ways companies analyse data. About 23% of those surveyed by Dun & Bradstreet/Forbes still use spread sheets for data work.
2018 is the year to embrace the opportunities technology provides.
How does your martech stack stack up?
Only 35% of the respondents said they currently utilise marketing automation with 65 % answered that marketing automation isn't being used yet by their company.
Yet Marketers say the most important benefits of a marketing automation are:
Optimising productivity (43%)
Increasing marketing ROI (41%)
Improving campaign management (40%)
Improving database quality (39%)
Acquiring more customers (39%)
Measuring performance (37%)
Aligning Marketing and Sales (24%)
– Adestra "State of Marketing Automation Benchmarks for Success"
Of course there is more to martech than just automation, including Customer Relationship Management, Data Management Platforms, Programmatic Trading Desks, Content Management Systems, Workflow Management Platforms and more.
Perhaps the Year of the Dog is the time to look to improving your digital and agile marketing performance?
Skilled Communicator
Plus, 2018 is a year when you don't just need to master new tricks.
It is also an opportunity to improve your core capabilities.
While the WFA has named it the Year of Transparency.
But media transparency is only required when you are not measuring media performance.
More important than media transparency is establishing the right media processes to deliver the right media metrics with the right media suppliers, even if this means bringing your media in-house, to deliver media performance and value.
The Year of the Dog is also an opportunity to optimise your agency roster.
Too many agencies in the pack is usually holding you back. But putting all your needs in one agency is potentially a high-risk strategy.
There is also the increasingly popular option of bringing your agency services in-house.
Technology has made the in-house agency an increasingly viable option, especially for those marketers wanting to embrace Agile Marketing or simply wanting to become more nimble and agile in their go-to-market delivery.
But bringing agency services in-house can be a fine line between success and failure.
Perhaps the Year of the Dog is the time to look to improving your media value, agency roster performance and agile marketing delivery?
Wishing you a happy and prosperous year ahead
No matter what you are hoping to achieve this year or what your objectives, we are happy to help you find a deeper understanding of your customer, more efficient engagement and better performance along the way.
Find out more on embracing marketing technology efficiency here.
Find out more on achieving media performance here.
Find out more on delivering agile communication here.
Find out more on achieving marketing performance here.
Find out more on enhancing agency and roster performance here.
Want more articles like this? Subscribe to our newsletter: