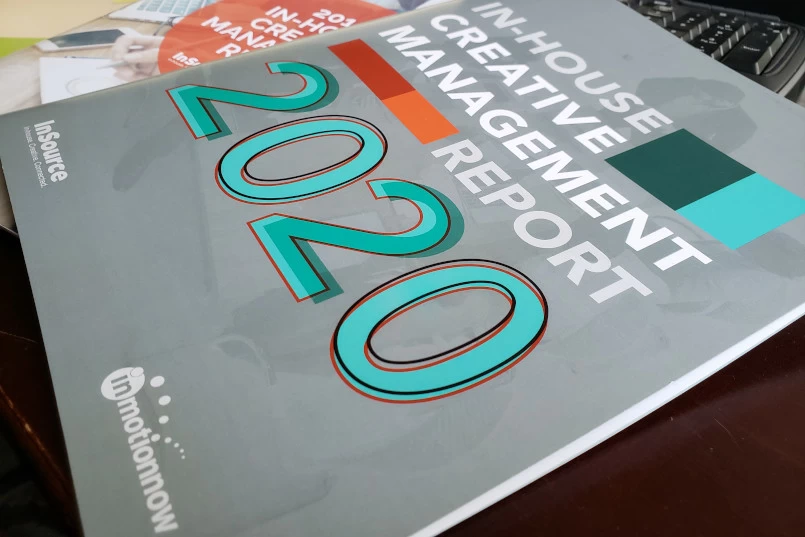 This post is by Elise Hauser,  a product marketing manager at inMotionNow, a leading provider of workflow management solutions for marketing and creative teams. 
Businesses are increasingly recognising the value creativity and design have in meeting business objectives. As a result, creative workers are being invited to take on more business responsibilities, resulting in creative thinking permeating across organisations.
That's one of the key findings revealed in the 2020 In-House Creative Management Report. The report is based on an annual survey of more than 600 US-based creatives and marketers facilitated by InSource and inMotionNow. 
A full 89% of respondents said their organisation considers creative work an important part of meeting business objectives. When asked specifically how – respondents pointed to several measures across the buyer's journey: 
brand recognition (56%) 

engagement metrics (51%)  

lead generation (31%) 

return on investment (31%)
"Ultimately, the best measure of business impact is revenue," says Kim Conder, a brand marketing consultant who contributed analysis to the report. "That's why you're in business, right?" 
However, she adds, it's nearly impossible to attribute a specific dollar value to a design decision. So creative leaders "have to think about the entire funnel and show the impact that creative work and design has at each stage."
Justin Ahrens, president of Rule 29, a creative agency, drew a similar conclusion in his assessment of the survey. He says "we often want to know what single metric will show the impact of creative" when the truth is value is spread out across the marketing funnel. 
"You have to understand and set reasonable goals for each level and make sure your stakeholders understand that the entire funnel, and the entire customer experience, is important for driving the bottom line," he says. 
Creative Results Parlayed into New Responsibilities
The focus on goals has boosted the standing of creatives in the eyes of the business. A full 87% of creatives said their organisation gives them the same or more credit for the business results their work delivers. 
Further, this greater appreciation for creativity is being parlayed into more strategic business duties. Two-thirds of respondents said they are being tasked with new responsibilities such as company culture, marketing strategy, analytics, customer experience, and even mediation for other teams in the business. 
This goes to show, as Darren Woolley pointed out to us, the opportunity of building in-house teams goes beyond simply improving the speed and lowering the cost of creative work – it shows how creative thinking is permeating across the broader business.
Sam Harrison, a speaker and author who has penned several books on creative work such as, Idea Spotting, Idea Selling, and Creative Zing, might agree. "Designers and other creative thinkers find new, broader ways of looking at problems and exploring solutions," he says in the report. "That's essential to any business."
6 Ways to Spread Creative Thinking Across the Business
If looking at problems in new and broader ways is essential to business – how can we further facilitate the spread of creative thinking across the organisation? The full report contains analysis contributed from several experts, distilled here into six actionable insights to spread creative thinking throughout the entire business. 
1. Grow your understanding of the business
"I propose that if creatives thought about business more creatively, they could bring more value. But it starts with understanding the business," according to Ilise Benun, a coach, speaker, and author of seven books including, "The Creative Professional's Guide to Money."
Indeed, "being a part of the business itself is one of the best competitive advantages anyone can have in the creative services field," says Kim. "You have the benefit of talking to your stakeholders every day, seeing their wins and losses, how they are evaluated, and what the business's biggest challenges are."
An in-house team is part of the business "ecosystem" and "it is your responsibility to help communicate, connect, and grow the brand," adds Justin. "The more you can understand what the pressure points and goals of the business are, the more value you can add."
2. Focus on being a better partner
"The theme for in-house creative teams in 2020 is partnership," according to our own inMotionNow CEO, Ben Hartmere. "Partnership with the business, partnership with agency talent, and partnership with clients. In-house teams planning for this year and beyond should be consistently asking themselves 'how can we be better partners?'"
3. Speak the language of business
Every business function has its own language. So do business leaders and executives as Adam Morgan, executive creative director at Adobe points out. 
"Creative teams need to learn to 'speak khaki' so they can have meaningful conversations with business leaders," he says. "You have to earn your seat at the strategic table by speaking the right language, demonstrating an understanding of how you add value, and showing that you have a vision."
4. Build respect for creative with metrics
The hard-won respect creatives have earned has to be defended (and built upon) with data. The "increased ownership of the entire creative process leads to the need for being metrics-driven," says Andy Brenits, president of the Board of Directors for InSource.
"Understanding, tracking, and analysing the key performance indicators that measure the efficiency of their operations is essential both to make in-house teams more effective and also to be accountable partners to their business."
It may be useful to note, in the same survey last year, respondents were asked an open-ended question as to what metrics they use to measure creative work; 70 of those verbatim answers are available here. 
5. Incorporate outside agencies as an extension of your team
The in-house trend notwithstanding, this year's report highlighted how outside creative agencies still hold a pivotal role in augmenting an in-house team and balancing out the creative workload. That outside and independent perspective is a source of new ideas and thinking that can add value to the business.
"For best results, the tenets of collaboration apply," according to Sam. "Potent partnerships happen when everyone puts egos aside and sees the chance to create something great and learn something new."
6. Ask for feedback on performance
A few years ago, the Minnesota Timberwolves, a professional sports team discovered a correlation between creative choices and ticket sales. Promotional material that used logos was outperforming the same material that used player images. 
It's a great illustration of how data can link creative decisions to business results, but it's just one exceptional anecdote. According to the report, 55% of creatives say they "rarely" or "never" get quantitative feedback on the performance of creative content in marketing campaigns. 
Yet having this data could make a difference so be sure to ask for it consistently. "When you're able to cite metrics and make suggestions based on data you are going to see a shift in the room towards a more strategic conversation," suggests Justin. 
Moreover, it's a chance to continue building that partnership that doesn't require extra work. Adam says routinely asking for feedback is "an opportunity to build a strategic partnership with even more departments within the organisation who are already focused on measuring performance." 
Manage for Creativity
If there's a guiding principle for facilitating creative thinking across an organisation, it may well rest in how we foster an environment to allow creativity to blossom. "In the end, it's not about managing creativity," concluded Sam, "it's about managing for creativity."
The complete 2020 In-House Creative Management Report is available for download here
TrinityP3 work with organisations both to assess and benchmark the value and performance of their existing in-house services or we undertake a cost / benefit analysis of developing your own in-house agency service. Find out more
Want more articles like this? Subscribe to our newsletter: