automatic production savings
    

Technology is having a big impact on the advertising and marketing industry. Not only is the internet a new and powerful medium, it is offering advertisers greater flexibility, speed and lower costs in producing advertising. In our P3 e-news Edition 37 July 7 2005 we reviewed the latest in moving picture DM with the QDC application. In this edition we review one of the new generation of online production facilities that will even place your media buy and despatch the ad for you. In this P3 e-news… –

automating the production process

– storytelling workshops – p3 blogging – procurement conference
opportunities to automate production processes
Ever since unbundling occurred in the mid 90's advertisers have struggled with how to reward and remunerate their advertising agencies' for their strengths and tried to find better commercial arrangements by reviewing traditional roles. Technology is assisting this process with a number of automated production systems, such as Adclone, providing: 1. Increased flexibility 2. Faster speed to market 3. Lower prices 4. Greater compliance with brand and legal requirements
Playing to the agency's strengths On the basis that the creative agency is engaged at professional rates to provide strategic and creative insight, why would you pay premium rates for routine production? Many clients find that while they are happy to pay for the original concept, they feel they are paying over and over again for the various variations they need to fulfill their advertising plan.
The choices of solutions available There are a number of systems currently available in Australia. Some of these systems are offered by printers and print production companies as a way of locking an advertiser into the relationship. Of course the advantage is there is no cost up front, but in almost every case the client ends up paying for the service in the end. Other systems are to be implemented by the advertiser. These systems typically take the creative designed by the agency and place it into an online environment that allows anyone to then modify the content to create new content quickly and cost effectively.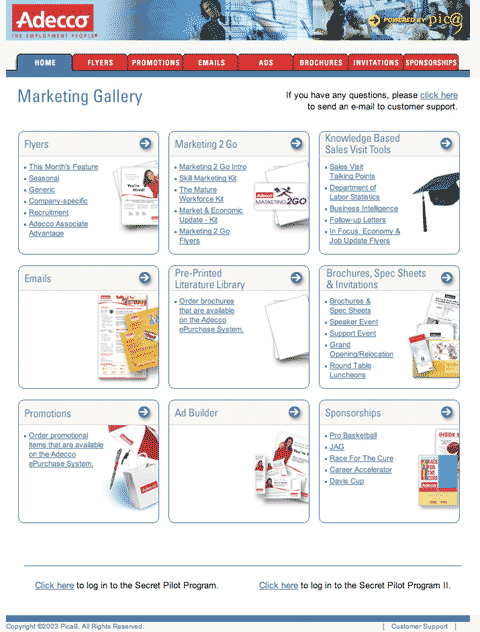 Adclone represents this opportunity By way of example, Adclone allows advertisers to produce their own artwork, email campaigns and collateral, in fact anything that is needed within the marketing spectrum. Anyone can use the system, no desktop skills are needed and no special software. Artwork is produced in around 1.5 seconds and, (after approval) is immediately flight checked and dispatched to any publication in the world or to any printer in the world ready for production. Suncorp/GIO installed Adclone in 2005 and have saved in excess of 60% of their traditional production budget and now all of their 170 branches have access to all advertising material. Time to market has been slashed from days to hours, no more back and forth from agency. Brand and legal compliance cannot be manipulated.
Choosing the right solution The right solution depends on the requirement of the advertiser. Michael Butler, Adclone MD says "Typically clients want a system to save time and money, but, the reason they use a system is because it compliments their current work flow, approval loops and is easy to use". In determining if an automated production system is right for you the first step is to undertake a production audit to assess the level of opportunity, both current and future. P3Print is able to assist you in determining the possible savings in time and money a system like Adclone could deliver to your marketing program. To find out more, email print@p3.com.au or call Sydney 02 9279 4997 or Melbourne 03 9682 6800.
from story disaster to story master

We all need better ways to persuade, share what we know and help those around us make sense of the complex world we live in.

Developing our innate storytelling skills helps build confidence, convey ideas clearly and effectively, and probably most importantly, present to our colleagues our humanity. Anecdote's next workshops run by Shawn Callahan are for anyone wanting to improve their ability to find and tell their own stories within a business context. Melbourne September 20 2006 Sydney September 21 2006 For further information click here

keep up to date with the p3 blog

Check out the P3 blog at https://www.p3.com.au/blog/

Comment on industry issues from TV production to agency selection. See what others in the industry think about the hot topics.

 

procurement conference

 

Involved in procurement, purchasing & supply? Then look out for the Chartered Institute of Purchasing and Supply Annual Conference, Crown Promenade 17, 18  October 2006

Darren Woolley will be involved in the seminar on 'Buying from Advertising Agencies' – Day 1, 2-3pm.

See P3 at Booth Number 30

Reserve your place at www.cipsaconferences.com.au
P3 – helping people achieve commercial purpose through creative process
Share this with a friend or colleague by clicking on the link below or add them to the 'p3 news' mailing list, by emailing their details to news@p3.com.au
Check out the new P3 blog at https://www.p3.com.au/blog/