more on dm downfalls – part 2
    

Last time we discussed the dangers of using direct marketing as a mass media and how determining the "cost of silence" is as important as measuring the cost and value of each response. In this edition of P3-news, look at how the "cost of silence" is often compounded when marketers don't learn from their previous failures and mistakes. In this P3 e-news… – the effective ROI on your dm activity – advertising summit 2006 – 

connect debate

– Anecdote Circles
do you really know the effective ROI of your dm activity?
As in most situations where in-depth analysis is required to add clarity to a problem, "the devil is in the detail", and for most marketers knowing where to look for the required detail, in a pre and post campaign analysis, is one of the most challenging aspects of the process. YOU CAN'T MANAGE WHAT YOU CAN'T MEASURE As a start point, there's a maxim in direct marketing, which applies regardless of the medium you use, "If you can't measure it you can't manage it, and you can't manage what you're not measuring." Obviously, if your objective at the outset is to generate a response rate of 5% (which is at best an unsubstantiated notional industry average), you can throw away your calculator because you really don't want to know what your ROI is going to be on a 20:1 ratio of response verses non-response to any product or service proposition you might offer.  (And let's not forget that of those 5% who may have responded, we have yet to establish how many actually generated revenue, and how many were simply tyre kickers of no value to you). WHAT HAPPENS AFTER A 5% RESPONSE RATE IS ACHIEVED? In most instances, without making any attempt to determine the cause and the "cost of silence" experienced in the previous campaign, where 95% of the target audience did not respond, one of two scenarios is typically adopted: DESTINED TO REPEAT THE MISTAKE? The marketer repeats the entire process with a new selection of prospects, or with a different service / product, and perhaps with a different media mix, and they make all future decisions using the knowledge gained from 5% of respondents as a guide. Still targeting a discretely selected audience through a "narrowcast" media such as direct mail or e-mail.  This is where the damage to the overall corporate branding begins to occur. OR MISTAKENLY GIVE UP? The process of strategic direct marketing is halted, due primarily to a poor ROI. As a result no customers or prospects are strategically targeted through personalised media again, as it is deemed to be too expensive, too complicated, too time consuming and too dependent upon data on individual customers or prospects, usually sourced via areas outside of the marketing department.
If these prospects are ever targeted again through personalised mediums it is likely to be only on an ad-hoc basis, and in a tactical rather than strategic manner, (achieving similar outcomes to those described in the first point – at best. THE NET RESULT? Both of these outcomes are unfortunate for the marketer, the enterprise and the customer. Neither option is going to improve the direct marketing communications effectiveness or contribute to moving any organisation to a more customer centric position. If your organisation is struggling with determining your true ROI, and with interpreting the "cost of silence" generated by your direct marketing communications, regardless of the mediums you are using, contact les@p3.com.au or call Sydney 02 9279 4997 or Melbourne 03 9682 6800 to organise a P3DMi Database Marketing Heath Check.
advertising summit 2006

Advertising, Marketing & Media Summit 2006 Australia's Communication Horizon 27th & 28th July 2006 – Langham Hotel, Melbourne

Darren Woolley will be a speaker on: Date: 27th July Time: 12 noon Discussion: 'The Future Agency Model'

Others on the discussion panel include Russel Howcroft, Marty O'Halloran, Andrew Varasdi, Adam Ferrier

For bookings call Elite Media Group on 03 9815 2107 or book online at

https://www.elitemedia.com.au/
connect debate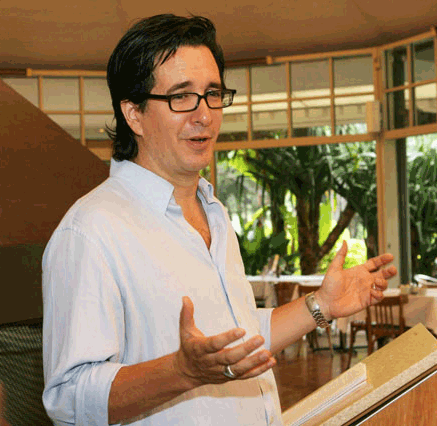 Connect Debate – Museum of Sydney, July 6th 2006 The Tipping Point: Will Mainstream Advertisng Die?
MC: Simon Canning, The Australian Debating Team: Darren Woolley, P3 Ross Dawson, Future Exploration Network Sam McConnell, Marketing Magazine Malcolm Auld, MAD
For bookings contact info@connectnetwork.com.au