Welcome to the September edition of TrinityP3's e-newsletter. Here we bring you updates on the people, purpose and processes that are important to the marketing industry.
Have a question about • agency search and selection, • agency engagement and alignment, or • agency benchmarking and monitoring?
Just ask us, we'd be happy to help.
An easy way to improve process
When we conduct agency remuneration benchmarking, we do not just determine if you are paying the right level to the agency, but we also look at the value of the remuneration.
That is, we look at the level of resources required to deliver the scope of work across the various agency disciplines to help identify where the advertising process can be improved.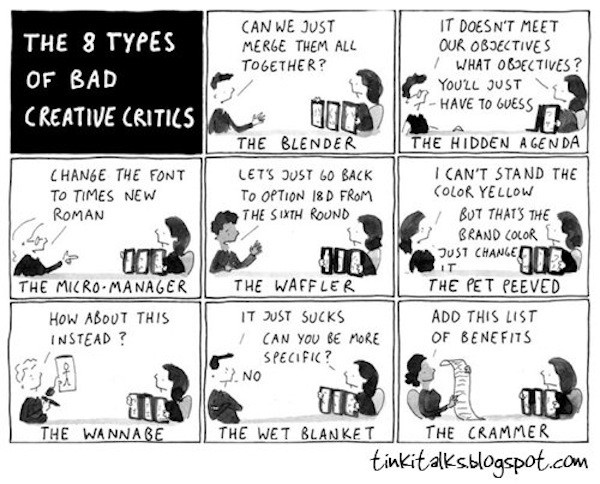 One of the areas that is often over-utilised is creative, especially in situations where the marketing team is large, layered and bureaucratic. Because in these situations, any lack of clarity in creative feedback and agencies can produce multiple concepts for every brief, (the worst situation we have seen saw an average of 27 concepts for every creative brief and 22 media plans for every media brief).
Continue reading "An easy way to improve advertising process"
TrinityP3 has launched a new website to reinforce our position as APAC's leading strategic marketing management consultants.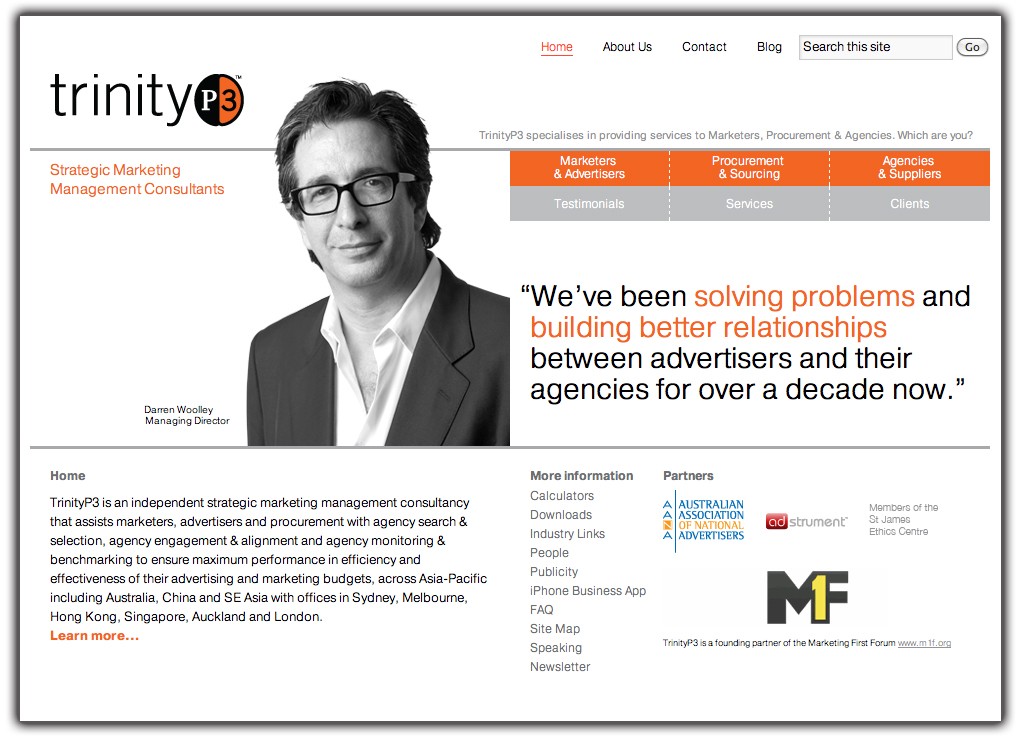 The website, created in collaboration with New York based design company, Trasaterra provides a complete update to the TrinityP3 online presence. The new site features a focus on client testimonials and feedback , a key strength of TrinityP3 who boasts working relationships with an increasing portfolio of top global advertisers.
It also allows clients and agencies to access the information resources present by their role, with specific access for: 1. Marketers & Advertisers 2. Procurement & Sourcing 3. Agencies & Suppliers
TrinityP3 founder, Darren Woolley said "With the rapid changes and challenges facing marketers and their agencies, we are continually developing new marketing leading methodologies to maximise our clients marketing efficiency and effectiveness".
The website provides easy to navigate access to TrinityP3's range of services, with the  site featuring some of TrinityP3's new offerings such as • Budget Setting & Benchmarking • Internal Structure & Process Review • Scope of Work Management
Additionally, TrinityP3's global agency register is featured for agencies and creative suppliers to register their interest in new business pitches, one of the company's leading services.
Feel free to visit https://www.trinityp3.com
McInnes is mistaken on compensation
Agency selection is not the solution to your agency compensation issues
There was an article on page 40 of the Financial Review (Sept 12, 2011) titled "McInnes moves to one pitch at a time". In it Mark McInnes, ex-CEO of David Jones and now boss of Premier Retail has axed agency retainers and has the agencies pitching on a project by project basis.
In the article Darren Woolley is referenced as saying this has been shown to not be a successful medium to long term solution.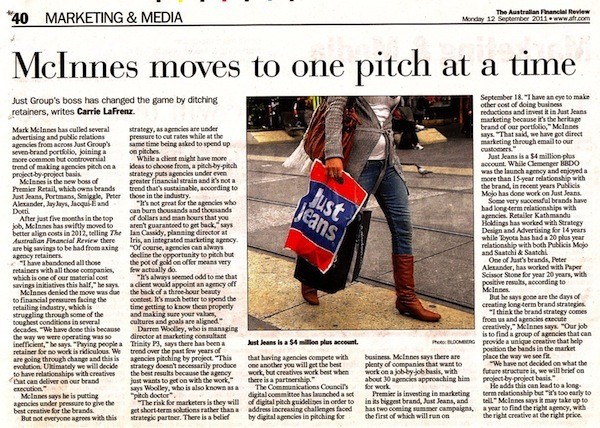 Continue reading "Agency selection is not the solution to your agency compensation issues"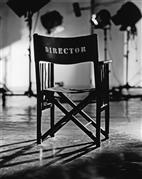 The politics, cash-flow and contracts of TVC production can be mind boggling.
So TrinityP3 is offering advertisers a free, in-house workshop for teams of marketers and brand managers to shine a light into the dark corners of TVC production, and let you ask the questions you always wanted the honest answers to.
Run by Clive Duncan, TrinityP3's Head of TV, the Workshops will:
• provide insight into the complex relationships, legal realities and money trails involved in TV production. • give an overview and better understanding of this often considered 'glamorous' side of advertising. • explain the role of key players, their relationships with each other, what motivates them and how this affects the production process and ultimately the end product, your TVC.
There are 5 free Workshops available. If you can organise 8 or more members of your marketing team to attend, then Clive is all yours for 2 hours.* Contact Georgia to arrange for your free workshop before the end of the year.
*Conditions apply. Clive is Melbourne based so costs for travel/accommodation if required will be charged at net.
Marketing First Forum is a distributed thought leadership collective of like minded marketing professionals around the world.
M1F assists marketers on global marketing excellence through local know how and effectiveness. By creating an Open Group we are keen on providing an opportunity to share and address with our peers the complex and challenging issues facing the management of marketing communications in today's world.
This Group is open for all to join and we welcome discussions and productive dialogue with like-minded marketers, communication agencies as well as consultants. For information on our services and contact details please go to www.m1f.org. Or to join M1F, simply click here.
In the past month at TrinityP3 we have: • Reviewed the agency contract for a global Automotive client • Developed an agency Enagagement Agreement for a global Alcoholic Beverages client • Benchmarked TV production costs for a FMCG client • Surveyed supplier relationships for a FMCG client • Benchmarked media buying for a Travel client • Appointed a new creative agency for a Financial Services client • Negotiated agency remuneration for an Entertainment client • Reviewed the agency market for an Entertainment client • Reviewed the agency rate card for a global Telecommunications client • Surveyed supplier relationships for a Financial Services client • Reviewed the agency rate card for a Financial Services client
If you would like assistance or advice on any aspect of your marketing spend, contact us today for a confidential discussion.