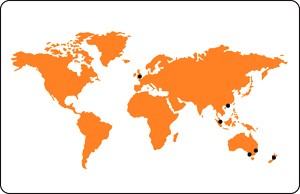 Strategic marketing requires strategic management. And TrinityP3 has been solving strategic problems between marketers and their agencies and suppliers for more than a decade.
In 2000, Darren Woolley founded TrinityP3, in order to help people to achieve commercial purpose through creative process. What that means is TrinityP3 leverages extensive knowledge of the marketing and advertising industry, to solve advertisers' problems and achieve maximum value from their budget. Now a decade on, TrinityP3 is Asia Pacific's leading strategic marketing management consultancy with an international network of more than 30 industry professionals, consulting at the leading edge of decision making in the marketing and advertising industry that spent over $350 billion in 2011.  TrinityP3's client base includes more than 50 of the world's top 100 advertisers, with offices in Singapore, Sydney, Melbourne, Hong Kong and Auckland.
Managing Director
Darren Woolley
+614 11 126 176
e: darren@trinityp3.com
General Enquiries:
+612 9964 9900
e: people@trinityp3.com
For FAQ, click here.
For our Client List, click here.
For Employment Opportunities, click here.
Global Offices:
TrinityP3 Sydney – NEW ADDRESS
Suite 702, 53 Walker Street, North Sydney NSW 2060
t: + 61 2 9964 9900, f: + 61 2 9955 7901
TrinityP3 Melbourne
Suite 201, 63 Stead Street, South Melbourne VIC 3205
t: + 61 3 9682 6800, f: + 61 3 9682 7855
TrinityP3 Singapore
Level 27, Prudential Tower, 30 Cecil Street, Singapore 049712
t: + 65 6631 2861, f: + 65 6631 2880
TrinityP3 Hong Kong
Level 21, The Center, 99 Queens Road, Central, Hong Kong
t: + 852 3478 3982, f: + 852 3478 3880
TrinityP3 New Zealand
Level 27, PWC Tower, 188 Quay Street, Auckland, New Zealand 1010
t: + 64 9 363 2891


M1F Global Partners:
USA
Ark Advisors
Canada
Argedia