It is not the strongest of the species that survives, nor the most intelligent, but the one most responsive to change – Charles Darwin
The diversity of our founder.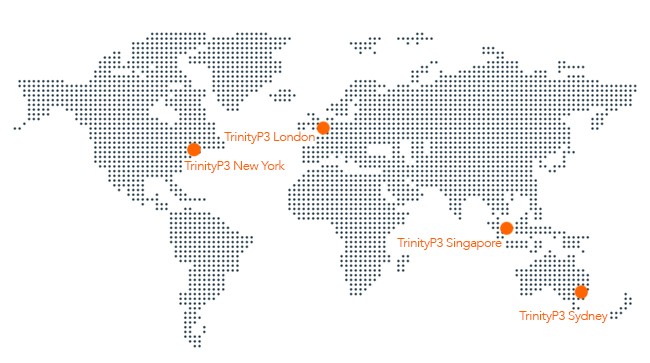 In 2000, Darren Woolley, a scientist and advertising creative director, founded TrinityP3 in Australia. His purpose was to help people to achieve commercial purpose through creative process.
Our expansion continues.
Fifteen years on, we've grown significantly, in size and in scope. We are Asia Pacific's leading strategic marketing management consultancy with an international network of industry professionals, consulting at the leading edge of decision making in the marketing and advertising industry. Our client base includes more than 50 of the world's top 100 advertisers. We continue to grow in experience, geographical footprint and expertise. We continue to challenge thinking – our own, and that of our clients.
For full details of our service offering, click here.
General Enquiries:
To talk to a real person about anything on this page, contact us.
For FAQ, click here.
For our Client List, click here.
For Employment Opportunities, click here.
Global Offices:
TrinityP3 New York
99 Wall Street #330, New York NY 10005, e: people@trinityp3.com

TrinityP3 Sydney
Suite 702, 53 Walker Street, North Sydney NSW 2060
t: + 61 2 9964 9900, f: + 61 2 9955 7901, e: people@trinityp3.com
TrinityP3 London
53 Chandos Place, London, WC2N 4HS, United Kingdom
t: +44 (0) 203 790 9229, e: people@trinityp3.com
TrinityP3 Singapore
Level 27, Prudential Tower, 30 Cecil Street, Singapore 049712
t: + 65 6631 2861, f: + 65 6631 2880, e: people@trinityp3.com
USA
Ark Advisors
Canada
Argedia