It is not the strongest of the species that survives, nor the most intelligent, but the one most responsive to change – Charles Darwin
We're TrinityP3. We're a strategic marketing consultancy. For the last fifteen years, our belief has been that creation of better results in business comes from changed thinking. We challenge our clients, and ourselves, to continuously evolve in thought and approach.
Marketing reverberates with the pace of change.
Technology continues to change society. Something powerful enough to change society inevitably challenges fundamental beliefs and ways of working that have shaped businesses for decades. Nowhere is this more apparent than in marketing, as customers and consumers increasingly control of the way in which they choose to engage with brands.
TrinityP3 exists for one reason.
Our aim is simple. We want to improve the marketing output of every single organisation that engages us.
Generating improvement can mean challenging the norm and changing values within a marketing team or broader organisation. We guide our clients on this journey, emerging in a better place for the marketing team and its attributable effect on the organisation.
There are numerous ways in which we can help your marketing operation.
Our work takes many forms. We develop new approaches that integrate data and digital into the marketing process. We help marketers strategically align their department in context of their organisation, and navigate that organisation to best effect. We shape, search and aid with selection of optimal agency supplier rosters. We measure the ongoing influence and performance of agency suppliers in a variety of ways, including financial, relationship-based and contractual.
The work you ask us to do can be selected from a wide range of report-based assessments. Whilst every report we produce is essentially tailored, we are able to go one step further and create a bespoke project to meet your exact circumstance. We can be involved in holistic assessment of an entire marketing function, or we can focus on specific moving parts.
The best work we do, regardless of scope, directly contributes to improved business output, attributable to the marketing teams that hire us. That's why we exist; that's our aim.
Our expansion continues.
Fifteen years on, we've grown significantly, in size and in scope. We are Asia Pacific's leading strategic marketing management consultancy with an international network of industry professionals, consulting at the leading edge of decision making in the marketing and advertising industry. Our client base includes more than 50 of the world's top 100 advertisers. We continue to grow in experience, geographical footprint and expertise. We continue to challenge thinking – our own, and that of our clients.
For full details of our service offering, click here.
General Enquiries:
To talk to a real person about anything on this page, contact us.
For FAQ, click here.
For our Client List, click here.
For Employment Opportunities, click here.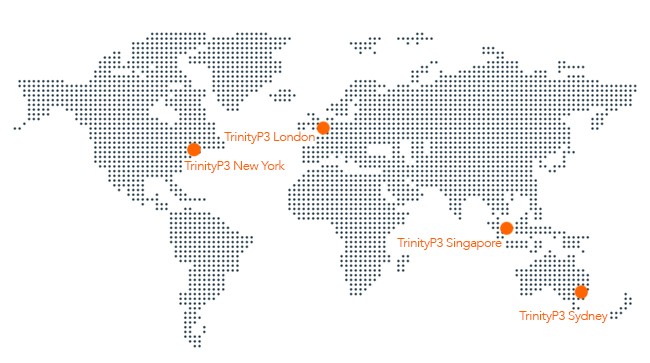 Global Offices:
TrinityP3 New York
99 Wall Street #330, New York NY 10005, e: people@trinityp3.com

TrinityP3 Sydney
Suite 702, 53 Walker Street, North Sydney NSW 2060
t: + 61 2 9964 9900, f: + 61 2 9955 7901, e: people@trinityp3.com
TrinityP3 London
53 Chandos Place, London, WC2N 4HS, United Kingdom
t: +44 (0) 203 790 9229, e: people@trinityp3.com
TrinityP3 Singapore
Level 27, Prudential Tower, 30 Cecil Street, Singapore 049712
t: + 65 6631 2861, f: + 65 6631 2880, e: people@trinityp3.com
USA
Ark Advisors
Canada
Argedia