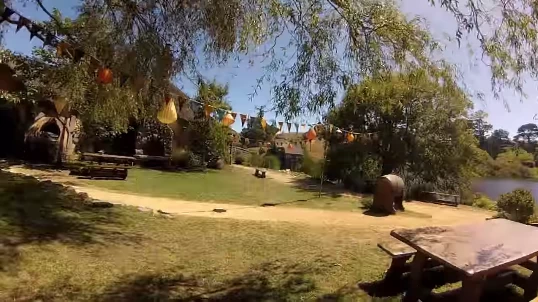 This is a guest post by Clive Duncan a Senior Consultant at TrinityP3. As a Director and DOP he has an appreciation for the value of great creative and outstanding production values, while also recognising the importance of delivering value for money solutions to the advertiser.
The still strong Australian dollar and the salary structures of some of our closest northern neighbors make shooting offshore sometimes cheaper than shooting at home. New Zealand is a fine example of this.
But if your agency suggests shooting in the Americas, Europe or some exotic location, there are several cost drivers that do not add to the on-screen value of your production that you need to consider.
1.    Facilitation mark up on mark up:
If you are using an Australian production company to shoot offshore or shooting in a country where the production company is not based, you will find they will be using a facilitation company. A facilitation company is a local production company in the location of the shoot who literally facilitate the organisation of the shoot.
The facilitation production company will add a mark up to their costs, which is the usual industry practice. But then the production company you are engaging will often add their mark-up to the foreign facilitation company's already marked up fee. This often ends up as a mark-up of up to 35% or higher on the cost of the production.
TrinityP3's upper end benchmark mark up is 20% of total production company cost, but in a competitive bid process it is typical to see mark ups of 15% to 17.5%. The trouble is that unless you are reviewing the details of the production companies quote you will never know. In most cases the agency only provides their summary sheet of the costs and this mark up on mark up is often hidden in a single line item "Production House".
2.    Business Class Airfares:
Many advertisers believe that any overseas travel attracts mandatory business class airfares for all agency and production company personnel. This is in fact not true. TrinityP3 knows of no official agreement between any parties that states that this is a mandatory condition of off-shore production.
We have heard agencies promote the benefit of business class airfares so that their personnel could "hit the ground running" i.e. arrive at their destination fully rested and not suffering from jetlag so they (the agency personnel) could perform their creative duties unimpaired from day one.

TrinityP3 contends that if the agency and production house personnel were to fly economy and spend an extra day to acclimatise at the destination prior to any creative decision being made, it would be far cheaper than business class airfares. TrinityP3 calculates that paying for an extra days accommodation and a full days head hour rate for all agency and production house crew, savings of up to 60% to 75% of the airfare component of the estimate / quote could be saved without any creative compromise.
In the past, those that they are issued to have abused business class airfares. TrinityP3 know of instances of agency and production house personnel trading in their business class airfare for two economy class tickets and either taking their spouse with them to the shoot or using the second ticket later in the year to access a new destination for holiday purposes. Not for hitting the ground running.
3.    Lack of film industry infrastructure:
Another pitfall of shooting off shore is selecting a location with no local film production infrastructure. For instance if a tropical beach was required for the shoot, selecting Maldives or the Seychelles instead of Thailand or the Philippines will mean having to fly-in an entire crew and all their equipment to the location.
But shooting in a country with a well established film industry will mean that a majority of the crew are already located in the country selected and there is a very high probability that the equipment required can also be sourced locally as well, particularly now that digital cameras like the RED and the Arri Alexa have been embraced by the global film community as the cameras of choice. Making the right decision regarding that exotic location could save up to 50% of the shoot budget.
There are many practices in the production industry that advertisers are led to believe are mandatory. Business class airfares for off-shore shoots, as well as the use of out of date industry contracts drawn up by the suppliers will set mandatory terms and conditions to perpetuate such myths.
TrinityP3 suggests that advertisers, marketing and procurement departments get together to determine a set of production terms and conditions that best suit their own unique production requirements and stipulate that the agency and production house must adhere to these if their estimates and quotes are to be considered.
Times are changing and multi-skilling, out-sourcing and flexible terms and conditions are the order of the day, rather than clinging to outdated practices.
And remember, if you need to know what is mandatory and what is not, what is common practice and what is best practice, speak to an independent third party, not someone with a vested interest.
Have you experienced any of these hidden costs? Or have you come across others?
Leave a comment with your thoughts.
Want more articles like this? Subscribe to our newsletter: