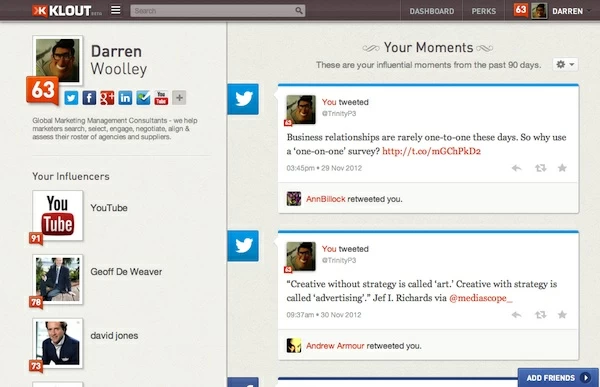 This post is by Darren Woolley, Founder of TrinityP3. With his background as analytical scientist and creative problem solver, Darren brings unique insights and learnings to the marketing process. He is considered a global thought leader on agency remuneration, search and selection, and relationship optimization.
In the past 12 months, it seems that social media experts have been coming out of the woodwork and turning up at industry conferences espousing their ideas on social media strategies.
In fact just last week in Sydney there was an industry forum on social media and of the ten speakers, two openly admitted to not really understanding social media as they did not use it, and six more had no twitter account I could find or any obvious sign of social media authority to speak on the subject.
Earlier this year I went to an industry function where the keynote speaker was a brand marketer who had recently set up as a consultant on building brands using social media. A quick check showed they had less than 200 followers and a Klout score of 16. (Klout is one measure of social authority. Others include Kred and PeerIndex)
In the US I attended a Social Media conference where not only did the organizers provide a #hashtag but every speaker had their Twitter Name on the program so you could check their Klout, Kred, or PeerIndex score of social authority.
So when you are reading, listening, or watching someone tell you all about social media, how can you tell if they are everything they say they are?
Well here is a quick step by step way to find social authority provided by Mike Morgan at High Profile Enterprises @meetmikemorgan (Klout Score 57)
Step 1: Gmail and Rapportive
Set up a Gmail account and install Rapportive. Rapportive will give you a rundown of the person's social media profiles – LinkedIn, Facebook Twitter which you can visit with a click even if the profile doesn't use their actual name. It also gives the person's position and organization. All you need is their email address – try "their name@their company dot com"

Metrics to look at:
Twitter – how many followers, tweets, interactions, frequency of use
LinkedIn – number of connections, frequency of content, interaction
Facebook – business pages as well as a personal page? Number of fans, level of interaction



Step 2: Vanity search
Type their name into Google (if they have a common name add a modifying word based on what they do) – e.g. "Darren Woolley social media"
What to look for:
Do they dominate the front page for their own name with the trade press, their own websites, social media profiles, etc?
Do they have a blog and how often is it updated?
Step 3: Influence measurement
Look at their Twitter name on social influence services (not on Twitter? They are not on social media). You will have to connect your Twitter account to look for these:
Klout – anyone calling themselves a social media speaker should have a minimum of 50 (at the very least)
Kred – minimum 650
PeerIndex – minimum 50

Many speakers are challenged by the thought of a measure of their authority to speak on social media. But with so many people purporting to be social media experts, I think it is important to be able to understand what authority they are presenting themselves as specialists or experts.
As an interesting footnote, Forbes recently published this article on the social media authority of CMOs in the Fortune 100. What they found may or may not surprise you – only 12 had a Klout score of more than 30 and 76% had no Twitter following.
What do you think?
Want more articles like this? Subscribe to our newsletter: