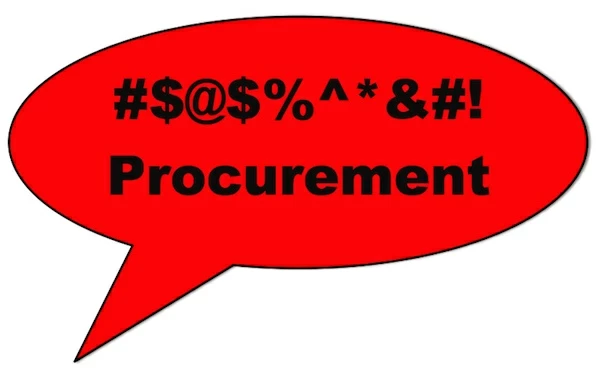 This post is by Darren Woolley, Founder of TrinityP3. With his background as analytical scientist and creative problem solver, Darren brings unique insights and learnings to the marketing process. He is considered a global thought leader on agency remuneration, search and selection and relationship optimisation.
It may surprise the many advertising agencies that complain to me about procurement that we are also often required by procurement to tender to assist in running tenders. I know this may seem overkill, to go through an RFP process to select a consultant to run an RFP process, but that is the nature of business these days.
And just like many agencies I have recently been increasingly frustrated in the quality of the procurement profession (and I use the term loosely in the examples I am about to give) and the way it is practiced because while many procurement people work hard at adding value to the process, there is still an inordinate number of procurement people who slavishly follow process at the expense of any possible value existing in the outcome.
I will declare up front that in both of these cases we were not successful, but in no way is this sour grapes. In actual fact, in one case we withdrew and in the second we wished we had withdrawn sooner when the warning signs were flashing.
In both cases the organisations involved professed to be of high moral standing and integrity, yet the behaviour and practice of the procurement process was very much short of this lip-service and in fact has certainly damaged my perception of those organisations.
I cannot reveal their names or identify them in any way as they conveniently hide behind confidentiality agreements, which I agree should be used to protect commercially confidential information, but in these cases are used to protect those who have little regards to honour, trust and integrity.
So what did they do wrong?
1. Confidentiality Agreements
In both cases the process started with a particularly onerous Confidentiality Agreement. One was 16 pages and the other 24 pages long. I am a strong advocate of Non-Disclosure Agreements and Confidentiality Agreements to protect commercially sensitive information. I believe they should be straight forward and in plain language.
However in this case, the longer confidentiality agreement had buried in its numerous clauses an Intellectual Property clause that effectively meant that any IP arising from the RFP process was to be assigned to the Party disclosing confidential information (i.e. The client) and that this did not exclude existing IP. Effectively signing this supposed Confidentiality Agreement would mean that all of our valuable existing IP would in effect be assigned to the client. PASS.
2. Project Definition 
Now protected by the confidentiality agreement they provided very little in the way of commercially confidential information such as current agency arrangements or spend or even the size of the project we were to tender for or the proposed timeline. I am really not sure what they were wanting to protect, because none of the information provided in the subsequent RFP had any information that could not be found on their website or a 0.20 second Google search of the organisations name.
Yet we were expected to prepare a cost proposal without any of the details on their proposed objectives, timeline, process and the like. And if we asked questions, this is what happened…
3. Providing Answers to Questions
In fact there was no point asking questions, even the most basic and fundamental. I asked one of the procurement people if they could let me know the following:
How many consultants had been invited to tender – after all, before I invest time and resources filling out an RFP I need to assess the odds of success.
What is the selection criteria for selecting the successful consultant and if there are multiple criteria how would these be weighted – so I could better structure my response to meet their needs.
What was the selection process and would there be an opportunity to meet and discuss their requirements – so I could determine if chemistry was seen as a selection criteria or if they simply saw the selection process as a commodity.
They refused to answer any of these questions on the basis it was outside the procurement guidelines. What type of guidelines completely negate a suppliers ability to assess if they are even right for the project except in the broadest terms, assess the potential return on the investment to participate and allow you to assess the probability of success?

There is an underlying arrogance to this flavour of procurement which assumes that suppliers are willing to unquestioningly jump through flaming hoops and crawl across broken glass for the chance to pitch for their business. The problem is that the companies that are willing to do this are usually less capable and therefore less successful.
4. Time Management
Then the final insult was being asked to respond to all 69 points on the RFP in 48 hours. Sorry 96 hours, if you included working through the weekend. because when you are running a busy and successful business and managing to keep overheads low, of course you have people sitting around waiting for the opportunity to dedicate themselves to completing an RFP that asks you to demonstrate how you see yourself aligned to the organisation's values.
We refused, only to be told that everyone had refused and so please just provide an estimate of costs in the next 24 hours and a decision would be made the next day. Well two weeks later, we were still waiting. This is not unusual. Agencies have told me of waiting more than six months for any contact from an organisation after turning themselves inside out to complete an RFP in five days.
I understand that often the selection process can become messy and protracted. We have one like that at the moment. But we try and keep all candidates aware of what is happening to alleviate any concerns. I asked a couple of procurement people about this and they told me it is their procurement policy to keep any communications with those responding to an RFP to a minimum to avoid compromise.
Suggestions on how to clean up
1. If you have procurement guidelines make sure that either the guidelines or their application and interpretation are not working against the best possible outcome, especially when selecting suppliers that will need to work in a highly collaborative manner.
2. Use confidentiality agreements to protect commercially sensitive information only. Do not try to sneak other clauses into these agreements. And even better use them to acknowledge that the party receiving the confidential information has existing IP too that should be protected.
3. Be open and honest in providing information such as the details and scope of the project, the process including details of the selection criteria and process, to make sure the potential participants have all they need to assess their suitability and desire to participate.
4. Be open to answering all questions in regards to the process, the scope of the work and the project details. Share the process answers with the other candidates, but do not share questions and answers which demonstrate the strategic thinking of a candidate without their permission.
5. Manage your project schedule realistically to ensure there is enough time for every stage of the process, both for those responding to the RFP and for the assessment on the organisation side. If the timeline blows out keep the respondents updated with the reason and the revised timing expectations.
My concern is that whether deliberate of not, much of what passes for procurement process creates a perception of arrogance that leads to distrust, when the purpose of the procurement process is invariably to ensure that all parties get an opportunity to be fairly and justly considered.
What do you think?
If you want some ideas on how to combat the commoditising effects of procurement and the RFP processes, check out this SlideShare presentation I gave to AMSRO last year.
This post first appeared on Mumbrella on March 28, 2013.
Want more articles like this? Subscribe to our newsletter: