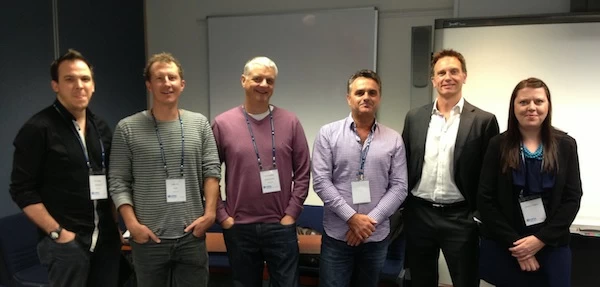 This post is by Darren Woolley, Founder of TrinityP3. With his background as analytical scientist and creative problem solver, Darren brings unique insights and learnings to the marketing process. He is considered a global thought leader on agency remuneration, search and selection and relationship optimisation.
At the recent CIPSA Category Management Week held in Sydney in late May this year, I assembled a panel of marketers, agency and procurement leaders to discuss the issues surrounding marketing procurement.
The panel (From left to right below) was comprised of:
The questions I posed on defining marketing value and the roles of procurement in this process were:
Where do you 'add value' in the marketing process and to business performance?
How do you measure value?
Where do you see the opportunities for marketing procurement in this process?
What are the areas that provide the greatest challenge when procurement and marketing meet?
Where have you seen agencies, marketing and procurement working best together?
Here are the answers from the panel.
Where do you 'add value' in the marketing process and to business performance?

NH – From a technology point of view, there are three primary areas… Tools that increase accountability – i.e. data reporting. Tools that increase effectiveness/efficiency – i.e. RTB and programmatic. Tools that answer new questions – i.e. Social media management.

PW – The answer is it varies enormously, dependent on the type of service or partnership a client wants. But if I were to define value as the core service that a client cannot do themselves and must outsource to get quality,  the greatest value in the business chain is building powerful creative assets that drive businesses.
I see creative assets as the modern form of patent. Today most areas of the business system can be quickly duplicated, your unique creative expression cannot. No-one else can be Apple – no-one else can be Virgin – no-one else can be Coke. Brilliant creative expression – you will stand out from the pack. Do it averagely and you will suffer the cardinal marketing sin – lack of differentiation.

AF – Value derived by a media agency used to be a predominantly two dimensional measurement – media rate compression and the securing of no-charge activity.  Both of these forms of value are subject to diminishing returns – there is only so much free stuff and discounts any agency can drive.
Discounts and no-charge activity are still important, but they're point of entry for an agency.  We are now focused on creating business value to our clients in a multi-dimensional sense.  Through the instruments of advanced data analytics, the application of neuro-marketing principles and precision media execution, we are delivering significant business value to our clients.

MH – Honesty, Passion , Results.
Taking the time to understand the business challenges and opportunities as well as how the business operates… process and engagement.
Solving business/marketing challenges with a focus on effectiveness and efficiencies. A great idea doesn't need to be a big idea (i.e. delivering results whilst making it financially viable for both the agency and the client).
Developing solutions which have scalability or add longer term value (e.g. developing an underlying CRM programme so $ invested in a single campaign continues to deliver results  in the future.

JB – The role of the client marketer is to drive growth for the organisation by impacting customer / consumer behaviour, ideally for the long term.
How do you measure value?

NH – Firstly there's the real-world impact that we have – isolating effectiveness and measuring the right things. (this can be media value, awareness and brand metrics, foot traffic, isolated sales uplift, etc.) Secondly we measure the learnings we create through testing new approaches via continuous improvement. Those two in tandem are really important – it's great if we're doing the first, but to add value in the long term we need to do the second.
Finally there's the value to the client – we measure this through a NPS style system, and we do it regularly and it's a central focus of our client teams.

PW – We measure value ultimately in the way which is most tightly aligned with our clients kpi's for communications. If theirs is sales, ours is. If it's brand health, or lead generation ours is. And we measure ourselves against that.

AF – True value must be measured against our clients' business metrics.  There is no point driving an aspect of perceived media value if it's not having a demonstrable effect on a client's business.  This is where the use of data analytics is crucial to determining success and applying ongoing learnings and refinement.

MH – Delivering results cost effectively. Delivery – you can't underestimate the value of doing things on time, on brand and without headache. It's a hidden cost like on boarding a new employee but it is a cost nonetheless. Developing IP/assets for the business to leverage longer term (consumer data, platform, IP etc)

JB – Ultimately value in marketing is assessed by the amount of behaviour change exhibited in customers and consumers, often but not exclusively measured in EBIT. The annuity value of a consumer whose behaviour is impacted is greater than the in year profit.
But in a complex business system it's often hard to draw direct correlations between individual activities and the profit or behavioural outcome. It's more often as a result of whole the system that results occur. As such 'value' can also be measured further down the communications chain. Hence marketing's focus on measuring changes in brand perceptions and things like awareness.

There's a genuine tension between the things you can measure and attribute to the activity and the actual requirements of the business. This can make assessing the value of an agency's contribution hard. Especially in the arena of performance related pay. We have to value the inputs, as well as the outputs when dealing with complex systems.
Where do you see the opportunities for marketing procurement in this process?

PW – Like all businesses, there are good procurement  people and there are not so good. My advice would be have an in-depth understanding of what you are buying. Is it high end strategic and creative talent upon which your brand will pivot? Or is it low skill low margin volume work. Understand the role of marketing in your business, and the role of creativity. Learn the creative industry and how different talent levels are hired and sold..
Understand that all artistic talent is not equal, and that traditional procurement measures of unit purchase aren't always applicable. I refer to the story where a lady requested of Picasso in a Spanish restaurant to do a portrait on a tablecloth, which on completion he said "that'll be 10,000 Euros". She objected saying " it only took you 20 minutes". Picasso responded "Madam, it took me 20 years."
So time and speed aren't necessarily an appropriate pricing model if you're after high level creativity, because you're paying for unique experience which is expensively acquired. Recognise that under a traditional head hour model the faster and more experienced you are the less you get paid. And of course there has never been a better incentive to work slowly!

AF – Beyond normal procurement processes, there are three opportunities for procurement departments to derive significant value from an agency:
Advocate the importance of understanding client owned data sources and challenging the agency to create maximum value from the use of these and other data sources.  This approach will ensure better ROI measurement and empower the agency to deliver business value as opposed to two dimensional media value.
Translate the broader business goals with marketing and agency to ensure a congruent strategy for determining what true business value is to the organisation.
Orientate financial performance incentives to motivate the right behaviour from an agency.

Done well, these three things can unleash an agency to create enormous business value for clients.

JB – For me the role of procurement is to find the highest quality provider of specialists services and ensure they are engaged at an appropriately competitive rate. Quality first, rate second.
What are the areas that provide greatest challenge when procurement and marketing meet?

NH – An understanding of the marketing and media landscape – and therefore an understanding of the role of the agency. Especially on the media side procurement is often still focused almost solely on media value – this is the thing that pitch processes seem to focus on and want to nip in the bud.
The problem is we're quickly heading to a world where there's no bud, only pollen – so there needs to be an understanding of how to value the services an agency offers and how to enable it.

AF – The desperate need to demonstrate savings on agency fees is a constant challenge.  Right or wrong, the perception is that procurement departments are obsessed with reducing agency fees to the point where we become unsustainable businesses.  In this scenario, no one wins.
The other challenge we see is the lack of understanding in relation to how the media industry works.  In pitch situations we are often asked to provide analysis of media cost in a vain attempt to benchmark and compare agency rates.
More often than not, these exercises succeed only in exposing a client's naivety and lack of understanding.  At worst, these forms of analysis create a murky and complex agency landscape that promotes poor decision making by clients.

MH – Understanding the basis of the relationship between the agency and the client (and other client partners). We often speak different languages. Agencies are hard to compare in spread sheets. We don't fit into boxes. We offer our services in completely different ways.
Probably the only similar thing across digital agencies is the account management structure. We can't cost 'medium tier projects' – meet with us to talk through your requirements. Don't converse through spreadsheets. We have different priorities. Theirs is Cost, Relationship, work. Ours is Relationship, work, cost. Understanding the type of services provided, associated value and true agency cost (+margin).
Digital can still be seen as a channel to deliver marketing "cheaply". It can be cost effective but this should not be the basis of financial negotiation; cost should be aligned to value. Clearly defining the roles/services to be provided by each agency contracted by the client.

JB – Often the procurement professional is measured and focused on rate first, quality second. An inherent tension. Secondly as marketing becomes more complex, marketing procurement increasingly needs more specialism and deeper understanding of the workings of the function. A procurement person who really understands marketing and how it's changing is rare.
Where have you seen agencies, marketing and procurement working best together?

NH – Where all businesses understand the scope of the job – and where the agency is allowed to operate at it's full scope – data, social, content creation, SEM, digital, as one unit. Increasingly these elements of marketing are becoming interdependent, so we find we get the best results for our clients when we have the scope to utilise every part of our business in servicing theirs.

AF – Focus on achieving business objectives, not simply cutting fees and squeezing rate discounts.
Motivate the right behaviour through performance incentives that relate to the business objectives.
Accept that "you get what you pay for" is as relevant now as it was in the 15th century.
Procurement professionals need to create enduring relationships with agencies.  The average tenure of a CMO is 28-44 months (depending on industry).  Procurement can often be the enduring link between client and agency.

MH – When the client is strong. When they lead rather than cause their agencies to fight over scraps of budget. Quite simply when a relationship and level of trust is built between the three parties. An understanding of what is required (services, contractual terms, costs) and a collaboration to ensure any financial and service engagement is cost effective and financial viable for all (i.e. marketing and procurement save costs and agency covers cost plus agreed margin)

JB – This always works best when enough time and effort has been spent genuinely understanding everyone's needs and objectives. All too often the only needs considered are the financial ones of the client.
Would love to hear your thoughts on these questions. Leave a comment here with your answers to these important questions.
Want more articles like this? Subscribe to our newsletter: