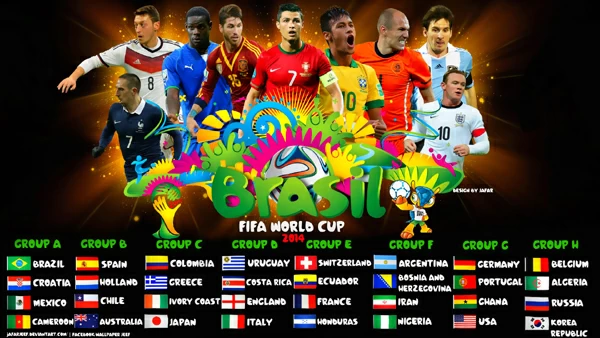 This post is by Anton Buchner, a senior consultant with TrinityP3. Anton is a lateral and innovative thinker with a passion for refocusing business teams and strategies; creating visionary, data driven communication plans; and making sense of a more complex digital marketing environment.
"Is our sport sponsorship delivering good value?"
This a question we were recently asked by a client.
And having also recently watched the 2014 FIFA World Cup, seeing brands through their sponsored and non-sponsored guerilla activity attempt to win customers over, I thought I'd explore sponsorship value a little deeper.
Let's play the 'delivering good value' game
Whistle blows to signal kick off. Game on.
FIFA has six top sponsor "partners":
Adidas
Coca-Cola
Emirates
Hyundai Motor / Kia Motors
Sony
Visa.
Many people have been asking who won the World Cup in terms of sponsorship?
Lets delve a little deeper into Adidas v Nike.

At TrinityP3, we assess any sponsorship based on 4 lenses:
Business alignment – how strongly does the sponsorship align to business objectives.
Cost / value equation – what definable value is the company receiving from the sponsorship for the investment
Quantifiable results – does the sponsorship deliver on what it promises and how quantifiable is the spend
Leverage – how well does the sponsorship offer opportunity to leverage connections with potential customers (both internal stakeholders and external consumers)
Business Alignment
Soccer has about 2 billion fans worldwide, followed by basketball with 1.2 billion, according to sports research consultancies Repucom and Sport+Markt.
Roughly 70% of the soccer related product market is controlled by Nike & Adidas (with Puma 3rd). However Nike only entered the soccer product market in 1994, whereas Adidas has been associated and aligned since 1949.
Adidas is the market leader however Nike is hot on its heels and has a strategy to be number one.
In 2013, Nike's soccer related revenue was $2b (up 21% from a year earlier, and about double the pace of revenue growth for the broader company) and Adidas was $2.4b
Adidas launched the 'One Brand Anthem' strategy bringing together its three lines of business (sports, style, and street) into one global campaign for the first time ever and engaging with consumers across multiple platforms and touchpoints.
They called it All In or Nothing.
Nike has taken a #riskeverything strategy and wants to win in soccer globally.
Risk everything is all about success despite pressure and Nike has focussed on blending product placement with entertaining content and real time marketing. The question is whether all the social connection converts into sales.
So lets call it 1-1 at this stage.
Cost / value equation
FIFA predicted it will generate $1.4 billion in sponsorship revenue from twenty-two different companies from the 2014 World Cup.
The six FIFA Partner status companies contribute roughly 56% or $783 million. So assuming equal contributions from each of the Partners, the 2014 World Cup cost Adidas about $130.5 million in FIFA sponsorship alone.
Adidas also reportedly spent US$68m on its advertising campaign.
Industry analysts have also calculated that based on $21.2 billion revenue target for Adidas in 2014, then Adidas may have assigned a $2.14b marketing budget (the same spending ratio at last year's 10.1%).
So with a sponsorship cost saving, Nike slips a sneaky goal ahead.
2-1
Nike and Adidas fought out their 2014 World Cup strategy with sponsorship of National teams and individual super stars. Together they sponsor 19 of the 32 teams in the tournament.
Nike sponsored 10 teams, including hosts Brazil and the rising stars United States, while Adidas sponsored 9, including the last World Cup champion, Spain, and both this year's 2014 finalists Germany and Argentina.
Yet it's the first time Nike has kitted out more teams than Adidas.
So 3-1 to Nike.
However with Germany and Argentina both #Allin the final, Adidas is claiming victory. That's 2 goals to Adidas. It's all tied up again.
3-3.
Adidas sponsor Colombia's James Rodriguez, who won the golden boot (for being the leading goal scorer in the tournament), as well as Germany's Thomas Muller and Argentina's Lionel Messi.
4-3 to Adidas! It's a goal fest.
Yet Nike boasted about the fact that 53% of players on 2014 World Cup squads wore Nike boots.
And Gonzalo Higuain of Argentina and Miroslav Klose of Germany (who broke the all time tournament scoring record), both wore Nike Hypervenom boots in the final.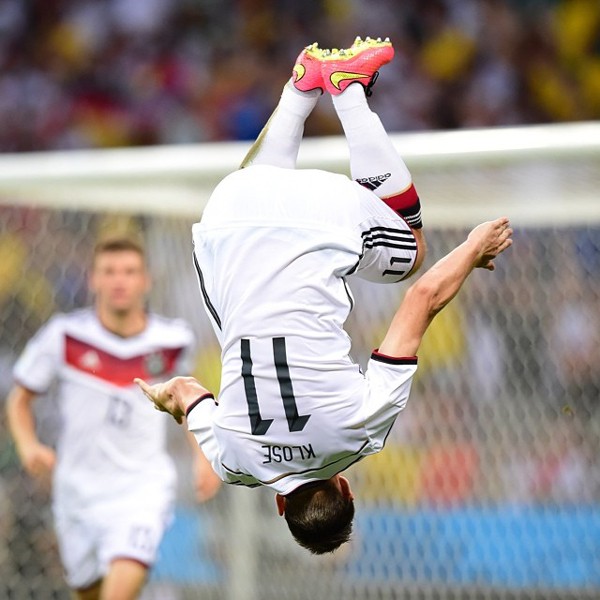 4-4 at half time in the 'delivering good value' game.
Hold onto your seats for the second half.
Quantifiable results
FIFA has stated that more than a billion fans worldwide accessed information about the tournament through its digital platforms.
"This has been the first truly mobile and social World Cup," said FIFA President Sepp Blatter.
And there were more than 3b interactions on Facebook (more interactions than the Super Bowl, Oscars & Olympics combined). With the Final generating 280 million interactions from 88 million users, including comments, likes and posts.
There were 672m posts on Twitter with 32.1 million during the final. Not quite pipping the 35.6m posts during the Brazil-Germany semi-final.
Yet there were 618,725 tweets a minute registered after Germany scored the winning goal in extra time to defeat Argentina 1-0. That beat the 580,000 tweets a minute generated during Brazil's humiliating 7-1 thrashing at the hands of Germany in the semi-final. Interestingly this compares to 381,605 tweets a minute during the 2014 Super Bowl, according to Twitter.
There were also over 2.1 billion #WorldCup-related searches on Google.
However back to the game, lets look at some of Nikes' and Adidas' digital media metrics.
The Risk Everything YouTube Video has been viewed over 16.6M times, with a 35:1 like:dislike ratio.
Adidas' All In or Nothing YouTube video has amassed over 38M views, however with a 6.3:1 like:dislike ratio.
Yet Nike's Last Game video has received a whopping 64m views! With a fantastic 36:1 like:dislike ratio.
Nike reports their campaign has proved to be their most social and mobile campaign ever, with 22 million campaign engagements to-date (likes, comments, shares), and 650,000 uses of the hashtag #riskeverything in social media.
However, Adidas' #Allin hastag trumps Nike's with 917,000 uses.
And Adidas had the fastest growing Twitter handle (@Brazuca which has over 3.9M followers) during the tournament with the official (crowd sourced) name of the match ball, Brazuca.

Maybe a goal each.
5-5
Nike has had a 21% increase in soccer revenue for the year June 1- May 31 preceding the 2014 tournament and is closing in on Adidas' market leadership.
Ultimately it will be interesting how sales pan out for both companies in the next 6 months.
So a close chance for Nike ricocheting off the post.
Leverage
As we enter extra time, and the 'delivering good value' game is still tied, it's critical to understand how Adidas has leveraged their sponsorship. This could be the clincher to outweigh Nike's guerrilla attack.
As mentioned before Adidas named the match ball (Brazuca being the winner) and has created extensive leverage through social media and digital platforms – YouTube, Facebook, & Twitter.
They ran promotions to win soccer balls signed by sponsored players by following Adidas' soccer-related Twitter accounts.
Additionally, they created the Adidas' SoundCloud page (107,000 followers) as the home to World Cup-inspired music playlists, and conducted The FIFA World Cup Chant Challenge, giving fans the opportunity to create an original chant for their respective national teams and enter to win a trip for two to the World Cup.
Adidas also had extensive on-site activations including opening a Creation Centre in Sao Paulo, and 3D light projection shows in Rio de Janeiro.
However I'm not privy to how well these performed and how they were measured.
So no goals!
It's still 5-5 nearing the end of extra time. Maybe a penalty shoot out will have to decide it?
Although it feels to me that Adidas has overinvested in the hope to stave off Nike's threat. My feeling is that Nike will knock them off.
Gooooooooooooooooooooooooooooooooaaaaaaaaaaaaalllllllllllllllllllllll
6-5 to Nike I say, with a calculated goal in the dying seconds of play.
Hope you enjoyed the 'delivering good value' game.
And if you need, we'd love to help you answer the question:
"Is our sport sponsorship delivering good value?"
Want more articles like this? Subscribe to our newsletter: