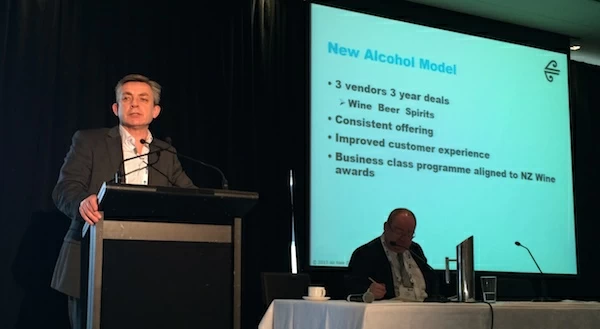 This post is by Jodi Randall, Senior Consultant with TrinityP3. Jodi is an ATL & BTL production management specialist with extensive experience and brings a wealth of knowledge and insight into production efficiencies and effectiveness across the breadth of production services.
The dedicated practice and embracement of organisational procurement practices really has a culturally enhancing impact across an entire company. This was abundantly evident when I recently attended the Chartered Institute of Purchasing & Supply (CIPSA), workshop in Melbourne last month. Titled, 'Procurement Game Changers, Projects that made a difference', the workshop brought together experts from a cross-section of industries.
Procurement Pillars
Roger Gray, Group GM Business Performance, Air New Zealand recounted, that for the last five years a succession plan has been in place to replace Air New Zealand's entire aircraft fleet with the incorporation of new branding.
This undertaking enforced a long held vision on the need to implement a Strategic Vendor Management (SVM) program. As a consequence a total departmental restructure took place with which Roger lost a fair amount of staff – par for the course for a crusader of change; what has resulted though is a much more unified procurement team.
The SVM program objectives are to purely scope out the entire category planning, review of vendors, RFI and tender process – and that's where their engagement ends.
Procurement Excellence steps in next, and their role and responsibility is to handle the negotiations, write the policy and complete the reporting. The process management is then handed over to what I could describe as 'Procurement maintenance' personnel, whom ensure all processes and components run smoothly.

Roger continued to speak at length about Air New Zealand's 'Customer at the Core' philosophy indicating that procurement is much, much more than an internal cost measure – it also extends to unify customer satisfaction and expectations.
Suppliers creating the game change
Stephen Rowe, Chief Procurement Officer from Parmalat doesn't like to confuse operational efficiency with strategy.
Stephen presented a case study involving Parmalat's decision not to re-new the contract of one of their long-term injected molded packaging suppliers. As a result a replacement had to be sourced within a 30-day window. The replacement needed to not only be more cost effective but more responsive to Parmalat's changing needs and requirements.
One of the short term detractions during the selection process was that the milk packaging cap colour, varied compared to its usual color – this situation created a real short-term concern for Parmalat's Marketing Department. A large number of consumers pick-up their milk based on cap colour – it's a swift pick-up as customers fly past the refrigerator section; its selection based on familiarity.
This case study illustrated that procurement decisions do impact consumers, retailers and product branding.
Social media to change supplier behavior
Philip Chalkley, Chief Procurement Officer, Department of Justice presented a topical case study which utilised social media.

A go-to-market eTender process resulted in a substantial amount of pushback from their current suppliers. Phillip and his team selected social and public media as their medium to reach and educate the customer base and industry on what their intensions and benefits to counter the voices of the naysayers.
This strategy had an overall positive result in gaining support from customers to drive and influence potential suppliers to allowing the organisation to go to tender as planned.
Collaboration and Procurement
Tehara Wickham, Head of Procurement Governance and Engagement, NAB, engaged the audience and encouraged participation during her presentation.
Her topic focused on the requirement for Procurement to align and interconnect within all sectors of the business to achieve a common direction. Tehara quantified that procurement objectives need to be measured against the overall business objectives. "There is my view, there is your view, and then there are the facts."
NAB abides by the '3A's': Align – deeply, Act – quickly, Adjust – often. Very sound, collaborative advice.
'Do one good thing and do one in return'
Craig Lardner, (CIPS Global President) has adopted a theme for 2014, which is, "Do one good thing and do one in return". Each CIPA President chooses a theme for the year of their tenure to present during their conferences internationally.
Craig's message was simple, the distances between countries does not matter… what we do and what we say to each other does matter. He encouraged all workshop participants to reach deep and do one good thing, globally and also one good thing in return, locally.
Procurement and the Global economy
Procurement is always a topical focus during periods of economic downturns.
John Peters, Commonwealth Bank, Senior Economist for Global Markets set the record straight. He spoke at length of the recession we have never had, in fact, we haven't had one for nearly a quarter of a century. When stacked up against the rest of the world, Australia has dodged a bullet to which we should be grateful.

One of my key motivations for attending this workshop was to assess the current positioning of the procurement hierarchy.
Has there been a change of mindset – is marketing treated like other indirect purchases – review, negotiate and drive suppliers down on cost?
The results surprised me; procurement professionals are sophisticated, business savvy individuals who operate with a real clarity of direction.
Have you had experience with procurement within marketing? I would love to hear any of your comments or queries.
Want more articles like this? Subscribe to our newsletter: