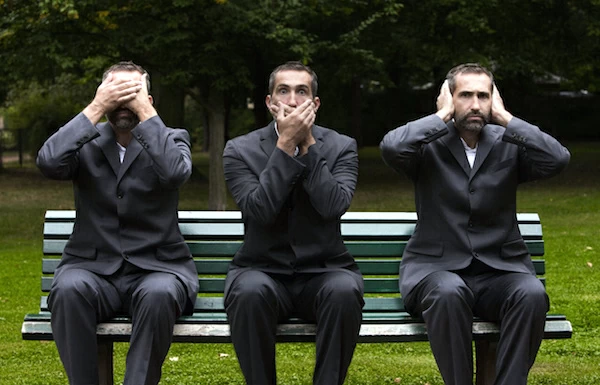 This post is by Nathan Hodges, TrinityP3's General Manager. Nathan applies his knowledge and creativity to the specific challenges of marketing management, with a particular focus on team dynamics and behavioural change.
I did a lot of work with party political clients in the nineties. It was great fun a lot of the time, and I learned plenty from some very smart operators.
As a natural optimist, it also left me rather more cynical than I like to be about the contrast between public and private behaviour.
Ever since, I've had to make a bit more of an effort to remain Mr Brightside.
But the last week or so the media world has proved a bit of a challenge for someone who always likes to see the best in the industry and its people.
If I were allowed to unleash my inner cynic just for a moment, I might make three rather cynical observations.
1. Embracing the Jo Moore school of PR?
First of all, if I were still involved in 90s-style spin and party politics, and I had a piece of bad news to release – oh I don't know, like a report that comprehensively and forensically uncovered basic problems at the very heart of my business, not just directly affecting all my main client relationships but also the reputations of most of the major media agencies in Australia – I wonder when I'd choose to release it?
Let's see. Perhaps during the normal working week, when the press can cover it properly and healthily, open debate can be had within agencies, client organisations and across the industry? Or maybe late afternoon on a Friday, just ahead of a long weekend in most Australian states, when the majority of your audience is either in a car, on a plane or propping up the bar? Hmm…
Except, of course, in a world of online publishing, informed comments and social media discussion these kinds of old-school methods just don't work any more – and in fact haven't done since 2001 (the teenagers amongst us can Google 'Jo Moore' at this point). Once you see tactics this half-arsed, you just know that there's a ton of bad news in the report and those involved are not only desperate to bury it, but clumsy with it.
Unless I'm being too cynical about the timing. Hey, I probably am.
2. The agency leaders will take responsibility?
Second – and again, call me a nasty cynic if you want – I'd not be expecting any direct responsibility to be taken by anyone at the top or even near the top of any agency remotely involved in this. Or even the middle.
As we've seen, a few junior heads always need to roll, but that's vital to show that the agencies have tackled the problem where it was happening. But don't panic everyone. It's just a couple of bad eggs, and a bit of a supervision problem.
Nothing to worry about at all. And please, nothing at all (at all!) like the systemic, cultural, industry-wide disease that struck down – just for instance – the investment banking sector in 2008. Or HSBC in Europe just last month. Let's not get hysterical here.
Except, of course, spending clients' money wisely for the good of their businesses with media owners is actually the essence of the media agency gig, isn't it? And if the agency you're running isn't quite doing that, and hasn't quite been doing that for more years than you care to know, then shouldn't you bear some kind of responsibility? Just a little?
I mean, either you knew what was going on (in which case you should have stopped it) or you didn't (in which case you probably should have known, given that it's your job to know). Or am I just being naïve?
3. Leadership will come from the industry?
Third – and how terribly cynical I'd have to be to think this – who could reasonably have expected the MFA to come up with anything other than a large bucket of whitewash to throw over the whole story?
It's like asking Don Corleone and the Heads of the Five Families to give us their view on law enforcement in 1950s New York.
I can imagine the MFA sitting on leather chairs around an oak conference table asking each other in Italian-American accents: 'How did things get so far? All this publicity and these wild accusations – they're bad for business. And we are, after all, businessmen.'
Except, of course, isn't clear industry leadership and bold thinking in testing times the whole point of a peak body? Shouldn't that be exactly what we can expect from the MFA? Otherwise we're just left with a cosy networking club for senior executives and vested interests. Now that really would be a cynical thing to think.
Anyone care enough to do more than moan and complain?
Enough with the cynicism. What might happen next? Will we see a media sting operation from Mumbrella? Or a breakaway from the MFA? Should we be looking for the media industry's version of Edward Snowden?
Or, in the best outcome of all, will we see all the talented, committed, innovative and smart people making up the majority of staff in every media agency in Australia, claim back their industry from this whole saga and reassert the tremendous commercial value of the work they do?
I hope so. Because no-one likes a cynic.
To find our how TrinityP3 Marketing Management Consultants can help you further with this, click here.
Want more articles like this? Subscribe to our newsletter: