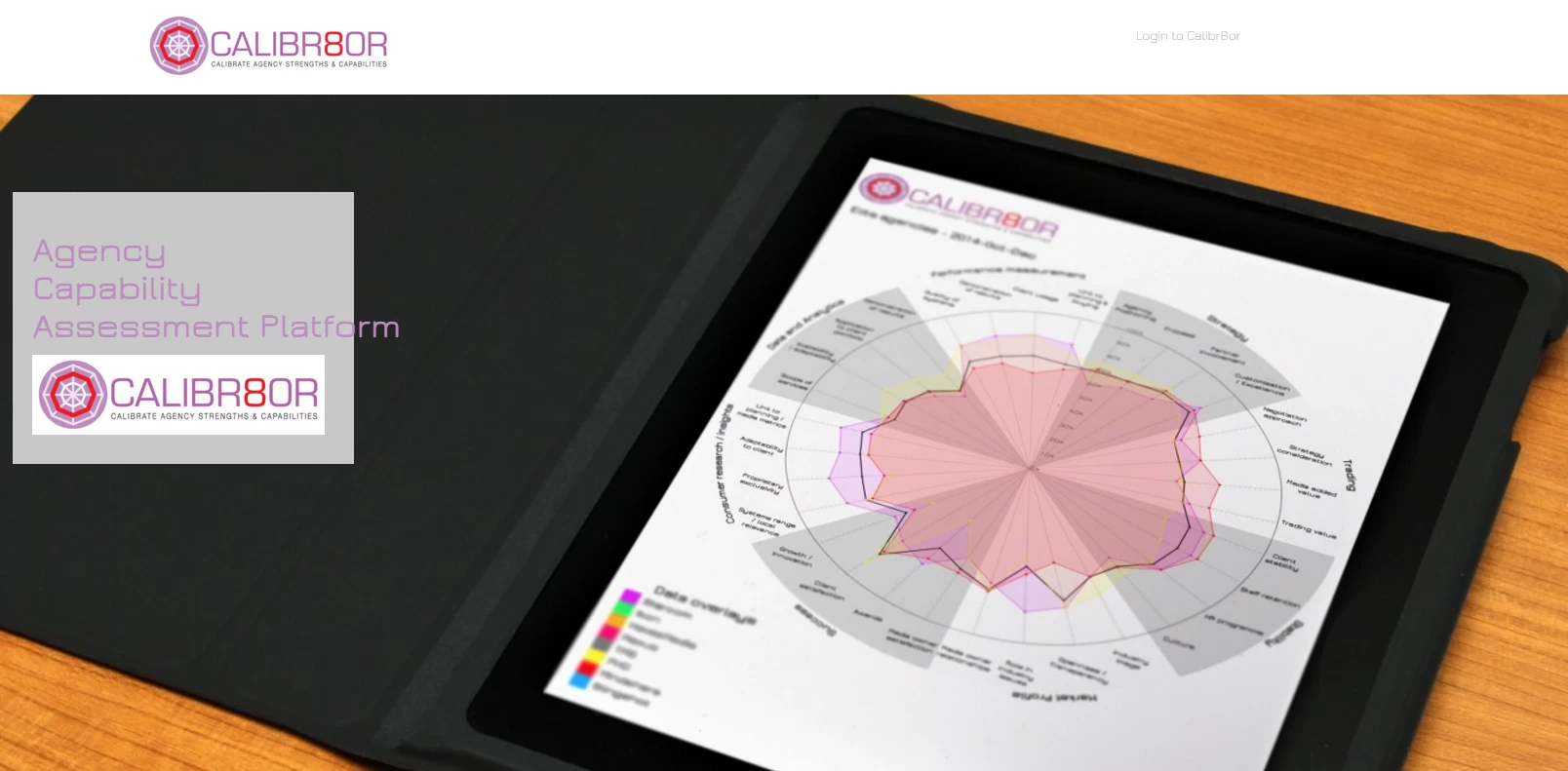 Managing Marketing is a podcast hosted by TrinityP3 founder and global CEO, Darren Woolley. Each podcast is a conversation with a thought-leader, professional or practitioner of marketing and communications on the issues, insights and opportunities in the marketing management category. Ideal for marketers, advertisers, media and commercial communications professionals.
Stephen Wright, Managing Director of Calibr8or discusses with Darren the role of media agency assessments and why media agencies find it so hard to be distinctive. Stephen also shares the insights his system, called Calibr8or, supplies to media agencies and their clients into the strengths and capabilities of the agency.

You can listen to the podcast here:
Follow Managing Marketing on Soundcloud or iTunes
Transcription:
Darren:
Hi and welcome. I'm here today with Stephen Wright who is the Managing Director of Calibr8or here in Australia and Stephen's got a long career and history in media and now is helping media agencies better understand their place and positioning in the marketplace with the system Calibr8or. Welcome Steve.
Stephen:
Hello Darren, how are you?
Darren:
Good thanks. Look, this is a pretty exciting time for media don't you think? Because you know, we've got more global media pitches than at any other time in known history. I think Martin Sorrell said he's never seen the media market so disrupted like it is at the moment. In fact, they're calling it mediapalooza. What do you think is driving this?
Mediapalooza – What's driving it?
Stephen:
Well, what's driving it is the rise of procurement in tandem with the rise of globalisation. And I think, put those two together, and you've got bean counters and finance people in large companies that are now looking to the marketing area across the entire globe and trying to find savings.
Darren:
So, you know, you're talking about procurement, but don't you think one of the other issues that's come up is, you know, the complexity and lack of transparency because programmatic buying, I know a lot of the Americans have suddenly woken up to the fact that there are huge margins in software systems.
Stephen:
At the moment, there's very little awareness amongst marketing people to exactly what they're paying for and what level of mark-ups are in there. So when asked a question about procurement, they're finding it very difficult to come up with tangible answers as to what they're paying and how much their agencies are making out of it.
So, all of this creates an atmosphere where there's a lack of understanding about payment, about margins, about who's making what, which is a perfect environment for procurement to come in and make a case for reviews.
Darren:
We've worked on a couple of projects for procurement people overseas and they talk about AVBs but the ex CEO of MediaCom in the US came out earlier this year and famously said, "Oh, we've been getting kickbacks for years".
Stephen:
Yeah, and this is a particular problem in Australia because AVBs don't technically exist here. When AVBs were accepted in all the other markets around the world as a part and parcel of the way business was done, in Australia, we said, "No, no, no, AVBs shouldn't take place", and those extra payments got driven underground whereas they're legitimate parts of negotiation in other markets. Now this has created an enormous problem in Australia because they happen but they don't.
Darren:
Kickbacks happen.
Stephen:
Kickbacks happen, but they don't happen transparently. As a function of that, we're in this sort of quasi world where everyone acknowledges they happen, the extent to which they happen in Australia is determined by the level of probity and whether people are SOX compliant and the level of rigour they need around their accounting.
Darren:
But you know, in Australia I think the term the 'value bank' was first coined. Because when I brought that up with some Americans earlier this year at a conference in the States, they were completely blown away by the concept of the value bank. So does Australia have a different type of AVB that's called a value bank?
Stephen:
Well, AVBs in other parts of the world are specific to client. In Australia, because they can't technically be specific to client, they become large pools of sort of quasi value bonus activity, financial returns that are controlled at a group level. Group M were the ones that first termed the coin value bank but all of the other agencies called it something under another name.
Darren:
So a different name but the same thing.
Stephen:
Different name.
Darren:
You spend a lot of time with agencies don't you, especially media agencies as part of your Calibr8or work, yeah?
Stephen:
Yeah, yeah, certainly. I mean, Calibr8or is about building relationships with agencies, understanding exactly what makes their product tick, how they operate, how they market themselves and then reflect that in terms of what Calibr8or says about their capabilities and how they compare with other agencies.
Is there a big difference between media agencies?
Darren:
So you know, there are a lot of these global pitches going on, is this a bit like deck chairs on the Titanic with clients moving from one agency to the next, is there a big difference? Because a lot of people perceive that media agencies are media agencies.
Stephen:
Well, with regard to that, there are differences between the agencies but unless as a client, you're in a position where you recognise how you need to change yourself, you can change agencies and the media outputs you will have through the new agency will be no different to those from the other agency.
With regard to the agencies, if you look at what the agencies say they can do, it's a very similar story across most agencies. It's less about what they say they can do than how well and effectively they actually deliver that product in market, and that's where the difference is. It's not in their positioning and now in what they purport to do, it's in what they actually deliver.
Darren:
So in a way, every media agency does what media agencies do, the nuance is in the way that they do it and how effective they are in doing it, is that a fair summary?
Stephen:
Absolutely. And in how successful they are in delivering against that. I've seen all of the agency credentials in detail over the last few months and so many of them are talking about territories that are in a similar place. Some are packaging that territory better than others and all of those territories are outlining exactly what clients need in the marketplace of today.
But then you look at the credibility that those agencies have around delivering that superior product and holistic, futuristic solutions for clients, and some of them are really thin on case studies and evidence, and others have got a rich portfolio of case studies that have won awards that demonstrate this is an agency that can do it.
Darren:
Right.
Stephen:
So the trick is in looking beyond what people say they can do and finding tangible evidence that they can actually deliver against that.
Darren:
Sorry for laughing, but it's typical isn't it? Every agency can do everything. Even if they can't. Can we do that? The answer is yes, now what was it that you wanted us to do?
Stephen:
Yes. Oh with some of them it's very much the answer is yes, now what's the question? So they're never going to say there's anything they can't do. They're never going to admit that they can't do anything well.
The global media pitch process
Darren:
But isn't this one of the problems? You know, you mentioned earlier that the, all these media, global media pitches are being driven by procurement looking for better pricing and a lower cost. But isn't one of the things working against them the fact that the media, I mean, you've worked in media for what, twenty, almost thirty years? Media in the last ten years has become incredibly complex, hasn't it?
Stephen:
And because global pitches, global media pitches are really complicated and they're driven primarily by procurement and consultants working in tandem with procurement, there is a need for templates and there's a need for massive amounts of numbers both numeric, both remuneration and trading numbers and they start to overpower and dominate the pitch process.
Now they're the very things that you should be looking at, putting to one side, and then moving beyond to find out who can truly work for you with your client needs and take you to a better place in the media area because it's all of the qualitative things that are most important. It's all of the richness of delivery, it's all of the collaboration with creative partners to deliver whole solutions that are what will deliver media value and those are all of the things that are completely lost in a global pitch.
Darren:
You've just reminded me, because everyone talks about programmatic buying and demand side platforms and trading desks and it's all about the technology. But ultimately, all of these tools in quotes are only as good as the people that are actually using them, aren't they?
Stephen:
Yeah, they're only as good as the people who are using them and they're only as good as the core ideas and the quality of the initial thinking of the business. The quality of the analysis of what it is that's going to make a difference to this product and a brand and how you can make a difference in terms of how it's perceived and the frequency with which it's purchased by consumers.
What stops media agencies?
Darren:
What stops media agencies? Is it the complexity or is it just their lack of ability or is it – they're shy, retiring little things and that stops them getting out there and clearly articulating the things that they have to offer to their clients, because there are many times that I've experienced clients saying, "We need to find a new media agency" and when you delve into why, it's actually something that their existing media agency can provide for them.
Stephen:
There are a number of problems. The first problem is financial. It's simply getting the headcount from your global head office to deliver a good service at the level that a good media product needs. The second thing is, finding good media people who can do it.
Darren:
There's a shortage of talent.
Stephen:
There are far more ordinary people in the industry than good people. And then beyond that, you need systems for thinking and for process and you need systems for understanding data and information and optimising the use of that data so you need a complete package and so many agencies fall down on one area or another.
Some fall down on every element in terms of delivery. Other agencies just don't quite get this aspect right or get that aspect right. But I would say that probably the biggest problem overall is funding. All of the media agencies that have profit levels demanded of them, you have heads of the global groups like Martin Sorrell making announcements that 2015 is going to be the year when he manages staffing efficiencies on his business.
You've got all of the Group M agencies here, the CEOs feeling like they're running their business on a shoestring and then your global head says that staff numbers are going to be looked at because he feels like the company isn't running efficiently.
Darren:
It's the same for every holding company isn't it? They're all run to actually deliver a profit to the shareholders.
Stephen:
As the industry has got more complex, the pressure on staffing has grown so you've got things that are moving in opposite directions that are making it very difficult for agencies to deliver a media product.
In this marketplace, the agencies I see as delivering the strongest products are those where there is commitment from global management to invest in that agency and allow them to staff with good people at the levels required and those agencies are the ones that are performing and they're winning business and they are actually proving that strategy to work because they're generating strong returns.
Global agencies vs independents
Darren:
Sorry, I'm just picking up on something there. You said, "have got global commitments", because a lot of people locally are saying things like, "Oh it's the independents", you know, it's the independent agencies who win all the awards like Media Agency of the Year and it seems to go to the independents.
What is it that the independents have? Why do you think they're so flavour of the month as far as awards go and yet your feeling is that the globals, if they're properly aligned and properly focused on delivering, will actually outperform them? What's happening there?
Stephen:
Well I think a lot of the global agencies in this marketplace make the independents look good by being so bland and delivering such a vanilla service. It's very easy for an independent to create a point of difference in the marketplace because the large global agencies allow them to do that.
The independents are normally set up and founded by very senior people in the industry who are capable, who have presence, kudos and reputation and they feed that into their independent agency and that becomes a part of their culture so they have more personality. So when you look at the Agency of the Year Awards, the beauty parades, they're the ones that have most superficial appeal and they do come through and they do win a lot of those.
Darren:
Yeah, I was asked that question I think it was after the mUmbrella awards this year and I said, "Well, the thing about an independent is that the founder is actually the person making the decisions and understanding the impact on their finances."
Stephen:
Yeah.
Darren:
They'll go that extra mile to deliver customer service because they know that it will pay off long-term. But from what you're saying, in some of the big global networks, the pressure is overwhelming to hit your numbers before you can even take into consideration investing back into your client for a pay off that could be in six months or twelve months time. Is that a fair summary?
Stephen:
Yeah. There's very often a chicken and egg conversation whereby the CEO will ask for more investment and the finance director up in Singapore will say, "That's fine, win the business, we'll provide you with the money" and it's just really difficult to win business ahead of the investment in getting the people on the ground, the quality of people on the ground and the number of people on the ground so it's a challenge. It's a challenge that a lot of agency CEOs are struggling with in this market.
Technology advancement in media
Darren:
But there is also the thing working against the independents and we've talked about this previously, is that technology advancement in media is a big investment so we've seen some of the local independents struggle because the globally aligned or the global networks can afford to amortise that investment across multiple offices, whereas the locals really have to pull all the purse strings to be able to match or be able to even play in that technology game, don't they?
Stephen:
In theory, all of the agencies down here in Australia, all of the global groups, have tremendously adept systems that should put them in advantage. The reality is, not many of those agency groups have got those systems up and running, fully functioning here in Australia, with Australian data delivering value to clients in this marketplace. A lot of them talk.
Darren:
Smoke and mirrors?
Stephen:
Smoke and mirrors. There was a meeting, a pitch meeting in 2014 where an agency put up a long list of systems to impress the potential client and wasn't aware that there was someone in the room who was very, very interested in systems and was a bit of a computer and systems nut and stopped and paused on this long list that the agency was bragging about, went down the list and started picking out one or two of the systems and asking what they did. Picked out one particular system, asked what it did and there was a stunned silence from the agency personnel around the room and then the CEO turned to the head of strategies and said, "Doesn't that do so and so?"
Darren:
It was a tool in their toolbox but no one actually knew what it did.
Stephen:
They put up this impressive list of tools and they had no idea what some of them did and some of them didn't actually operate and exist in this marketplace.
Darren:
Unbelievable.
Stephen:
Look, there are ways in which independents can get around it. There was one independent agency who's performed particularly well of late, in a pitch where there was a question and a task set, "How long would it take you to get this up and running which is interpretation of data and the ability to take that data, interpret it and feed it back into the advertising program?"
And the large agencies involved in the pitch said four to six months and they were crossing their fingers at the time because they knew how long these things take and a small independent agency who had a programmer on staff  said, "We can do that in three weeks, possibly less if there's an urgency". And so the independents…
Darren:
That's a good point because there was a pitch recently where one of the big network agencies said they could have a full dashboard up and running within eight weeks and I know from personal experience it's now twelve months and the client still doesn't have the dashboard.
Stephen:
There was a dashboard presented late last year in a pitch presentation I was in. The agency was asked how long until this would be operating in Australia. It was presented as a sort of early form of the system and they said four months. I then noticed that there were Pound signs throughout the information, the detailed information so it was a U.K. model that hadn't even been adapted to have a working version in Australia with dollars. So for them to say they could have it up and running in four months was incredibly optimistic and twelve months would've been far more likely.
Darren:
So, because this is interesting, going back to all these global pitches, I'd love to be a fly on the wall to hear some of the promises that are being made to secure these billions of dollars in media billings globally and we'll probably be sitting here in twelve months or two years time and hearing about how disappointed the client is about none of those promises coming to fruition.
Remuneration and the race to zero
Stephen:
A lot of the promises that have been made around remuneration will be levels of remuneration for which you cannot possibly run a business in Australia.
Darren:
The race to zero.
Stephen:
Delivering any sort of service. A lot of those conversations will be about 120 day trading terms which on a slender margin in a small market like Australia would mean that any money you made would be eaten up by the interest you'd have to pay given there is no flexibility in this marketplace for paying a media owner beyond 45 days.
So there are a lot of challenges from the global pitches, all of which are swept aside in global analysis that need to be faced day to day by agencies in Australia. And there are pitches recently when clients locally and agencies locally have had separate conversations to agree a level of remuneration that will need to be paid in addition to the global deal for the agency to have any chance of delivering a service with which that client is happy.
Darren:
It seems to me that on a lot of these global deals the economy of scale is never taken into consideration. In the US where a client may be spending five hundred million to a billion dollars on media, they do this deal that nets out about 2 or 3%. But you come to the Australian market or Singapore or any of the other markets and that spend is down at around ten million and still working on 2-3%, it just doesn't cut it, does it?
Stephen:
It doesn't cut it and if you're an agency that isn't taking a lot of the AVBs under the table, then you will be genuinely running business here at a loss if you're delivering anything that approaches a reasonable service.
Darren:
And then your regional finance director will be going, "Why can't you hit your numbers?"
Stephen:
And there are some agencies that I know that are doing exactly that on clients where there is a level of probity with regard to the numbers and what they can do and they are on a global arrangement that doesn't cut it down here in Australia and they are making a loss of hundreds of thousands of dollars.
Darren:
So in that context, because I wouldn't mind taking some time now to talk about Calibr8or specifically. Calibr8or launched six months ago, is that right?
Stephen:
Yes, the first survey was active April 1st this year, Fool's day, April 1st this year.
Darren:
April fool's day.
Stephen:
And the, the first quarter is April to June 2015 so we're just in the second quarter now, July through September. So it's been up and running and active since April.
How is Calibr8or helping media agencies?
Darren:
Okay, so how have you found Calibr8or is helping media agencies understand their offering and also how they're positioned in the marketplace?
Stephen:
Well the start point and the platform for any sort of informed discussion about where an agency is and where it might go next or how it can make more of its positioning and product, is understanding how it sits relative to other agencies. There are a lot of agency CEOs who will say, "Oh we're the best in market. We do this best, we do that best", the truth is, that's their sales pitch.
How they sit relative to other agencies is something they only have anecdotal feedback on. When you have a system like Calibr8or that goes out and looks in detail at thirty agencies in the marketplace, all of the agencies that have mainstream clients and methodically goes through and scores them against thirty-two criteria, some of which are analysed by up to eight questions of scoring criteria, then you have a really detailed framework that looks at everything they do and how well they do it.
So in Calibr8or, you have a system that will look at the systems that agencies have and score them on having good systems and then will score them further by having good systems they're using across their client base where appropriate and then will score them further through having strong case studies of how those systems are working for those clients.
So it's not just about what they've got, but it's about how well they use it as well. And it's a live system. It's reviewed every quarter and agency scores will go up and down dependent on the products and services they're delivering and the business they're winning and how much noise they're making in the marketplace, what their profile is like. So it's very much a living rather than a static assessment.
Darren:
But it's also in relation to what their competitors are doing in the market isn't it? If someone has a huge breakthrough or you know, a big advancement in a particular area, everyone else is relative to that, isn't it? They can't all be tens.
Stephen:
No. The system looks at the average score in Australia. There are thirty agencies, for thirty agencies in Australia. There's a high range and a low range, which define the parameters of how agencies score. Now, if you're an agency and you get scored in one quarter and that's your profile and you do nothing to improve that, other agencies will improve so you'll go back relatively. If you stand still, you will actually go backwards.
Darren:
So the high and low is sort of best practice and worst practice in a way and then there's average practice against, did you say, thirty-two different criteria?
Stephen:
Thirty-two different criteria so Calibr8or means there are eight areas that are looked at and then within each of the eight areas, there are four specific elements of that area which makes thirty-two.
Darren:
So from a marketer's point of view, I mean for instance, if Calibr8or was working globally, this would bring a totally different viewpoint to the media palooza, the "media-geddon" they're calling it, all these pitches, wouldn't it?
A true qualitative assessment of an agency network
Stephen:
It would. What it would do for a global marketer, it would be a true qualitative assessment of an agency network, which understood the differences across different markets. There is a global positioning and there is a way in which that positioning is delivered within each of the main regions and all of those agency groups have strengths and weaknesses and what Calibr8or would do is systematically look at those strengths and weaknesses and the global client would be able to understand where they exist.
You're never going to get that truth from the agency themselves, they're never going to profess to being weak in a market, they'll always talk about the market's where they are strong and hope that that reputation carries through in the markets where they're weaker.
Darren:
That's one of the things that you see in global pitches is that they'll pit the main market, usually the US or the U.K. or wherever the head office of the client is, and then they'll cherry-pick four or five markets and the media agency network gets selected on their strength in those areas. But it's very hard for any one network to be strong in eighty different markets, isn't it?
Stephen:
It is and then what you'll often run into is local conflict as well which needs to be managed.
Darren:
Oh yeah. Conflict, of course.
Stephen:
Which could come into play and there are key differences in terms of how well an agency is staffed and the skill set at a local level in delivering what may be a global product. You can have great global positioning, great global systems but if the people on the ground in a market aren't able to deliver that well, relative to the other markets then that will have a huge impact on how well they can perform in that market for your global business for the team locally.
So Calibr8or will get beneath the skin of all of that and we've got interest from global media heads in understanding how their product delivers across the markets and the truth of it. You are never going to, if you're a global media head, have the head of a country or the head of a region advising you that they're performing a little worse than other markets around the world.
Darren:
Yes of course.
Stephen:
These things within media agencies and within media groups are disguised rather than brought out into the open. Because it is an individual self interest. So Calibr8or will help provide an informed framework around all of that.
Darren:
And beyond pitching, I imagine that the media agency CEOs are finding it a useful tool for their own offering and assessing themselves against their competitors in a market aren't they?
Agencies are using the learnings from Calibr8or to improve what they do
Stephen:
What we've found with the first service is they are so detailed and so granular that even ordinary scoring has been accepted by the agency heads. In the face of something that drills down and analyses in the depth it does, it's very difficult to argue superficially against that.
So in the early stages of Calibr8or we've found all of the agency groups have actually endorsed the scores. We've gone in and said, "Here's our interpretation of how good you are across all of these areas" and where they haven't been good, they've accepted that and they've actually used their learnings from Calibr8or and the relativity of where they are versus other agencies as a start point for looking at how they can improve their product or how they can package what they have better and investment decisions they might need to make.
Darren:
So it's holding a mirror up to the agency but also showing them where they sit compared to the competitive set in their market and because they're buying into it the scores are giving them real, believable insight. They're able to then use that as a management tool for focusing their attentions on where they need to improve.
Stephen:
The meetings are done in a closed framework with the most senior people within an agency. So it's a time where they can let their guard down and they're not selling and there's a level of honesty that comes into the conversations. And given that most of them don't have breadth of knowledge across the industry on where their competitors are, it's a learning curve for them so they're actually understanding relatively where they sit. They might have a perception of it before and then suddenly, they have a framework for real understanding of where they are.
Darren:
Yes, you can imagine when they all get together at their Media Federation Australia meetings, they're all big noting themselves so this is probably giving them a more realistic insight into what they're all really up to.
Stephen:
I think they all go into those meetings in a very guarded fashion so I don't think anyone talks frankly and openly and honestly about how they're performing and where their product is at. This is a really confidential, closed and intimate discussion about their agency and there's a level of truth that comes out very quickly and as long as where they are strong you recognise where they're strong, then they can accept the fact where they aren't strong, that that's a genuine reflection of their product.
And there have been some agency heads who have signed up to the system and have acknowledged that they don't feel at the moment, at this point in time, that they're going to perform particularly well. They have seen how we've scored them relative to other agencies and are using that to help try and get investment from the people who hold the purse strings for making the decisions that have dollars attached in terms of getting better people on board or investing in the adaptation of global systems to make them work locally.
So, it's being used in a multitude of ways by agencies who are both performing well and performing badly. The agencies that are performing best, you're going in there and telling them that they are as good as they think they are so you know, the system is obviously being embraced by them because it's formal recognition of the fact they have a good product.
Darren:
Yeah.
Stephen:
One of the things that's quite interesting though is the Calibr8or profile looks at how good an agency is. Now there is a market perception of that agency and there are some agencies where the market perception would be of a better profile than the reality and there are other agencies where the market perception would be of a smaller profile than exists.
So for some agencies, it's about perpetuating the myth of how good they are by being very high profile and marketing themselves well and finding every opportunity to talk to the marketplace and clients about how good they are.
And for other agencies, it's about recognising they need to market themselves better, they need to increase their profile, they need to sell, they need to sell better who they are and what they can deliver because there's potential there that's not being fulfilled that they need to ensure is better communicated.
Darren:
Look, that's really fascinating Steve and I'm afraid we've run out of time so thank you and it's going to be interesting to see how all these media pitches land.
Stephen:
Yes it will be. Rest assured they'll be with low levels of remuneration though, the global ones.
Darren:
Yeah, it will be cheaper and cheaper, thanks a lot.
Find out more about the Calibr8or platform at Calibr8or.com
Want more articles like this? Subscribe to our newsletter: