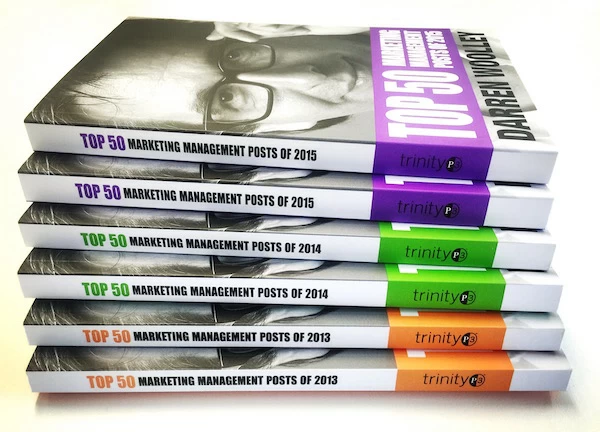 This post is by Darren Woolley, Founder of TrinityP3. With his background as analytical scientist and creative problem solver, Darren brings unique insights and learnings to the marketing process. He is considered a global thought leader on agency remuneration, search and selection and relationship optimisation.
When I started TrinityP3 Marketing Management Consultants in January 2000, I had never heard of marketing procurement and only had the most peripheral understanding of the procurement function.
What led me to starting my own marketing procurement consultancy 15 years ago was a Bachelor of Applied Science degree, five years in medical research and then 15 years as a copywriter and then a Creative Director in advertising agencies.
So I guess, as I have since discovered, probably the typical career path into procurement, meaning typically atypical.
Where it All Started
In April 2006 I started a blog as part of our website. Mostly the posts were opinion pieces based on observations about the industry. If you look back to those days, the articles were short, not particularly in-depth or for that matter, insightful. It was also irregular and inconsistent. But it was nine years ago. If you are interested, check out the early posts here on the TrinityP3 blog.
Around this time was also when we discovered the marketing procurement function within some of our larger multinational clients. It was interesting to meet people whose job it was to identify ways to 'assist in managing the marketing process for greater efficiency and effectiveness'.
I use that phrase as it is how we describe what we do at TrinityP3 and what we have found the best marketing procurement people do within their own organisations. It is also why we call ourselves Marketing Management Consultants and not Marketing Procurement.
The Readership Booms
In 2011 we noticed a growing interest in the content on the blog and so made a strategic business commitment to make the blog the centrepiece of our content marketing efforts. This included making sure we regularly published, in fact three times every week, all year round. Okay, we take a week or two off for the holidays.
Within a year the number of people visiting the blog increased 300% and today there is more than 12,000 people reading the blog every week and they come from every continent, except Antarctica of course.
In the early days I was writing most of the posts, but quickly the TrinityP3 consultants began to offer posts on their core competencies such as media, agency remuneration, roster management, digital and data, production and the like. And such is the reputation of the blog, we also have an increasing number of industry thought leaders offering guest posts.
Three years ago we noticed that some articles were getting a much higher readership, more shares on social media and more comments. When we looked at the topics that were the most popular, they reflected the issues that were either high profile news or trends in the industry or offered significant insights or a fresh perspective on common issues.
Pitches, pitch practice, agency remuneration, including value based, incentive and performance based, scope of work, billable hours, collaboration, overheads, media transparency, roster management, relationship management, digital and data integration, marketing budgeting and so much more.
We decided to capture these popular posts by publishing it as a book. In paperback and e-book, it proved to be particularly popular. So the following year we did the same. And this year we have done it again. The Top 50 Marketing Management Posts of the Year captures the best and most popular.
What People are Saying about the Book
But don't take my word for it. Here is what some of the industry leaders think of the Top 50 Marketing Management Posts of the Year:
"Darren Woolley's Top 50 Marketing Management Posts of the Year is a remarkable mosaic of must-read articles and expert opinions that will open your mind, offer new perspectives and challenge you in the process".
Bruno Gralpois, Author of "Agency Mania" and Co-Founder and Principal, Agency Mania Solutions
"Darren Woolley is simply different. He sees things through a different lens – a lens that is reality-based but looks way beyond conventional wisdom. He is one of the most practical, insightful thought-leaders in the marketing community. If you want a different answer, link up with Darren. He is a must read for everything he writes – and especially the Top 50 Marketing Management Posts of the Year"
Bob Liodice, President & CEO, Association of National Advertisers (ANA), USA
"Trinity P3's Top 50 Marketing Management Posts is a wonderful collection of well-written, insightful blog posts by Darren, his team, and guest writers. They deal head-on with some of the most timely and on point challenges in the industry. Whether you're a client leader, an agency leader, or industry consultant, this book is a "must read".
Debra Giampoli, Director, Global Strategic Agency Relations, Mondelez International
"Darren is a bit of an industry guru and not just locally but on a global platform, on all things related to management of client/agency relationships.  Exuding helpful advice for advertisers and often sharing key insights on social media platforms, all of which demonstrates his very generous spirit and deep knowledge of the industry".
Debbie Morrison
, Director of Consultancy & Best Practice, ISBA – The Voice of British Advertisers
"TrinityP3 is at the apex of thought-leadership in the global marketing community. Their blog is a 'must read' for those who want to dispel marketing myths and perceived industry wisdom, and instead get a firm grip on the biggest business challenges facing the real practitioners".
Steve Lightfoot, Senior Manager – Global Marketing Procurement, World Federation of Advertisers (WFA)
"The posts by Darren Woolley and the TrinityP3 team are critical insight. First of all, they provide a glimpse from a unique place in the world — Asia – and yet are truly universal. The collection of top posts gives professionals in our industry fantastic "food for thought" as we go about our hectic lives. He and the team are truly well respected experts and their intelligence is world class".
Sopan Shah, VP Procurement, InterContinental Hotels Group
"Darren Woolley is one of the industry's liveliest and most truthful commentators, and readers of this outstanding annual collection of essays should buckle their seatbelts — and be prepared to think and react! It's hard to disagree with Darren, since he marshals his facts and communicates in a sharp and convincing way. Top 50 Marketing Management Posts is a must read".
First published on Procurious December 11, 2015
TrinityP3's new Top 50 Marketing Management Posts Of 2015 is available now. You can get your copy of this very popular marketing management book here
Want more articles like this? Subscribe to our newsletter: