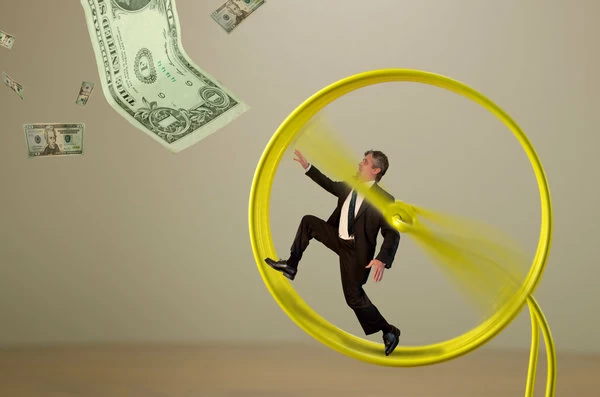 This post is by Tom Lewis. Tom is responsible for the IPA's finances and advises members on agency financial issues. He is a Chartered Accountant and has held senior financial positions across the FMCG, marketing services and advertising sectors, including Coca-Cola, Ogilvy & Mather, Huntsworth and Omnicom.
Professional buying of marketing services is highly inefficient – it just happens to be very effective.
Unfortunately at the wrong thing.
Professional buying of agency services is based on two key behavioural insights:
you cannot win a negotiation that you are not prepared to walk away from
the more emotionally invested you are in a process, the harder it becomes to walk away
If, as a professional buyer, you are incentivised to obtain cost savings from your suppliers, you would naturally develop a buying process that maximises your chances of achieving that.
It is somewhat ironic, of course, that our industry is tasked with behaviour change yet has not properly recognized the behaviour-shaping processes by which our services are bought.
It is said that process is 80% of professional buying; the professional buying process is designed to do two things:
reduce client-side emotional investment in the process in order to maximise power in the relationship
maximise agency-side investment to extract maximum concessions from sellers
To these ends, professional buyers will do the following:
run as much of the buying process as possible so that marketing clients do not risk becoming emotionally invested in any one supplier succeeding over the others
make the process long, involved and complex so that suppliers become more emotionally invested in winning and therefore more reluctant to walk away
invite a larger number of potential suppliers than necessary to pitch in order to increase price competition amongst them
ask for concessions at regular intervals during the process while leaving deliverables more open-ended
This process is, of course, rather inefficient for the client – it requires time and investment to develop the process, to request multiple rounds of concessions, to make it longer rather than shorter, to invite more rather than fewer potential suppliers to pitch.
It would be much more efficient, for example, to invite just two agencies to a simple pitch.
Of course, the aim is not to make the process efficient – but rather to make it effective. And it is very effective in achieving the aim of reducing the price paid.
Price isn't everything
However, there is a difference between doing things right and doing the right things.
A process that is effective in reducing the price paid for marketing services has nothing to say about the effectiveness of the services that will be delivered – but that is not in the professional buyer's remit.
The maximisation of value is the responsibility of the marketing client, not of the service buyer.
It is said, in reference to client profitability, that NewBiz kills it and finance cleans it.
Much the same can be said of value maximisation on the client side; Procurement kills it then hands over to Marketing to make the most of what they've been given.
It's always a complicated relationship where three people are involved and where all want different things. PepsiCo realised this last year and made some profound changes to their organisation and buying process. The Post Office also realised this when they hired ex-agency CEO David Meikle of Salt Partners to run their pitch.
But the elephant in the room remains:
for the client, the dysfunctional behaviour engendered by a three-way relationship with split responsibilities
for the agency, the inability to face up to professional buyers with professional sellers
Agencies can do nothing about clients' choices about how to organise themselves, but it is within their power to take steps to improving their response to professional buyers.
TrinityP3's Agency Remuneration and Negotiation service ensures that the way in which you pay your agency is optimal.
Why do you need this service? Click here to learn more
Want more articles like this? Subscribe to our newsletter: