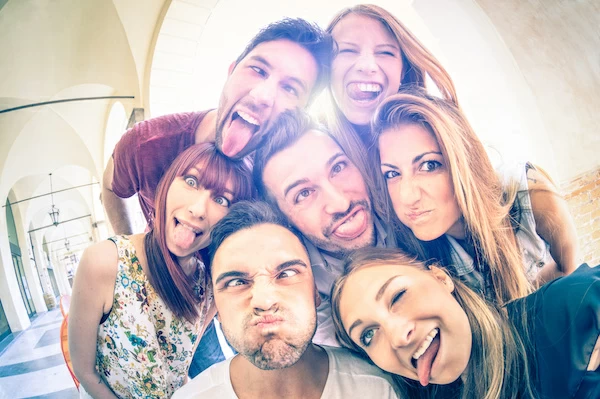 This post is by Darren Woolley, Founder of TrinityP3. With his background as analytical scientist and creative problem solver, Darren brings unique insights and learnings to the marketing process. He is considered a global thought leader on agency remuneration, search and selection and relationship optimisation.
Advertising is an incredibly social occupation. People are outgoing and friendly. In 15 years of agency life I worked with hundreds of people in five agencies. Plus the many hundreds in the associated agencies we worked alongside, and the many clients as well.
It was a combination of the type of people attracted to marketing and advertising, plus the periods of intense pressure along with some serious partying. Who doesn't love an agency Christmas Party or an Award night!
I think it is the same for everyone involved, agency and advertiser. You form intense friendships while you are working together – relationships where you can rely on each other. They rely on you to cut them some slack, then when needed, you rely on them to take up the slack to get you out of a bind.
You become friends not only at work, but also outside of work. You even become friends on Facebook.
These are friends, so when you hear that they could be potentially making a huge profit at your expense, such as revealed in the ANA commissioned K2 report into media transparency, then it would be hard to believe. After all, friends do not rip each other off.
So perhaps you ask them if it is true and they look you in the eye and tell you it is not true.
So what do you do?
The people you work with day-to-day
In the majority of cases, the relationships you have with the media agency will be the team working on your account day-to-day. Their objective is to deliver your media needs to your satisfaction, to keep you happy and ensure your account stays with the agency as long as possible. They will often perform as if their job depends on it, because it literally does.
Having a close, personal relationship with you makes daily interaction more enjoyable for everyone and makes it easier to ensure they know your expectations and can monitor your level of satisfaction.
The fact is that in most cases the team is not privy to the details of the financial arrangements of the contract, but may only know the resources they are allowed.
They are working for what they believe is the best interests of you their client and advertiser. If there is any influence, they may be directed from above to recommend the aligned programmatic services or trading desk, but for no other reason than it allows 'ease' of collaboration.
No wonder that if you ask the question, they will tell you that to the best of their knowledge there are no rebates or kick backs or hidden commissions.
After all, if they knew that additional revenue was being made beyond the fee, they would be lining up for either more resources on the account to ease their 60+ hour week, or a pay rise to make up for their chronic salary freeze.
The junior agency staff
Media agencies tend to suffer from significantly high staff churn rates, especially amongst junior staff. The media agency will typically have a disproportionately large number of junior staff working in the agency and they are largely getting their start in the industry.
They will work long hours and have minimum supervision as a strategy to keep the agency resource costs to a minimum.
But they are driven to prove themselves and rise out of the junior pool and get the promotion as quickly as possible to a more senior role and responsibility. When the opportunity doesn't arise soon enough or at all they move on. But while they are there they are doing the best they can and want to succeed.
But in regards to the financial arrangements of the agency, they simply do not know.
How about the senior management team?
This is where the issue becomes more complex. Because the greater the responsibility and the higher the position in the agency, the more they are privy to how the holding company is making profit.
But the issue is they are also more likely to be financially incentivised on the financial performance of not just the agency they are working for but also the performance of the holding company too.
Does that mean that they would lie if you asked them if the agency was making margin out of media owner kick backs, rebates and the like. Most likely not, because people usually feel uncomfortable lying to a friend or colleague.
But what if the kick-backs and rebates are not coming to the agency? What if, as highlighted in the K2 Media Transparency Report, these rebates and kick-backs are negotiated at the Holding Company level?
Is it a lie to say that the agency is not getting any rebates and kick-backs?
What about the people you rarely or never see?
Finally there are the largely unseen people, those that you may have only a passing engagement with inside the holding company and the trading desk or the programmatic buying unit.
These are separate but related corporate entities and are often not bound by the legal contract you have in place with your media agency.
What is their motivation in regards to delivering your best interests, because do they have that same personal relationship with you? Are they your friends, who will help you out in a pinch? Will they be phoning you up with tickets to that sporting event, or cultural event or taking you out for dinner?
Plus what is the financial arrangement between these entities and your agency? They will have agreements and terms and arrangements in place, often to maximise their margins and their share of your budget, hopefully without compromising your relationship with your media agency.
But did you actually choose these people? Did you run a pitch to choose the holding company or choose the trading desk or choose the programmatic buying platform or the SEO and Paid Search Company?
Or was it simply recommended to you by your media agency that you did choose? Was it your friends at the media agency that you work with each day? They can be trusted because they have your best interests at heart? After all they have to make sure you are happy because their jobs depend on it – literally.
So they are not going to misadvise you. Are they?
And what about your own behaviour?
One of the narratives in the media agencies and the industry is that advertisers value the work of the agency less and less. That is why there is never enough fees to cover the agency resources needed to service the business. That is why agency staff are working more and more non-paid overtime.
It is true that media agency fees, along with all agency fees, have gone down in real terms over the past eight years. Sure you can argue it is because the media agencies have become a commodity with too many agencies, or that it is a highly competitive market and that agencies have been cutting their own throats to win business.
But in the end it impacts the people working in the agencies. The same people that may become your friends. The ones working in your best interests, because their jobs depend on it – literally.
Perhaps that is why they have not got the time to get to know your business challenges or to spend time discussing your marketing and advertising issues. What would you think if a friend of yours deliberately devalued your friendship – how would you feel?
Time to reset expectation and preserve the friendship
This is not time for a witch-hunt, because the truth is you want your agency working on your business as if their jobs depend on it and this does not happen when you are questioning their integrity and honesty, especially when realistically few of the people working on your business know the details of what is happening.
But it is time to rethink what your media agency performance means for you and how to articulate that in a way that encourages the right performance. The move is away from who can deliver your media at the lowest cost and is more focused on the value of delivering the results you need.
It is about making sure that all companies involved in the media value chain are also aligned to these performance measures. This could mean you need to have contracts with these companies directly. It could mean that you do not simply take the recommendation of your agency, but actually choose these agencies and suppliers for yourself.
It is all about getting agreements in place so that everyone knows the rules and the performance expectations you have of all those involved in your media investment.
Once these new contracts are all in place with the media agency and the other media investment service providers you have selected for yourself then you can all get back to being friends again, assured that they will be working to make you happy like their jobs depend on it – because they do – literally.
TrinityP3's Media Transparency, Performance and Value Assessment takes a holistic look at the operation of your media agency, assessing against best practice at every stage of the journey. It aims to give you the tools to improve the output of your media agency.
Why do you need this service? Click here to learn more
Want more articles like this? Subscribe to our newsletter: