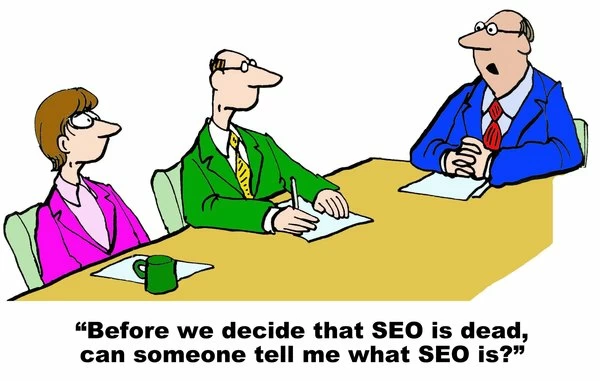 This post is by Mike Morgan, Founder and Director of High Profile Enterprises and Content Director for TrinityP3. Mike has been collaborating with TrinityP3 on a Content Marketing, SEO and Social Media strategy since early 2011.
Contrary to the myriad of articles announcing the death of SEO every time Google makes a major change, SEO (search engine optimisation) will become an even more important skill to have in your organisation or via your agencies in the coming year.
The speed of change alone means that someone with a high level of experience and expertise needs to be measuring, analysing and adjusting to keep web properties healthy and compliant with changing requirements.
Any content marketing strategy must be aligned with the SEO strategy so each of the following will have a substantial impact in both areas.
In no particular order here are my predictions.
Forcing a shift to HTTPS
In January Google will begin to add warnings to websites in Chrome that are not using https (secure certificate). This will affect password options and credit card options and will have a bold "Not Secure" notification. This will roll out to all webpages during the year.
Websites that are not using https will more than likely see a drop in traffic.
Google has signaled as early as August 2014 that security would be a top priority in their results. This is from the Google Webmaster Blog at that date:
Security is a top priority for Google. We invest a lot in making sure that our services use industry-leading security, like strong HTTPS encryption by default. That means that people using Search, Gmail and Google Drive, for example, automatically have a secure connection to Google.

…we're also working to make the Internet safer more broadly. A big part of that is making sure that websites people access from Google are secure.

We want to go even further. At Google I/O a few months ago, we called for "HTTPS everywhere" on the web.
In September Google went a step further:
To help users browse the web safely, Chrome indicates connection security with an icon in the address bar. Historically, Chrome has not explicitly labelled HTTP connections as non-secure. Beginning in January 2017 (Chrome 56), we'll mark HTTP pages that collect passwords or credit cards as non-secure, as part of a long-term plan to mark all HTTP sites as non-secure.
Any site that uses passwords, credit card purchases, registration will begin to see warnings as below.

Then to follow will be this warning on all pages that are still HTTP including all standard web pages:

This will of course lead to a fairly dramatic drop in people accessing ecommerce sections initially, then all pages when it rolls out to the entire web (date not disclosed at this stage).
I am expecting that there will be quite a lot of SSL site launches followed by a drop in traffic where developers do not take the full requirements seriously.
Changing to a secure certificate is a lot more complex than many realise.
The following process will ensure you do not see a major drop in organic traffic:
Buy the correct certificate
Verify certificate with hosting
Do a full backup
Change all internal links to HTTPS
Check code for any dynamic page generation that will need changing to HTTPS
Update any widgets, JavaScript, CSS files, images
Create 301 redirects for all pages to HTTPS
Use relative URLs
Ensure any canonical tags are pointing at HTTPS
Ensure all domain variations are redirected (www and non-www plus any extensions)
Add new sitemap to robots.txt
Ensure all social shares are able to be carried over to the new URLs or all will revert to zero
Check all marketing automation, transactional email services
Update any PPC campaigns to HTTPS
Verify new Search Console and update analytics
Check pagespeed for any slow down
Test live site
Post launch HTTPS audit
There is some debate at present about 301 redirects passing all relevant authority signals particularly around anchor text but it would be risky to delay moving to HTTPS because of this one element.
Mobile first index and AMPs
It began with the mobile friendly test and update, then came AMP (Accelerated Mobile Pages) which has had variable results and has caused some consternation recently where results have sometimes been less than favourable.
Google has a serious commitment to AMP so don't expect this one to go away. AMP pages can load up to 30 times faster as they have lighter HTML and CSS and are delivered from a cloud based Google cached version.
Expect AMP to deliver some strong growth results in 2017.
In the next few months Google will move to a mobile first index which means that they will be taking the majority of user experience and technical efficiency signals from the mobile version of a website. If you have a separate mobile site with less content be prepared to see some negative results. If your responsive site is slow or difficult to navigate you will also see some negative change.
Speed of page load will continue to be an important element and will become even more crucial with the mobile focus.
Here are Google's recommendations to prepare for the mobile first index.
There should be no issues for responsive or dynamic sites where content is the same across mobile and desktop
If the content is different you will need to serve structured data on both versions, check that the mobile site is not blocked via robots.txt. It should not be necessary to make changes to canonical tags.
If you have a separate mobile version verify this as well as the desktop version in Search Console.
If you just have a desktop site Google will continue to index it (but it may not do well for mobile users).
Google is being careful with this major change which is why they are testing it and looking for issues but you can never rule out the possibility of collateral damage with any major change to an incredibly complex algorithm.
We will watch with interest.
Schema and structured data
Google is increasingly leaning toward artificial intelligence so the use of structured data and schema or other microdata will become more important in helping search engines to understand your webpages.
Schema markup is most useful in providing additional information about:
Creative work
Events
Products
People
Places
Recipes
Flights
Services
Organisations
There are also a lot of other possible items you can mark up which are listed here.
Structured data refers to kinds of data with a high level of organization, such as information in a relational database. When information is highly structured and predictable, search engines can more easily organize and display it in creative ways. Structured data markup is a text-based organization of data that is included in a file and served from the web. It typically uses the schema.org vocabulary—an open community effort to promote standard structured data in a variety of online applications.

Structured data markup is most easily represented in JSON-LD format, which stands for JavaScript Object Notation for Linked Data.

Google's Introduction to Structured Data
Voice Search and Google Home
According to Google, voice searches on mobile tripled between 2014 and 2015. Google Assistant is competing with several other virtual assistants including Apple's Siri, Amazon's Alexa and Microsoft's Cortana.
Google Home and Amazon Echo are the biggest of the recent intelligent home assistants run through a speaker that can perform a multitude of tasks.
Optimising for Voice Search primarily involves the targeting of featured answers by creating content that specifically answers these questions. The response will begin with "According to [website]…"
The shift away from screens will present some interesting challenges for Google. As their business model is based around inserting ads into screen based results how can they monetise a voice search without being intrusive?
Imagine asking a question and being presented with a solution that says "This answer is brought to you by…".
It's not going to work, is it?
2017 will no doubt include a series of tests to see how Google can make this shift without losing revenue.
Additionally, an instant answer will not even result in a single page load so content producers will basically be giving content away for free.
Rankbrain and Artificial Intelligence
Google is also heading full speed along the machine learning route with Hummingbird an initial step toward themes instead of specific keywords. Rankbrain is where Google incorporates AI into search. This has taken search further along the track and has increased the importance of optimising for a range of possibilities based around keyword groupings or topics.
To impress this further Google has removed access to even more search behaviour data with Keyword Planner availability restricted to Adwords users and some questions over the accuracy of the data.
Unplugging this has also led to failure of many tools so developers are pivoting to new ways of analysing search data to at least predict content performance.
Watch this space in 2017 as the top tools attempt to circumvent this change.
 Technical SEO
Ignoring the high level of technical optimisation that is required in 2017 is no longer an option. Technical expertise will make the difference between poor or outstanding results.
Consistent auditing and analysis has become an essential feature of any web marketing strategy. The speed of change at the major platforms has grown this requirement significantly and Google's constant war against manipulation has caused a fair amount of collateral damage.
2017 is definitely the time to look closely at your technical SEO expertise. Starting with your server configuration and working through content optimisation, metadata, microdata, pagespeed, mobile optimisation, AMPs, schema and much more with a focus on improved UX and efficiency while eliminating any errors. This needs to be a priority.
Influencer Marketing and Outreach
Influencer Marketing is one of the biggest buzzwords of 2016 and you can expect the intensity to increase in 2017. It can be an extremely effective way to promote content and brand.
However, as with all "new" strategies you can expect this one to assault your inbox to an irritating degree if you have any sort of online profile as more and more marketers read the growth case studies and jump on board.
Be prepared for an avalanche of well written, personalised but templated emails that compliment your posts and your website followed by "… I thought you might be interested in this new post…" and "…would love it if you could let me know what you think…" and so on.
The fever pitch in late 2016 has got so crazy that almost anyone can be a prospect.
Expect a strong push back on this tactic.
***
This has been a quick look at what I consider to be the big issues in SEO for 2017. And to be honest, if you have any sort of digital marketing strategy that does not recognise the importance of SEO then you are missing out.
Expect the content marketing arena to become even more crowded as the number of participants increases exponentially so being technically efficient and checking all the requirement boxes will help you to stand out.
The necessity for outstanding and unique content has been the case for some time now and you can expect this to continue to be the case – but even more so.
The coming year will no doubt offer a number of new innovations, launches and updates and at the same time we will see the quiet retirement of some big services that have not reached expectation.
Are you ready for 2017?
Struggling with the complexity that digital and data offer to business? Let TrinityP3 make sense of the new digital ecosystem for you.
Want more articles like this? Subscribe to our newsletter: