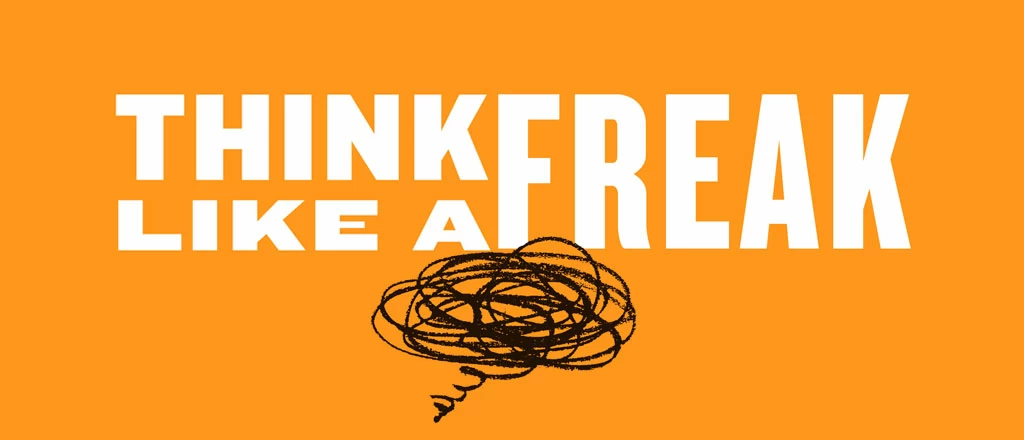 This post is by Anton Buchner, a senior consultant with TrinityP3. Anton is one of Australia's leaders in data-driven marketing. Helping navigate through the bells, whistles and hype to identify genuine marketing value when it comes to technology, digital activity, and the resulting data footprint.
You may have read Freakonomics and SuperFreakonomics, however, have you read Steven Levitt and Stephen Dubner's latest book Think Like a Freak?
If not, then here's a little summary to entice you.
As always, I tend to wade through books at light speed over the summer break. And this one grabbed my attention from our recently updated TrinityP3 library. So I popped it on the pile to read.
Levitt and Dubner focus on solving problems. And they apparently received plenty of questions from readers after their first two books. So rather than tackle every specific problem they received, they decided to set out to teach and inspire people how to think like a freak.
How did they tackle it?
Well they explored the decision making for which way to take a penalty in soccer (football).
They found people who put to the test whether pricing of wine really correlates with quality.
They unearthed how the record for the number of hot-dogs eaten in 12 minutes was beaten.
They explain why Nigerian email scammers say they're from Nigeria.
They created a flip a coin experiment to use for major life decisions such as should you leave your job, ask for a pay rise, quit a bad habit etc.
And they tackle how to persuade people who don't want to be persuaded.
Fun yet freaky
As you can probably gather from above, it's a fun read.
I loved the freaky thinking for breaking the 4 of July Hot Dog Eating Contest at Coney Island in New York City.
Suffice to say, the record of just over 25 hot dogs was broken by a Japanese guy who thought like a freak.
I won't spoil it for you. Grab the book to find out how he did it. And like me, I'm sure you'll be surprised.
Some memorable quotes
Maybe I'm a little biased. However, being a soccer player myself, I was engrossed by the opening statistics drawn from "Testing Mixed-Strategy Equilibria When Players are Heterogeneous: The Case of Penalty Kicks in Soccer."
Which corner do you choose to go? They talk about "…the chance of being a hero is about 75 percent".
"Wouldn't it be nice to jack up that number? Might there be a better way to think about this problem? What if you could outfox your opponent by thinking beyond the obvious?"

I'll let you discover the winning strategy.
They go on to reference David Lester, a psychology professor at Richard Stockton College in New Jersey, who has studied the relationship between suicide and alcohol, anger, antidepressants, blood type, drug use, happiness, the moon, IQ and more over the past 25 years.
"Has all this study led Lester to some unified theory of suicide?" they ask.
"Lester admits what he and other experts know about suicide is dwarfed by what is unknown. We don't know much, for instance, about the percentage of people who seek or get help before contemplating suicide… We don't even know what share of suicide victims are mentally ill."
They go on to quote Lester saying "… that estimates range from 5 percent to 94 percent."
Hence they position the notion that there's a lot to learn. So they continue on with the process of learning, and identifying that the key to learning is feedback.
As mentioned, they outline an experiment by a student who wants to prove whether a more expensive bottle was in fact superior to a cheaper one.
Then they describe a more scientific experiment conducted by food and wine critic Robin Goldstein who organized 17 blind tastings across the US that included more than 500 people. Goldstein also wanted to know whether the Wine Spectator Magazine's Award of Excellence had an impact.
He tested two questions, "One was, do you have to have a good wine list to win a Wine Spectator Award of Excellence? And the second was, do you have to exist to win a Wine Spectator Award of Excellence?"
"Goldstein wondered if the award is as meaningful as it seems. He created a fictional restaurant, in Milan, with a fake website and menu."
Find out what happens next.
The book also outlines a chapter (Chapter 5) on thinking like a child.
"To think like a freak is to think small, not big. Why? For starters, every big problem has been thought about endlessly by people much smarter than we are. The fact that it remains a problem means it is too dammed hard to be cracked in full…. Sure there are some truly brilliant people out there and they probably should think big. For the rest of us, thinking big means you'll spend a lot of time tilting at windmills"
They came to the conclusion that it's better to ask small questions.
Hence they teach about thinking like children who are genuinely curious, see life as fun and who aren't constrained by life's learnings and practicalities in order to unearth answers.
Driverless cars, politics, faeces, glasses…
There are plenty more stories and learnings to think like a freak.
I thoroughly enjoyed the read and have taken some tips into my way of thinking. I'll challenge you to too.
However, if you're still wavering, don't just take my word for it, Malcolm Gladwell says it's "utterly captivating".
Would you like to learn to think like a freak?
Are there implications for marketers?
Before signing off I thought I'd add a few implications for marketers.
Here are a three that bounded off the pages as I read:
1. Don't ignore obvious signals.
I'm sure that you've come across people who try to bamboozle you with acronyms, technobabble, and business speak. Are they trying to over complicate things or are they being insightful?
Often there are obvious and basic signals within a business that people miss. Don't be afraid to shout out the obvious in meetings or with your teams and agencies. These may just deliver demonstrable returns versus adding further complexity to your current marketing activity.
We are working with a client at the moment who has missed 3 obvious signals that could have improved their last campaign.
2. Test something today.
Rather than succumb to what you've done in the past. Or rather than look for a silver bullet with a new campaign every time. Decide what you can test relatively easily today. For example two landing pages can be set up today and get tested for all sorts of insights: content, calls to action, leads, conversions, user flow, purchase options etc.
3. Freaks stand out. Are you standing out for the right reasons?
Don't be afraid to healthily challenge the status quo. Ask more questions to gain more knowledge. Why are you doing a process a certain way? Why isn't your agency providing you with 3 actionable insights in their reports? What do your best consumers really think?
I'm sure you'll discover more when you read Think Like a Freak. What are you waiting for?
Our Marketing Planning Process Review service is aimed at driving operational efficiency to complex marketing programs, clearing space for better planning and ultimately, better strategic outputs.
Why do you need this service? Read on to understand more.
Want more articles like this? Subscribe to our newsletter: