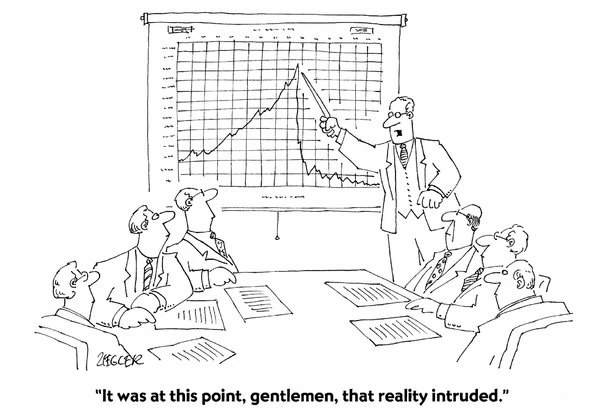 This post is by Michael Farmer, Chairman of TrinityP3 USA and author of Madison Avenue Manslaughter: an inside view of fee-cutting clients, profit-hungry owners and declining ad agencies, which won the Axiom Gold Business Book Award for the best marketing / advertising book of 2016.
Could Madison Avenue's mess be any worse? The unhappy picture can be reconstructed from articles in the trade press over the past two years.
They say the following:
Legacy brands are languishing in the marketplace. The consumer transition from Baby Boomers to Millennials has been rocky and unsuccessful for too many large marketers.
CMOs are being held responsible for the lack of growth, and their tenure is only half as long as that of CEOs'. The average CEO will go through two CMOs and see a lot of marketing smoke and mirrors. In marketing, there's uncertainty about what media mix to use, and there are major concerns about the effectiveness of digital and social media, even though the spend level in these areas is growing.
There is rampant experimentation with digital and social executions, but much of this is whistling in the wind, the hope that some of it will work. CMOs focus on cost reduction to generate improved results. Marketing looks less like an investment and more like an ongoing cost that is being reduced.
Ad agencies have been marginalised as strategic partners. Agency fees are relentlessly cut despite the growth in Scope of Work (SOW) workloads. Agencies downsize to generate holding company profits — agency people are stretched by the increased workloads and discouraged by poor pay and the lack of long-term prospects. Client relationships last no longer than CMO tenure — two to three years. Agency morale is at rock-bottom.
The AOR concept is dead or dying, as clients work with an increasing number of specialised agencies. To manage their portfolio of agencies, clients take control of media decisions, Scopes of Work and production decisions. Some advertisers take this further by creating internal agencies for creative executions and media planning. This further marginalises their agencies.
Procurement, by contrast, has become more influential. Procurement's focus on cost reduction has generated an endless list of activities. Procurement has examined agency salaries, overhead rates and profit margins. They've scrutinised investments in media planning, media buying and production costs. They've exploited the media transparency issue to audit and change media agency contracts.
They've explored the opportunity to create internal agencies. They've spawned an industry of specialised consultants to support them in their efforts — benchmarking consultants, media auditors, search consultants, contract specialists, compensation specialists and pure cost-cutting consultants.
Ad agencies view procurement's growing power with horror. Procurement is the acknowledged enemy. This short-sighted view of procurement may doom agencies to further attacks.
There's another way to go.

What agencies (as suppliers) have ignored is procurement's historical mission and success as an engine for positive change that focuses on "quality improvements," not just cost-reduction.
Procurement drove the "lean production" innovations that allowed the U.S. automotive business to compete successfully with the Japanese car companies after 1980. Procurement was the hero, rather than the villain, as outlined in The Machine that Changed the World, the 1990 best-selling book about the revolution in manufacturing and distribution brought about by the resurgence of Japanese industry after World War II.
Procurement led the advances in supply chain innovations that saw the empowerment, rather than the enfeeblement, of suppliers. Procurement was an important engine for change as described in Reengineering the Corporation, the 1999 manifesto that set the stage for revolutionary improvements in corporate processes to improve customer service and satisfaction.
The high level of customer service that we enjoy today from such companies as Amazon, Boxed, Netflix, Uber, Open Table and others owes a great debt of gratitude to smart work by procurement over the years.
Procurement has a natural role to identify and fix process inefficiencies and dysfunctions, like those that plague advertiser-agency relationships: poor SOW documentation, planning and tracking; poor fee-setting methodologies; inefficient briefing and ad approval processes, and inadequate problem-solving about the reasons for brand underperformance.
Procurement has focused on marketing cost-reduction because cost-reduction provided a limitless well of opportunity. Agencies accepted annual fee-cuts without finally saying "No!" — even though the consequences have been devastating for them. Their passive acceptance of fee cuts has only encouraged procurement to cut further; and the absence of agency push-back has sent an erroneous signal that there is still "fat" in the system.
Well, there's no more fat to cut, and procurement needs to step up to different challenges. They can only do so if agencies embrace them as potential allies rather than as enemies.
New priorities
Procurement's new priorities ought to involve the following for advertiser-agency relationships:
Ensuring that there are quality processes and analyses to identify why legacy brands are underperforming relative to their "full performance potential;"
Ensuring that planned media mix and spend levels along with planned Scopes of Work are jointly planned and specifically designed to solve brand underperformance problems;
Ensuring that advertiser-agency relationships enhance rather than minimise the role of the ad agency as strategic problem-solving partners;
Ensuring that a fewer number of empowered agencies, rather than a greater number of commodity-like agencies are engaged as strategic partners;
Ensuring that agency remuneration is based on "work to be done" by "the right number of people." Improved SOW documentation and planning will make this possible;
Ensuring that the briefing and ad approval processes minimise wasted time, excessive rework and morale-killing frustrations from badly-run relationships.
There are other possible priorities, to be sure, but this list represents the key ones to set a new, positive direction.  Madison Avenue's mess needs to be cleaned up.  Shareholder value is at stake. The current game-plan is not working.
Agencies need to acknowledge the need for these changes, and to view procurement as the partner that can make it happen.  Procurement needs to restore its credibility and reputation as a positive engine for change.
Is procurement up to the task? Are ad agencies? ANA should give this some serious thought, and so should Marla Kaplowitz, newly-appointed CEO of 4As, who is in a position to make 4As newly relevant for its beleaguered members.
Cartoon Credit: Jack Ziegler, The New Yorker, The Cartoon Bank. With permission.
This article was originally published in MediaVillage.com on March 22, 2017.
At TrinityP3 we recognise that maximising agency performance is not just about lowest cost. Learn about our Procurement & Sourcing service here
Want more articles like this? Subscribe to our newsletter: