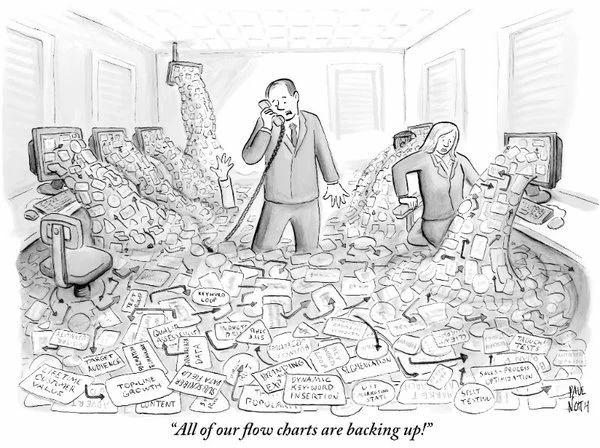 This post is by Michael Farmer, Chairman of TrinityP3 USA and author of Madison Avenue Manslaughter: an inside view of fee-cutting clients, profit-hungry owners and declining ad agencies, which won the Axiom Gold Business Book Award for the best marketing / advertising book of 2016.
There's more to the Digital and Social Revolution than programmatic media, online videos, data analysis and overnight billionaires.
There's something else, and it's called an avalanche of workload. Ad agencies are drowning in deliverables. Scopes of Work are out of control. Advertisers are experimenting, experimenting, experimenting with out-of-scope digital and social deliverables, and agencies are overwhelmed with the amount of work they have to get out the door on a daily basis.
The Digital and Social Revolution is turning ad agencies into high-volume ad factories, cranking out massive numbers of low-value deliverables in a quest to fill up digital and social channels. It's a world characterised by "content" and "quantity." Adaptations abound; originations are far and few-between.
The myth about digital and social advertising is that advertisers are confidently increasing their activities in these areas because they know that digital and social media are effective. The reality is quite different. CMOs are not as confident as they appear – instead, they're experimenting on the back of their agencies, hoping beyond hope that they can kick-start growth for their moribund brands without having to spend an arm and a leg to do so.
What works? What does not? No one is sure. Lack of certainty leads to experimentation.
One of my agency clients created and executed 3,500 deliverables in 2015 and 11,500 in 2016, receiving only a 24% increase in fees that paid insufficiently for a 30% increase in agency headcounts. Their profit margin declined. The volume of work nearly broke their back. Their senior creatives watched with disbelief. Where is this taking us, they wondered.
They had been organised as a typical creative agency, with a talent pool designed to create Big Ideas for a typical mix of SOW deliverables designed to move their clients' brands – the agency equivalent of a high-class French restaurant with a reputation for quality.
Instead, they found themselves operating more like a McDonald's fast-food operation, flipping 50 deliverables per day to keep the content flowing. Intellectually and creatively, it was not a satisfying exercise, and the total amount of creativity in the mix of work was modest, indeed.
Clients do not really forecast these large volumes of work, and agencies do not really negotiate their fees on the basis of the un-forecasted workloads. They accept the fees that the clients offer. Scope of Work documentation, which has always been poor in quality and specificity, is even worse for today's digital and social workloads. How much work will an agency do for its clients? For what fee? It's all rather arbitrary.
The only certainty is that the workloads will be large and the fees will be constrained.
Clients try to solve their brands' growth problems by throwing everything but the kitchen sink into a growing digital and social media mix. Their agencies go along for the ride, providing what was dignified in the past as "client service" but today looks more like lemming-like behavior – plunging over the cliff in the quest to be a player in the digital and social game.
It's time for agencies to be paid per deliverable rather than on the basis of an annual fee for an unspecified body of work. Steak au poivre and hamburgers are both on the menu, and a price can be set for each one.
It's a tough world out there, and French restaurants are struggling while the world converts to fast food.
Where will the great chefs end up spending their careers? And the marquee agency creatives?
The freelance market is looking increasingly attractive, which might explain the growth and success of a crowd-sourcing ad agency like Tongal, which dispenses with fixed costs and taps into an online network of 120,000 freelancers.
In the increasingly digital and social world, the agency of the future may look more like Uber and Airbnb than BBDO.
Cartoon Credit: Paul Noth / The New Yorker Collection. With permission.
This post was first published on Media Village
TrinityP3's Scope of Work Management service evaluates your current agency scope of work and recommends the best approach, calibrated to your needs and benchmarked against the industry.
Why do you need this service? Learn more here
Want more articles like this? Subscribe to our newsletter: