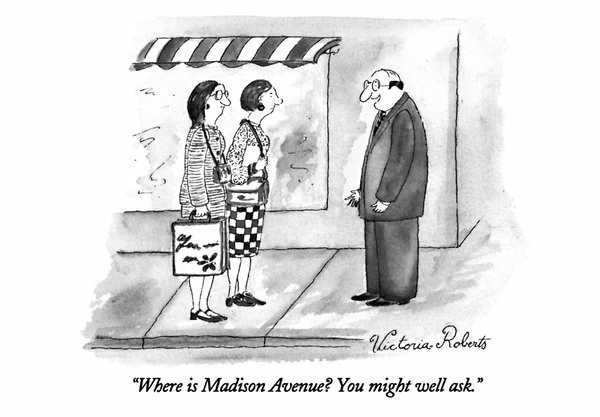 This post is by Michael Farmer, Chairman of TrinityP3 USA and author of Madison Avenue Manslaughter: an inside view of fee-cutting clients, profit-hungry owners and declining ad agencies, which won the Axiom Gold Business Book Award for the best marketing / advertising book of 2016.
Ad agencies have had a tough time for the past decade. Reduced retainers. Disappearing AOR relationships, as clients expanded their portfolios of agencies. Inflating Scopes of Work, straining the capabilities of agencies' downsized and juniorised staffs.
There's more to this. Auction-based bidding of SOW projects. Inhouse agencies. Advertising relationships embracing management consulting firms. Significantly shortened agency-client relationships.
Profits, required by holding company owners, have been hard to come by, leading to agency restrictions on travel, salaries and hiring.  Where will this end?  Clients (particularly procurement) look like "bad hombres" to their agencies.
A global agency CFO put it to me this way: "Clients will do what they want to do. If they've decided to cut fees, they'll cut fees. They'll benchmark with irrelevant benchmarks. They'll ignore Scope of Work arguments. One of our largest clients cut our fees by 30% last year and they told us that there will be another 25% next year.  We have no recourse. Take it or leave it."
Agencies, caught as they are between fee-cutting clients and profit-hungry owners, take this personally, feeling like victims in a situation that they cannot influence.
That's what happens when the symptoms of a larger problem are defined as the problem.
Fee cutting, SOW inflation, declining influence, increased competition, agency turnover: These are symptoms of dissatisfied clients who are failing to grow their brands, and in the face of this failure are dis-investing in their agency relationships, which are not delivering the goods.

It's not personal. It's strictly business.  It's not as if the client need for "increased shareholder value" is a mystery or surprise.  The shareholder value concept has been around for more than 30 years.  The problem is that ad agencies never specifically aligned their services or capabilities to deliver "increased shareholder value" under all market conditions. They instead have focused on delivering creativity and solving creative brand problems in a particular way.
With the benefit of hindsight, we now understand that creative solutions à la ad agency deliver more reliable results when the economy is growing and consumers are ready to pull out their wallets.  It is much less effective during periods of economic instability, which we have had for the past decade, and when there are major disruptions, like the disruptions caused by e-commerce, social media and the demographic shift from high-spending Baby Boomers to more frugal and fussy Millennials.
Brand growth has eluded McDonald's, Coca-Cola, PepsiCo, Kraft Heinz, Mondelez, Unilever, Budweiser, MillerCoors, Nestle and many other legacy brand-owners. Creative rejigging of their brands has thus far not been successful.  Advertisers, and particularly CMOs, whose careers are at stake, are cutting the marketing investments that do not appear to be working.
Their problems remain unsolved, though, and the management consultants, who cut their teeth on corporate performance problems, are pouncing on their problems, reinvigorated as they are by their many ad agency acquisitions.  Until agencies gear up to focus more broadly on solving client brand growth problems, they will get more "bad hombre" behaviour from their clients.  It is thus in the hands of agency CEOs to reposition their agencies to deliver "improved brand performance" and upgrade agency skills to deliver it.
They need to become more like Deloitte, Accenture and IBM – management consulting firms with creative capabilities.  Can they transform themselves, short as they are of money and the required talent? They'll never know if they don't first give it a try.
Cartoon credit: Victoria Roberts, The New Yorker, The Cartoon Bank. With permission.
This post was originally published on Media Village
Are you paying your agencies based on their costs? Do you struggle with finding value in your agency retainers? Are agency remuneration discussions something you would rather avoid? The fact is that sustainable agency remuneration is essential for delivering high performing relationships.  
Want more articles like this? Subscribe to our newsletter: