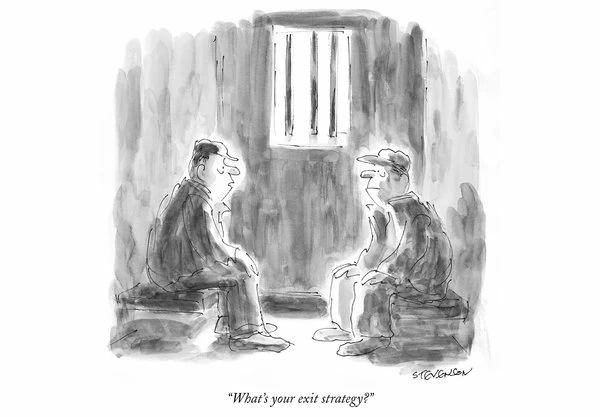 This post is by Michael Farmer, Chairman of TrinityP3 USA and author of Madison Avenue Manslaughter: an inside view of fee-cutting clients, profit-hungry owners and declining ad agencies, which won the Axiom Gold Business Book Award for the best marketing / advertising book of 2016.
Who needed "hands-on management" when revenues were high and automatic, workloads modest, TV dominant, creativity celebrated, brands growing, agencies respected, employees well-paid, parties outrageous and clients long-lasting?  Creativity was the foundation of agency success, and to nourish creativity, management got out of the way, lest its intervention destroy the magic.
"A creative agency needs to operate like an ant colony," declared Kevin Roberts, former CEO of Saatchi & Saatchi, "where every ant knows its job and has the freedom to do it. As long as we hire and inspire the right people, to do the right thing … our agency should grow and our creativity should flourish."
Activist CEOs are not needed.  Belief in creativity is all-important.  "Anything is possible," goes the Saatchi & Saatchi slogan.  Slogans are an important part of ant-colony management.
The assumption is that loose management is good for creativity and tight management will kill it.  "Bain & McKinsey stuff would kill our creative capability," said Roberts. "I believe in hiring Mad Men rather than Math Men."
Agencies did not manage Scopes of Work during the Golden Era, and they do not manage them today.  If they managed or influenced anything in the past, it was their clients' spend on media, from which agencies derived a 15% commission.  Remuneration was exceptionally high relative to agency workloads.  Why worry if a client asked for additional work? They'll need more media spend, and we'll make more money!  Out-of-Scope work is a good thing!  Encourage it!
Today, of course, the world is upside down.  Fee revenues are low and declining; workloads are high and rising; brands are stagnating, agencies are treated dubiously as commodity suppliers; employees are paid badly, and client relationships are short and uncertain.
As for agency senior executives, they yearn for the good old days, and they continue their loose management practices.  Does this make sense? Should they start to worry about those pesky Scopes of Work?  Should they spend time reviewing Account Lead performance, acting like executives who know something about Peter Drucker's leadership principles?

Should they ask: What work are we doing for our clients?  Will the work have a positive effect on brand performance?  How much work are we doing?  Are the fees adequate?  Can we staff the work appropriately?  If not, do we have an action plan to fix our problems?
What would Bill Bernbach think?  Here's a famous Bernbach quote, voted in 2011 by DDB as the No. 1 quote of the century:  "Nobody counts the number of ads you run; they just remember the impression you make."  This was certainly appropriate for the Golden Era, when money gushed from media commissions.
Well, agencies still do not count the number of ads they do, and money ceased gushing more than a decade ago.  Is Scope of Work management the kind of "Bain & McKinsey stuff" that kills creative capability?  Does that explain why agency CEOs are allergic to counting the number and type of ads and negotiating growing (rather than declining) fees for their growing workloads?  There must be a reason for this SOW allergy, since the failure to be paid for growing workloads is illogical.
Bernbach said some less famous things that may be more relevant than his observation that no one counts ads:  "I fear all the sins we may commit in the name of 'creativity.' I fear that we may be entering an age of phonies."
Agencies are committing sins in the name of creativity.  They are prisoners of a creative past, when money took care of itself. Hands off management is wrong and suicidal.
The good old days are gone, permanently.  The challenge for agency leaders is to find an exit strategy from the prison they are in.  New management strategies are required for today's permanently changed circumstances.
Time is running out.
Cartoon credit: James Stevenson, The New Yorker, The Cartoon Bank. With permission.
This post was originally published at Media Village
Read more on how we help marketers align their marketing to business here
Want more articles like this? Subscribe to our newsletter: