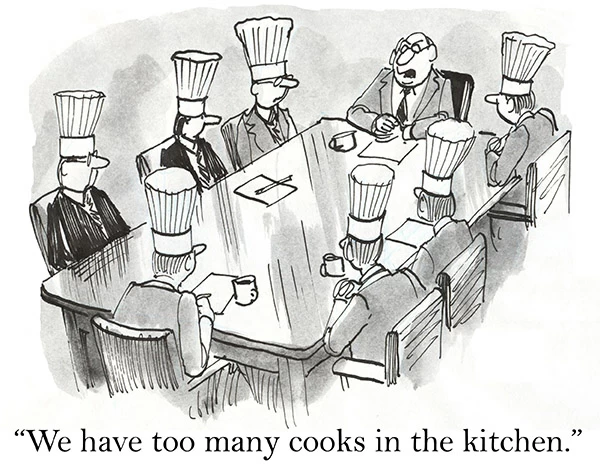 This post is by Darren Woolley, Founder of TrinityP3. With his background as analytical scientist and creative problem solver, Darren brings unique insights and learnings to the marketing process. He is considered a global thought leader on agency remuneration, search and selection and relationship optimisation.
We provide a very popular solution called Agency Roster Alignment where we analyse and map the current roster against the advertiser's strategic needs, spend and satisfaction with the incumbents.
Some of the really common responses when we report back on the current rosters is, first, many are surprised at the number of agencies and marketing vendors on the roster and, second, how they could have ended up in this situation with so many agencies and suppliers. Let me deal with the first response and then expand on the second in the observation points below.
First off, when we talk about rosters we are not simply talking about the major agencies such as creative, media and digital, plus perhaps a PR company, a design studio, and that sales promotion firm you use occasionally. We are talking about all of the agencies, suppliers and vendors that you spend your budget with, including market research firms, event companies, mail houses, technology solutions providers, and everyone in between.
Just as marketing has become more complex, the number of vendors, agencies and suppliers has grown too. But the fact is there are some very solid reasons as to why you may have more agencies and suppliers than you need. And that is not a good thing, as each extra one on your roster is consuming time and money by just being there.
1. No supplier roster strategy or management process
Hands up if you have a roster structure and strategy mapped out somewhere in marketing? It's okay, let's keep going as to date, this is not common or often non-existent.
In fact, generally beyond the main agencies such as media and creative who usually have to pitch or tender to get on the roster, the rest end up there organically over time. They simply get appointed as a need arises, or to work around some part of the roster that is not working.
Perhaps they were brought in on a project and have managed to stay flying under the finance and procurement radar for a period of time. It is often said that if an agency plays their cards right it is much easier to get on to a roster than get off.
2. Siloed and decentralise marketing function
Of course, the first point is exacerbated if your marketing structure is incredibly siloed and decentralised, as this means there is often no central view of the roster.
Again the main agency spend, such as media agency, will usually be consolidated as an enterprise solution, but there can be a range of creative agencies for each silo and then multiple digital, design, event, experiential etc etc etc suppliers aligned to each of the siloed marketing team.
Therefore for each marketing team you have, you could estimate the possibility that these agencies and suppliers will be over-resourced by a factor of the number of marketing teams. Five marketing teams equal five times as many PR companies as you possibly need.
3. Multiple and diverse market presence
A different type of decentralised but nevertheless just as effective for increasing the size of your agency and supplier roster is geographic spread.
The more markets you cover the more variations of multiplications of agencies and suppliers. Even if you have a global roster sourcing strategy in place it will be undermined on a market-by-market basis with the explanation that the global agency selected is not as good in this local market as they are in the other markets.
It is also interesting to observe that the geographically further from the head office, the more suppliers and agencies on the local roster. Likewise in emerging or growth markets, there is always an excuse for having additional agencies and suppliers as that particular market has different requirements that the global roster strategy just will not accommodate.
4. Poor or absent vendor management process
If there is no vendor management system, or the vendor management system is not used, then it makes it easy to add as many vendors and agencies as possible to the marketing roster.
It is also likely that this means there is no contract and also no use of the purchase order system meaning that expenditure is not being tracked and the company has been put at huge risk due to the lack of rigor around contracting suppliers and agencies.
I know many marketers hate dealing with contracts and purchase orders, but the fact is that without them there are risks to both the company you work for and the agency or supplier you want to work with, so it is important to comply with the requirements of appointing a new vendor.
This is where procurement can be really helpful. But if they are more a hindrance than help it is worth discussing how you can streamline the compliance process.
5. Disparate house of brand structure
Similar to the silos and the multiple markets is the House of Brands. This is an organisation with multiple brands (rather than a Branded House which has multiple products under the one brand).
If those brands and brand strategies are particularly diverse in their requirements, it often leads to the appointment of a set of agencies and suppliers for each brand as they are considered the only ones that can work on each brand. It is a fine balancing act here to determine where you can consolidate and achieve efficiencies and where consolidation could possibly lead to underperformance of the brand and false economy.
6. Post-merger or acquisition fall out
Increasingly common is the fall out of a merger or acquisition where the agency contracts and the rosters come with the merged or acquired entity.
Again it is very common that post-merger there will be a rationalisation of the main core agencies such as media and creative, it is the long tail of suppliers that is often overlooked as they are considered too numerous or too small in spend to be worth the effort. The problem is that it is in the long tail of suppliers were there could either be a ticking time bomb such as a non-compliant contract, or on the positive side an amazing, emerging agency that should be given a larger role.
The temptation to simply cut a swath through the long tail of marketing suppliers and agencies is real, but it would not address both of these issues. The bomb could still go off, especially in regards to non-contracted intellectual property, or you could be casting out an amazing agency that your competitors will immediately bounce on.
Time to strategically align your roster?
If you suspect you have a roster that is bloated, out of control or simply the product of one of these sets of circumstances, then a solution is at hand. Rather than simply cut the numbers, the strategic alignment process will align the roster to your strategic marketing needs, making sure you have the right agencies, suppliers and vendors and not one extra.
It optimises the performance of the roster by eliminating waste, duplication, gaps and redundancies.
As your marketing strategy changes, have you changed your agency roster? Discover how we can help you deliver solutions for optimising performance.
Want more articles like this? Subscribe to our newsletter: