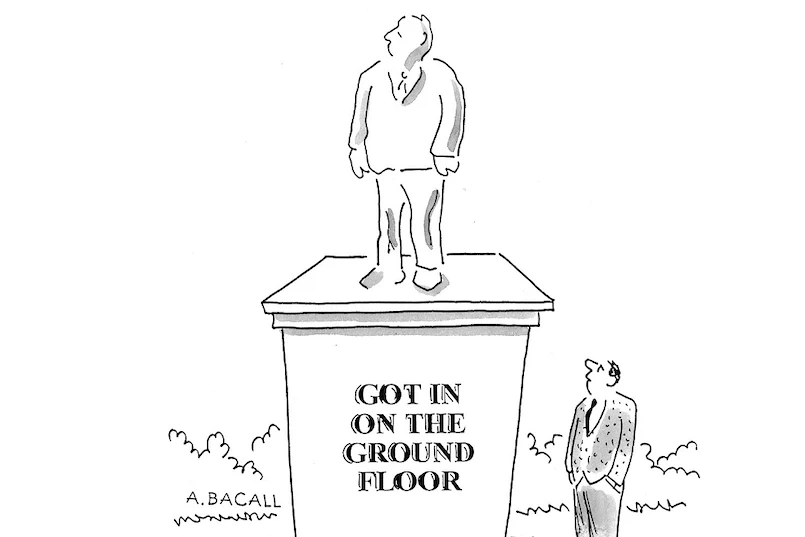 This post is by Michael Farmer, Chairman of TrinityP3 USA and author of Madison Avenue Manslaughter: an inside view of fee-cutting clients, profit-hungry owners and declining ad agencies, which won the Axiom Gold Business Book Award for the best marketing / advertising book of 2016.
"There are no agencies-of-the-future," asserts Martin Albrecht.  "There are only agencies-of-today that are becoming more effective for their clients … versus agencies-of-today that are losing ground.  In a turbulent marketplace, you have to think and act like a perpetual start-up to become more effective."
Albrecht, who is German-born, and Kamran Asghar, who is Pakistani-American, established Crossmedia, Inc., in the U.S. in 2000 after they worked together at Ogilvy & Mather in New York.  This created a separate U.S. operation to work with Crossmedia GmbH in Germany, established earlier in 1997 by Markus Biermann in Düsseldorf, Hamburg and Berlin.
Crossmedia now has over 500 employees in seven offices in the U.S., the U.K. and Germany.  Asghar, CEO, oversees North America out of New York.  Albrecht orchestrates international operations out of London, while Markus Biermann focuses on Germany as its CEO. The three founders operate as a single unified leadership team.
I recently sat down with Kamran Asghar and Martin Albrecht in New York for an interview.
Michael Farmer:
Gentlemen, Crossmedia is more than 20 years old.  Can you really call this a perpetual startup?
Martin Albrecht:
Fair question!  When you consider the pace of change in the past 20 years, if you're not rethinking your approach to clients on a perpetual basis, you're going to fall behind. Perhaps this is easier for an independent company like Crossmedia, run by three culturally-diverse founders who started from the bottom and who think like one even though we're split geographically.
We run this as a single global media agency with no silos and a clear vision.  The only way we can do this effectively is if we are always deciding what to keep and what to change, just like a start-up.
Farmer: 
Give us an example.
Kamran Asghar:
Early on, we reaffirmed our German policy of having all our income come from client fees — we would not keep rebates or engage in the buying/reselling of media for our own account.  Years later, with increased U.S. procurement pressures on fees and margins, we could have changed this policy to enhance margins, becoming non-transparent like many other agencies, but we never considered this at all.
We wanted to continue to be able to tell clients that our advice was unbiased, and that our self-interest would never get in the way.
We concluded "we'll have to get even better at our base business to make money transparently," and that is what we have done. We train our people to solve client brand problems rather than simply plan and buy media. Ironically, industry fee and commission pressures motivate us to focus on how to improve our quality year after year.
Farmer:
How did digital and social developments affect your thinking?
Albrecht:
The promise of being able to "personalise everything" was an industry temptation that Kamran and I struggled with.  We knew that our clients would want to jump into this with two feet, even though there were some fundamental questions that needed to be resolved. Is the audience big enough in size and value to segment usefully?
Is there really a strategic reason to speak to different groups of customers differently?  If so, can we do this without adding unnecessary complexity?  As often as not, we were counseling our clients about the need to be thoughtful and conservative about message-specific segmentation.
We could see the potential for a lot of wasted media spend chasing fragmented and low-value media targets.  We did not want to be giving low-value advice for the sake of increased client spend and fees.
Farmer:
Given all the targeting and spend today, why are brands underperforming in the marketplace?
Asghar:
In too many cases, clients and their media agencies have mixed up metrics with goals. There is too much micro-managing and optimisation of metrics and too little thought and effort about what actually drives improved brand growth.
Spend, we believe, is overly fragmented and mis-directed.  Siloed client executives are busy and happy, looking at their spreadsheets showing improved metrics, but brands continue to languish.
Farmer:
Where do you see Crossmedia in five years?
Albrecht:
Definitely still independent …
Asghar: 
… and still struggling with "what's the right answer for clients," just like a start-up.  We'll be much larger, of course, but we'll retain our single-company worldwide culture, just like the consulting firms.  We'll still call ourselves a "media agency," but one that is always under construction.
This post was an interview with Crossmedia's Kamran Asghar and Martin Albrecht on Acting Like a Perpetual Start-Up which first appeared in Media Village April 17, 2019.
Media continues to be the single largest budget item for most advertisers. But media has changed significantly. Find out about our media solutions here
Want more articles like this? Subscribe to our newsletter: