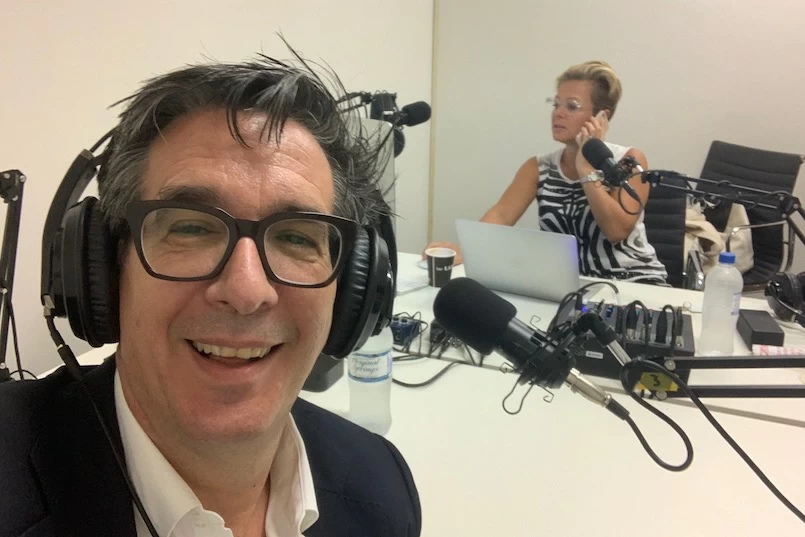 This post is by Kylee Stone, CEO of The Performance Code. Specialising in leadership transformation, resilience and wellbeing.
Being a leader is not easy. But, What if our view of leadership was an illusion that prevented us from realising our own self-expression as leaders? Join Leadership Resilience Expert, Kylee Stone as she challenges our view on leadership and digs deep into the behind-the-scenes lessons of the game-changers and change-makers who are disrupting the status quo and realising their self-expression as courageous, compassionate and confident leaders. Ignite your passion. Grow your influence. Amplify the impact you have in the world and listen to the Uncharted Leader podcast.
I'm absolutely thrilled to be able to invite a very good friend and colleague, Darren Woolley, who's the founder and global CEO of TrinityP3.
He has a very interesting background. So he has a background as a medical scientist, and having worked in advertising agencies as a creative director, Darren and his team have developed a qualitative and quantitative approach to measuring marketing, media and advertising in a way that provides insights to the challenges and obstacles that we find today that many, many marketers are dealing with. And issues that can stop an organisation from maximising its performance.
One of the things that really delights me about today's conversation is the purpose of TrinityP3, they've literally got one reason for their existence — and that is to improve the marketing output of every organisation they engage with. And their purpose is helping people achieve commercial purpose through creative processes.
Now, many of us today, in fact, probably over the last decade, there has been a big shift towards people wanting to operate in their life and in their business around purpose. And the challenge there is really how to commercialise that purpose.
So, it's a real delight that we've got Darren here. Darren is an expert in this space. He's been running his business now for over 20 years. So, we'll get him to talk about that.
Transcription:
Kylee:
Welcome to The Uncharted Leader, thanks for joining me. So if you're somebody who is committed to living your life and creating a business on purpose, then you want to listen to today's interview.
The great thing about today's conversation is not only will you find that Darren's got some really strong insight into commercialising purpose, but a very robust perspective, taking into consideration culture, strategy, structure, capabilities and processes that enable an organisation to be very strategic and utilise their skill set.
Darren, thank you so much for joining me today.
Darren:
Oh, it's my pleasure, Kylee. Thanks for the invitation.
Kylee:
Well, I do want to get straight into the business name and how that got started for you, because your purpose is to commercialise purpose for people through creative processes, and TrinityP3. Can you tell us a bit about how that got started?
Darren:
Sure, so first all, the three Ps came from a conversation I had with one of the industry stalwarts who was telling me that we're moving from strategy, structure and something else; the three Ss to the three Ps — people, purpose and process. At the time, it was a paper in a Harvard Business Review.
And I sat there and I thought, "This really defines my interest. This is what I'm interested in. How do I help people achieve their purpose through the creative process?" Not just any purpose, but particularly around creativity. Because I think society has this idea that creativity is magical or somehow mystical. And so, how do you integrate that in a way that you maximise the performance of creativity in delivering your purpose?
Now, I like the word "purpose" as well because it becomes, what is the purpose that you have? Not the purpose of business, the purpose of business is to create customers and maximise shareholder value or blah, blah, blah, blah, blah. But that's not necessarily what drives individual business owners to do their business. There's things other than making money.
Kylee:
You remind me of the TED Talk from Simon Sinek. And I don't want to pigeonhole the topic of purpose on that, but do you think that that's been expedited because of the conversation that sparked when he did that around people looking at their organisational purpose?
Darren:
It also came out of the "whys, " the five "whys" — why do you exist. There's that way. If you don't have, or if you can't identify the purpose, then yes, the five "whys" are the way to get there.
And in fact, Jim Collins in Built to Last defined purpose as one of the key things that most successful businesses had in his study. And it was something that didn't change over time. The way you implement it or express it can change, but the core purpose itself stays the same.
And to me, that's one of the things that the core purpose from day one for TrinityP3 has stayed the same. But as marketing and technology has evolved, we've been able to evolve the way we apply that to the work that we do.
Kylee:
So, given that, then what is your personal purpose behind being in the business?
Darren:
Well, the thing that I've realised is that it's my passion for marketing.
"My fundamental belief that marketing has incredible potential to actually make a difference. And yet there are so many things, so many challenges, so many obstacles that get in the way of marketing being as effective or as powerful as it can be".
And so, my purpose is literally as the company's purpose, to improve the productivity and the outputs of all of our clients' marketing, to actually allow that full potential of marketing to be realised by every organisation.
Kylee:
So, it sounds like you become somebody for a marketer who really does help deal with the big challenges.
Darren:
Yes, but often the challenges that they overlook. Too often in life, we can be confronted by a challenge. And the way it expresses itself is as a symptom. And we don't necessarily have the time or what's that word? Bandwidth. We don't have the resources to actually stop and go beyond the symptom to actually find the cause.
So, what we're constantly doing is trying to Band-Aid the symptoms, hoping that they'll either go away or it'll just resolve itself. We're more about looking at yes, there were a set of symptoms that were presenting themselves. "I don't have enough resources, I don't have enough time, I don't have enough money. The people I'm working with aren't delivering the goods, the relationships are difficult."
There's an infinite number of symptoms that fall into certain categories. But when you get to look beyond the symptom and start to really analyse and identify the underlying causes, then you can bring about a meaningful change.
Kylee:
Well, I mean, that sounds like a challenge in itself. And you remind me of the Iceberg principle. There is what you see on the surface above that, which we think is the problem. But when you actually get underneath, you find there are a whole lot of different issues. And I could imagine that could be quite a challenge for people to deal with. Do you consider yourself a challenger brand?
Darren:
In actual fact, we are. In fact, we think of ourselves as what's been identified as an Enlightened Zagger.

Kylee:
Oh yes.
Darren:
What that means —you've probably heard of zigging and zagging. Well, of course, if everyone else is zigging, you could zag. But the purpose of an Enlightened Zagger, the challenge that an Enlightened Zagger holds to the category they operate in, is that they hold up the things that are not working for inspection and ridicule.
Too often we fall into traps within categories, be it financial services or retail or wellness and health; where we think, "Well, that's just the way it's done in this category," even to the point that things are no longer working because we all want to zig. We all want to go with what everyone else is doing.
But there's times that we have to zag. There are times when our role is to provoke a review of why everyone's zigging, and what are the opportunities if you zag.
Kylee:
Now, where did that come from, by the way? This whole theory about zagging. You made a reference to some — is there a platform or something you discovered about that? It sounds quite interesting I think, and a good thing for people to probably look up, right?
Darren:
So, it originally came from Adam Morgan who wrote Eat the Big Fish, which is over a decade old. But he's since then been working in collaboration with one of the media agencies called PHD. And they've been doing a study called Overthrow, where they're looking at what is the role of challenger brands.
And also questioning the whole concept that a challenger brand is small and is taking on a large brand; the David and Goliath approach. Where they've actually found that any brand of any size can actually be a challenger. They've done quite a lot of research and in Overthrow II which was the lightest publication and it's Overthrow2.com — is a website where people can see … they've identified 10 different challenger archetypes or segments, and you can actually do a quiz to find out your personal challenger brand, but also your organisational challenger brand.
Kylee:
Great. Well, if you haven't done it, I highly recommend doing it. It's a great way to look at I suppose the context in terms of how we operate in the market, which resonates with how we approach challenging existing complexities I suppose, or our approach.
Darren:
Yeah, I think people need to go into it to think about finding a framework or finding a platform for what they may already intrinsically feel will or know, or instinctively feel or know.
Because often, you'll think of yourself, "Yeah, I'm a challenger." But then it's such a broad category; "How am I challenger? What is my type of challenge? How do I express myself?" This helps you get some thinking and a framework to actually think about yourself as a challenger beyond just that broad challenger category.
Kylee:
Well, I also imagine, especially in the marketing space with people that you work with, you probably find in a team, there's probably a whole suite of different people with different styles, right?
Darren:
Oh, of course. I mean, we're human beings. We're as different as the number of people. That's why I think one of the great problems with segmentation these days, demographic segmentation — if you're a woman of a certain age with a certain career or lifestyle or relationship situation, they put you in a pigeonhole. That's demography.
When in actual fact, I think people are starting to realise that human beings are so diverse. Only this week someone told me that they couldn't believe I was a baby boomer because I acted more like a millennial. I thought that was a quite interesting observation on their part.
Kylee:
Now I do have a question for you — you've been known in the industry as what they would call, and I think I've found it on one of your books as well — The Wolf of Marketing. Can you elaborate on that? Because I'm pretty sure when we had a conversation at some point, I was under the illusion that … I think probably because at the time, there was The Wolf of Wall Street.
And I'm pretty sure the last time we had coffee that actually wasn't the case. And I was really surprised to hear what you said. I think this is a really great thing. Why do they call you or why are you called The Wolf?
Darren:
So, one of the problems from setting up our business in the way it is, is that we often get engaged when there's a problem. And yes, you're right. A lot of people think it's The Wolf of Wall Street. I don't have a helicopter or any of those things, and I'm certainly not making the money they made in their brokerage practice. But the reference is to Winston Wolf from another movie called Pulp Fiction.
So, it became known that if you had a body without a head in a car in a garage, you'd call a cleaner, Mr. Wolf. And Mr. Wolf would come and clean it up. The problem with that is quite limiting because it reinforces for people, "Call Darren, Mr. Wolf, when I have a problem and he'll come and clean it up." When in actual fact, after 20 years, we know very well that when you're heading towards a problem, it's so much easier to change direction or eliminate the inevitable so that you don't get to the point of having to clean up the mess.
Kylee:
Yeah, then given that you've brought up the fact that you've been in business for 20 years — so congratulations and happy birthday.
Darren:
Thank you.
Kylee:
I'm really interested because over that timeframe, you've seen a lot of change in the industry that you work with, and also as a business owner, to go out on your own and get started.
So, can you tell us a little bit about, I suppose, your journey? I mean, it's a big period of time to chunk down, but if you look at some of the standouts for you in running your own business, you've gone from moving out to be … well, tell us about that. Because when you first got started, there was you, and then you had a team and then that's expanded. And you're now in Singapore, New York, you're also in-
Darren:
London, Zurich, and about to open in Sao Paulo and all sorts of places.
Kylee:
So, you've had an extraordinary journey. What would you say are probably some of the highlights or even the greatest accomplishments you feel you've had in that journey?
Darren:
Well, first of all on reflection and good old 2020 vision, I see the 20 years in seven-year cycles.
So, the first one was starting out, operating out of a lounge room, or some shared space at an office. And really, just being you and maybe one or two other people, and setting out to build a brand, to build a business. But it's really about you. It's what they call micro business.
But then I always knew I wanted to scale. So then working through issues like how am I going to scale, what shape would that be? How would I sustain that? There's a whole lot of issues. That's the first seven years. Because by 2006 – 2007, that's when we started looking to expand into other markets. We'd built a local team, we'd proven the concept, proof of concept. We were ready to expand.
Immediately the week of the global financial crisis hitting, I opened an office in Hong Kong and Singapore. And that challenge (because we went from good revenue to zero revenue in a very short period of time) fundamentally changed the way we did business.
Up to that point, we were very much outbound. We were emailing, phoning, we had lists. We would do public relations, we'd do mail outs, all the outbound. And what we did was realise that in actual fact, inbound marketing would work better for us.
This is where writing the blog, producing the content, producing the book, starting a podcast — where we're taking the knowledge that we're gathering by doing the work and sharing it openly with people — would build our profile and build awareness so that people would come to us when they had a problem.
And that's sort of 2008 to 2014, where we really established that. By about three years in, our website had gone from 6,000 visitors a year to 200,000 unique visitors a year in the space of about three years.
Since then, the company's matured again. And I'd say the last cycle — we're six years into the seven-year cycle. And what we're doing now is much more strategic work. While we still do the fixing the immediate problem and quite tactical work, a lot more of our work these days is actually quite strategic; helping our clients and helping their agencies actually understand the marketplace, start to plan for the future, put in place the programs and the frameworks that they need to actually manage themselves for success into the future. So that's the three challenges.
Kylee:
And I dare say at the moment, especially in the marketing industry, there's been a lot of commentary in the media especially, but also conversations with people in the industry themselves about the challenge that we do face right now with marketers per se, is that the tenure of the CMO role has shortened in a big way. I imagine that to be a big challenge.
Is that something you're finding at the moment, that is a solution you're working on — what's your sense of that?
Darren:
It's interesting because I read an article recently where definitely it's the shortest tenure of any of the C-suite. Now, I think that's a real problem. And I don't think it's necessarily just the responsibility of marketers. I think it's also a problem with business.
Too often, we hear of, or talk to, CMOs that are employed to take on the role of managing the whole of the brand, the whole of the customer experience, which is closely linked to brand, so synced. And yet often, many of them are not given the authority or the responsibility to be able to manage that — sorry, they're given the responsibility but not the authority. Because ultimately, they're turned into the comms department.
When in actual fact, marketing as anyone that studied marketing would know, is way beyond just communications. Communications may be the most-high profile, it may be the most conspicuous expenditure in marketing, but it's not the only part of marketing.
And so I think many marketers are actually, especially in larger organisations being set up for failure because they are given the responsibility for building the business reputation, the brand, the customer experience, and they're not given any of the ability or authority to do that.
Kylee:
Well, I would also imagine that it must be a very difficult period given the tenure for those who are onboarding into the new role. I imagine that first, what we call the first 90 days must be an incredibly challenging period given the expectation that most businesses would have to have that person up to speed pretty quickly.
Darren:
And it's also impacted by the fact that a lot of marketers learned, especially into a new role. So, they've gone into a new organisation, less so that when they're promoted within an organisation.
But when they go to a new organisation, in that first 30 days, many of them are establishing a vertical responsibility. So, they're talking up to the CEO, and they're working down into their marketing team. But increasingly, the most important thing a CMO can do in the first 30 days, is actually focus on working across the organisation and building the relationships with their peers at the same level.
And the reason for this is, as I said a moment ago, their responsibility is going to be all of the organisation. Their authority will come from building close relationships across that level of the C-suite so that they have influence over it.
So, the traditional, "I landed in a new job, I've got direction from the CEO, I've got my team in place," reinforcing the silo is actually not the future of marketing. The future (and when I say future, I mean the future now) is actually collaboration across the organisation.
Kylee:
Ah, interesting. Now you bring up a great word: "collaboration." So, two questions about that though. Under a traditional management consultancy business, we find a lot of people specifically focus on process.
When you talk about the work that you are doing with the industry and people in those roles, is it just process for you or are you also enabling them in those areas of collaboration and the impact of people?
Darren:
Look, you're absolutely right. And time and time again, we're often brought into organisations where a management consultancy has been in and either restructured the organisation or are putting in new processes or both.
The trouble is that lacks total context of how organisations work. These are groups of people; sometimes very large groups of people and human beings interact. Now, a lot of large organisations are built into silos. And the idea of collaboration is often almost alien to the structure.
We often talk about the idea of getting alignment across the various parts of what makes up organisations. The first one is culture. Every organisation, whether they like it or not, will have a particular culture. Whether it's a risk averse culture, whether it's an innovation culture, whatever it is — there will be a culture. There'll be a spoken one, and then there'll be an unspoken one.
The next is strategy. Because culture eats strategy for breakfast. It is the same. And then the third one is structure because structure follows strategy. It's amazing how many times organisations will have the same structure maybe tweaked here and there, and yet the fundamental strategy has evolved because of market dynamics, technology shifts and changes. But the structure largely never does.
Kylee:
Darren, I'm pretty sure it's not all organisations that do that. I mean, I even know from myself in the startup, I mean we're seeing a big shift in the growth of startups and entrepreneurial business as well. And I've seen the same kind of thing there, where you've got the great vision and the purpose, and the culture set are not defined.
And then the immediate next thing people go to (and I've done this myself) is look at, okay, well what's the structure I need in order to support that versus actually doing the work on the strategy first to identify what are the key strategic priorities, then determine the structure and the required capability. I think it's a big issue.
Darren:
And when you see any of the research done on CEOs and their belief of how successful strategy implementation's made, it's like over 60% will say that their strategy failed to take. Because often, they're trying to push a strategy into a structure, a culture, a certain capability set, and even processes that are actually not aligned to delivering the strategy.
So it's no wonder that the saying that people make plans and God laughs, is getting more traction. Because until we think of an organisation as an organic collection of people, and actually understand how those people interact, how they're organised into groups, what the culture is — because it's people that create culture.
Kylee:
Now you said there were four parts. You've mentioned culture, you've mentioned strategy, then you said structure. What's the final piece?
Darren:
Process. And process and capability are very close together. You need people to have the skillset that's needed to deliver the strategy. But you also need them agreeing to work together in a way, because the way you work together actually defines culture. It influences culture.
Kylee:
So, what? It feeds back in? It's like a bit of a loop almost?
Darren:
Yeah, so I'm sure we've all been to organisations which are very bureaucratic. That's process, which then informs a particular type of bureaucracy as a culture. No one does anything unless it's signed off in triplicate.
We've had other organisations where everyone's running off and doing their own thing because that's the process. Every silo has its own process. And there's no consistency across the organisation that informs the culture.
It's actually a loop. And you're right, as soon as you've got two or three people in an organisation or 3000 or 30,000, all that you're getting is the scale and the magnitude of the size of the job to get that alignment.
Kylee:
I want to come back to your role as a leader in your organisation and the work that you're doing. There's been a lot of change going on — disruption seems to be the biggest thing that a lot of organisations are dealing with.
What do you find at the moment as an owner and as a leader, are the biggest challenges that you experience or that you're currently dealing with in business?
Darren:
We have a particular structure that is quite decentralised, and we don't have people turning up and hitting the clock nine to five or whatever.
One of the things for me and one of the biggest challenges that I have to keep constantly in mind, is the way I keep a team of people actually connected and aligned. Because it's so easy for people, they're getting caught up in just doing their job, that they forget that they're part of a larger organisation, they forget often that they're part of a team.
And so, one of the things we try to do is have regular catch-ups, bringing everyone together as much as possible from around the world so that we can share and spend time. And I think more than just the agenda for those meetings, is just time of people talking, people sharing experiences, getting to know each other and reconnecting on a human level. And I think that for me, that was one of the big things.
The next thing is actually making them feel part of the organisation. That as a leader and as the owner of the organisation — I'm not just the leader but I also have the financial stake in the organisation. But making them feel part of that and a sense of ownership from the point of view of openly being willing to discuss and consider ideas that anyone in the organisation has and being willing to back them financially to make it happen.
Kylee:
Another great point you raised there and of course, because our mission with this podcast is to disrupt the traditional view of leadership around the hierarchy. Or that leadership is governed by a title or if you say, it's at the top of the hierarchy. Which we as leaders know is fundamentally not the case. But collectively as a society, that's kind of how it's evolved.
And so in your opinion, there is a distinction, in terms of your accountability and owning a business and running a business versus very much so being a leader. In your view, what is … well, let's just say, let's complete the sentence. A leader is someone who what …?
Darren:
Who manages and encourages the best from the resources they have at hand, particularly people. A leader is all about people. Because without that, without someone to help align people, encourage people, what else have you got?
Kylee:
And then what's your go-to? I mean I've often heard people make comments that (and I probably would say the same for myself actually) when you first get into that role of being a leader in the old style form of things, it can very often be a lonely place because there is an accountability and a responsibility that we have in order to keep certain people away or knowing about certain parts of things.
I've often found that there is a need for those people, particularly in those accountabilities to have some — what's the go-to, where do you go to for support or guidance, what's your toolbox per se. Who do you go to and what's your toolbox?
Darren:
Well, look, the truth of the matter is that my wife and partner is my first go-to point. She's my confidant, she's my sounding board. I know and I understand she has the best interests of us and our family first. But she's a good place for me to go and just get a sense of what are the risks because she's very risk averse. Whereas I'm much more entrepreneurial and it's always good to get that balance.
In the past, I tried going to other people in the advertising industry in marketing, and they didn't quite get the role that we played. A lot of people in the industry will try and pitch and hold us and say "You're pitch consultants or you're agency fee consultants." They'll pick a particular service rather than actually understanding the true purpose of what we do.
And then I've often found, because I've joined a lot of organisations like the CEO clubs and things like that — and I've found that I started creating a business which was already treating people as if they were in some ways partners and giving them freedom rather than turning them into employees. And every time I try and explain that to another CEO, they just couldn't get it. They'd talk to me about, "Well, you just make them do this and you've got to put in this."
The way I think about all the people I work with, is they're adults, they're not children. I don't have to have rules, I don't have to chastise them. I have to give them a vision and an objective, and then encourage them to actually find the best way of delivering that.
Kylee:
You know what I'm hearing (and this is kind of a really great thing actually), even the decisions that we make about where we go to for advice or support, I think sounds from what you've shared, is to be first very clear about where you are in your personal brand.
I mean, I was reminded of how you said your challenger brand is The Enlightened Zagger. So it's probably no doubt that if you're going to be sitting in a room where you've got a bunch of people who are operating in a completely different context, then of course, whatever advice they're going to give you is going to be completely a contradiction to what you're up to.
They're going to keep zigging and you're going to keep zagging. Well, that's not really a great place. So, no wonder one's going to go to one's partner because if we think about it, they're often there really just to listen and be a sounding board for us to tap into what we already know to be true.
And I think we find that as a lot as leaders, sometimes it's about trusting our gut instinct and knowing that we've got somebody to be able to go to just to kind of hear what we have to do and just give us a broadened perspective. Would you find that's been the case?
Darren:
Absolutely. And the thing I had to learn was not just using them as a sounding board, but also to share the successes as well.
Kylee:
Oh yes, say a bit more there.
Darren:
What I found was I'd often go to my wife and share with her the challenges, the issues, the problems that I was facing. And she'd give me great advice or give me her point of view. And then I'd go away and I'd implement it. But I wasn't going back and saying, "Hey, that worked really well."
Over time, she would quickly get this sense that it's all a disaster, because all they're hearing is the context of problems. They're not actually hearing the solution and the possibility that comes out of that.
It was really important for me to learn that because otherwise, it would come to a point in the discussion where she would say, "Oh, not this again." Because if it was the same problem occurring over, a Groundhog Day for business.
Kylee:
Yeah, I do it a lot myself. A quick question on that — would you say you lean more to being an optimist or a pessimist?
Darren:
Well, that's a good question.
Kylee:
I know, right?
Darren:
I always believe in the best in people. But after 20 years I've been disappointed enough that I contain some of my optimism until I actually see behaviour. I've learned that words can be cheap and actions speak much louder than words.
Kylee:
That is a great, great point. And you're talking to the converted of course. It never really occurred to me — I was always, I suppose a bit righteous about the whole optimistic versus pessimistic. In all honesty, I really thought that I pretty much was an optimist until I confronted the fact that — the very thing that you raised actually, like when somebody would call me, I'd look at how I was going to answer the question.
When they ask, "How are you?" And I go, "Do I tell the truth here or do I just say I'm good?" And then I started to realise, "Oh, actually that whole question about how I respond to their question has determined whether I'm going to be optimistic about it or I'm going to be pessimistic about it."
And I thought, actually, yeah, there's part of me that is this optimistic outlook, which I really do because for people, that's what I do. I help people create new, inspiring visions and I've got a great way of doing that. But the thing that I realised was why I'm so great at that is because actually I'm a pessimist.
And I didn't realise until my husband — turns out he's the optimist and I was like, "Why you do you sort of think everything's rosy all the time?" And he's like, "Well, because it is." And I went, "Oh, that's why we butt heads at times."
Darren:
I think there's something to be said about when we just … someone asked that question, how I choose to say, "Oh great, I'm fine" or whatever. It's actually not a genuine response. Because it's actually much more inspiring to share with someone, especially in business, "Actually, I've got some challenges here, but I'm working on them." And share with them the way you're working through a particular problem or where you're at.
Because what I found was when you're a business-person having problems — and I've faced really big financial issues at least three times in the last 20 years. And when everyone's telling you it's all great. And then I turn around and I go, "Well actually I'm really struggling." And then they'd suddenly go, "Actually I am too."
And that was much more inspiring and helpful, than just constantly being told that everything's fine. Because I think often it's disingenuous.
Kylee:
Well, it is also a big stigma around people who are in a leadership capacity. Because I know there's a big issue, especially in larger organisations where people, once you've hit a certain level as an executive, especially, that you feel like you have to present a positive image about everything. Which then perpetuates the underlying issues of actually dealing with a lot of stress, which can cause a huge amount of concern.
Darren:
Yeah. Look, I think as a leader, I'm inclined to share the stresses that the business is under because I treat the people I work with as my equals. They're grownups, they're adults, they're professionals.
And I try and do it in the context of it's a problem that we need to address. Not, "Oh, it's all hopeless, we're going to die." Part of leadership is actually acknowledging those things and providing some leadership in that moment.
Kylee:
Yeah, and that's a great thing to end on actually. So the acknowledgement piece I think is exceptional. Starting with acknowledgement no matter what, actually allows for change to happen.
And I think I remember a quote that stuck with me for years by good old Dr. Phil: "You cannot change what you do not acknowledge." So at least it's the flip point on that.
Darren, thank you for your time today. There's been some exceptional lessons in everything that you've shared about your journey and the work that you're doing. How can people connect with you, with the organisation, the work that you do?
Darren:
Well, the first point of call has to be our website, Trinityp3.com. Otherwise on there, there's a dozen ways that people can connect with me directly, either through social media or email or whatever.
Kylee:
Under the same brand, Trinityp3.com?
Darren:
Absolutely.
Kylee:
Brilliant. Thanks again, Darren.
Darren:
Thanks, Kylee.
TrinityP3 is a global strategic marketing management consultancy with an international network of industry professionals. Find out more here
Want more articles like this? Subscribe to our newsletter: