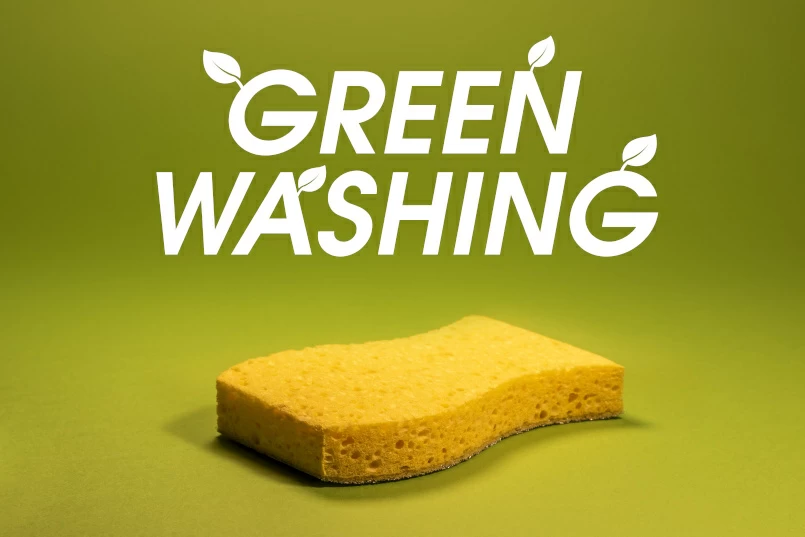 This post is by Belinda Noble , co-founder of Communicators Declare and founder of BeNoble Communications. She has a Masters in Leadership and experience spanning journalism, PR and communications.
One of the things I get asked most is how people can navigate greenwashing and see through deceptive language.
This year, particularly following Australia's Black Summer bushfires, that task became a lot more complex.
There has been a shift in tone; a move away from straight climate denial, towards accepting the science, but still very little climate action.
Weasel words and fine print
Fossil fuel companies, their lobby groups and government supporters, websites and annual reports are chock-a-block full of weasel words and misuse of environmental language and images.
The Minerals Council of Australia says it advocates for "sustainable economic growth", "improved environmental performance for sustainable ecosystems" and "putting Australia on a pathway to meeting its emissions reduction targets".
Sounds great, right?
However, it's Pre-Budget Submission of 2018-19 paints a different picture. It includes calls to weaken environmental laws and to prevent some legal challenges on environmental grounds. It also asks for public funding to expand exploration, and for the Clean Energy Finance Corporation to fund highly inefficient and insufficient "clean" coal technologies.
So, yes, they are talking about reducing the emissions of the fossil fuels they dig up – but they're planning to dig up much, much more. And there's no mention of hard targets or phasing out of fossil fuels.
Even those who pledge hard targets need careful scrutiny. BP, for example, got worldwide attention in February this year by promising net zero emissions by 2050. 
Some of its aims are a real leap forward, such as cutting the carbon intensity of its products by 50% over the next 30 years. But then, you have to remember, as one of the world's biggest polluters, it still plans to expand oil and gas production by 20% over the next 10 years. It promised no reduction in fossil fuel production, no shift to renewables and no target for 2030.
Washing in many colours
BP has been heavily criticised in the past for its greenwashing campaigns, especially in the wake of the Deepwater Horizon oil spill disaster. It has even pulled ad campaigns after court action that argued they were misleading people into thinking it was a renewables company when 96% of its business is oil and gas. 
On a global scale, InfluenceMap calculates the five biggest privately owned oil and gas companies spent at least a billion dollars on "misleading climate-related branding and lobbying" since the Paris agreement was signed in 2016. And their much-advertised green initiatives only accounted for 3 per cent of their 2019 capital expenditure. Three per cent.
But fossil fuel companies don't just pretend they're renewables companies, they also pretend they're benevolent community champions that help women in STEM, Aboriginal communities, arts and sports.
Their social media properties and websites are dominated by images of young women and minorities, happy faces of people receiving donations and, during COVID-19, lots of messages about health and safety and how we're "all in this together".
In fact, you'd be hard pressed to find an actual image or mention of their products in their public communications. And if you're not communicating about your actual business, then why are you communicating? 
What's most concerning, is that the sector is fooling itself, it's employees and investors. They know climate change is a massive risk, but they haven't found a way of maintaining their profits in a sustainable way. The big, systematic changes are beyond them, so they're putting lipstick on a pig and buying time while continuing their damaging ways.
Focus on what matters
To keep the climate safe, we need to reduce greenhouse gas pollution by around 45-65% by 2030 and reach net zero by 2050.
So, no matter how many trees feature on a company's website, or how many promises it makes, if it doesn't have a solid, costed plan to reach those targets, it is not a sustainable company.
When evaluating the green promises by a coal, oil or gas company, a new study released by a think tank, a media story, or a government announcement, ask these questions.
Will this reduce greenhouse gas pollution 45-65% by 2030?

Does it allow any expansion of coal or gas extraction?

Are details included?

Are the third party supporters credible and not profiting financially?

Has it been budgeted for?

Does it rely on 'clean coal', 'carbon capture', or 'transition fuel'?

Does its success rely on technology that does not exist or that will take many years to start working?

Have the supporting facts and figures been peer reviewed?
At Communicators Declare we believe that you can't be ethical if you promote the expansion of fossil fuels. 
The wording is deliberate and precise. We recognise that fossil fuels still power much of our economic activity, and many of us can't help but be involved in some way. 
But if you promote fossil fuel expansion, you're giving the largest polluters a get out of jail free card.
Just like you wouldn't promote tobacco or child labour, you shouldn't back an activity or organisation that threatens future generations' right to a liveable planet. 
If you're a CMO or CEO, that includes your supply chain and professional services, such as marketing, communications and government affairs.
Here's some steps we ask that you take;
Ask your communications staff to

declare as individuals

Promote your declaration to inspire others

Ask your agencies and media buyers whether they do any business with fossil fuel

companies or lobbyists. If they do, ask them to consider changing, or you will move your business elsewhere.

Don't accept donations or sponsorship from fossil fuel companies or industry groups and let them know why.

Don't advertise with media that gives a platform to climate deniers or, let them know you will pull your advertising unless they stop.
Which organisations and media outlets are we talking about? There's some listed in our climate-friendly communications guide.
These are significant asks, especially during a pandemic and economic downturn. But the three degrees of warming that we're heading towards will dwarf all the current crises combined.
The communications industry has supported polluters for decades. Let's make good and withdraw the social licence to trash the planet.
Are you a communication, media, marketing or advertising professional? Do you recognise that climate breakdown is one of the most serious issues of our time? Declare Now
Want more articles like this? Subscribe to our newsletter: