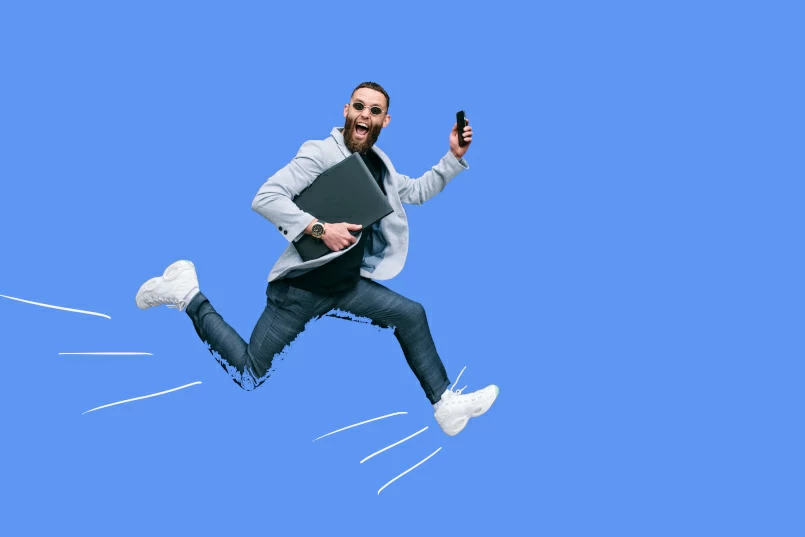 This post is by Darren Woolley, Founder and Global CEO of TrinityP3. With his background as an analytical scientist and creative problem solver, Darren brings unique insights and learnings to the marketing process. He is considered a global thought leader on optimising marketing productivity and performance across marketing agency and supplier rosters.
One of the great things about marketing is the opportunities. I know people whose careers have spanned media sales, agency and marketing roles. Or across media, technology and creative. The ability to transition is one of the many appeals of a marketing career. In fact, in many cases, it makes the marketer more well-rounded and complete.
One of the transitions that is quite common is the leap from agency to advertiser. The jump to the client side is more common than the jump back to ad-land. But I was caused to reflect on this jump recently.
We had a meeting with a new client. A marketer and advertiser. They were keen to inform us they were looking for a solution that was not necessarily a pitch. Why? Because having recently worked agency side, they did not believe a pitch was the answer to improved work.
This opened up a very insightful discussion. A proposal was prepared and sent. They responded they had received it. Said it met all their expectations and set a deadline for their response. What stood out? It was like dealing with a switched-on agency director. Organised. Responsive. Courteous. Thorough.
Reflecting on others who have made the jump, it was clear, beyond the perfectly professional example presented here, we could categorise these career hoppers into a number of key groups. Of course, natural variations exist. But here are a few ex-agency stereotypes.
The poacher-turned-gamekeeper
Having been accused of being a PTG (the TLA for poacher-turned-gamekeeper) we can spot this a mile off. Having worked on the agency side they believe their value proposition is their inside knowledge of how the agency works or doesn't. They are constantly reminding you of "When I was at the agency…."
The problem is that their experience is based on at best, a handful of agencies. And contrary to popular belief, not all agencies are the same. This often means that their interpretation, standards and expectations will be all over the place. It is a hidden bias, that stops them from seeing the real value they can offer in driving value.
The vengeful ex
This is like the PTG, but meaner. They have often either been fired or made redundant. Neither of which was justified. According to them. There is a chip on their shoulder. They are out for revenge. Particularly if they join an organisation who is a client of the agency that fired them.
The worst possible version of this is the one who maintains a friendship with people at the agency, while undermining the agency performance at the client. Usually using the gossip of those agency friends to create ammunition for their white-anting. It never ends well. The damage done to the relationship can take a long time to heal.
The corporate cadet
The transition from a service-based adland to the corporate world is one they take to like a duck to water. You can tell they are clearly important. In adland, they were at the beck and call of their client. In corporate world, they are far too busy to take a call or reply to an email. All of those back-to-back meetings (team or otherwise) they must attend.
It gets worse. Suddenly they are too important to spend any time with the agency. Instead, they have an underling delivering the news. Especially late on the Friday afternoon of a long weekend, when the underling sends through a brief for a response first up the following week, saying "the boss said you wouldn't mind".
The ex-lover
They have made the leap to the other side. But deep down they miss their romantic view of agency life. They crave for the drinks after work. The agency/industry gossip. The regular celebrations. Even the working all weekend on a new business pitch seems like great fun through their rose-coloured glasses of yearning.
You can usually spot these ex-lovers. They hang out in bars frequented by agency types. Will jostle for a place on the agency table at industry award shows. Be the first to say yes and the last to leave the agency Christmas party. Will often make a meeting at the agency on a late Thursday or Friday afternoon and hang around waiting for an invite to drinks. True love.
As we said, these are just a few of the stereotypes. For each one, there are many more who make the leap and carry and combine the best of both worlds. Some professions, such as law, medicine, accounting, where the structure encourages specialisation. And while aspects of marketing are heading the same way, the best marketing leaders appear to have a breadth of experience across the broad discipline.
Still, it is fun to observe and identify particular behaviour patterns.
Are there any ex-agency stereotypes you have observed, that perhaps we have overlooked? Let us know confidentially or not here
Want more articles like this? Subscribe to our newsletter: