measuring media innovation
    

The media marketplace is changing at an alarming rate. The changes affect every medium and as media blur and converge the issue of 'how best to deploy media funds' becomes increasingly complex. The changes in themselves are exciting yet leave many marketers unsure of what to do now and how to prepare for the marketplace of tomorrow. In this P3 e-news… –

leveraging the new media landscape

– advertising summit 2006 – P3 training workshops – P3 sponsor cipsa conference
leveraging the new media landscape media marketplace change The recurring theme of the media marketplace is one of uncertainty. The acceleration of technology, convergence of media, relaxation of cross media ownership and 'fast changing' media consumption patterns, all combine to leave advertisers and their media agencies unsure of what the future holds. The changes are unstoppable but timelines of change are often vague. Indeed many of the biggest media owners have stalled and blurred matters, keen to maintain the more favourable 'status quo' for as long as possible.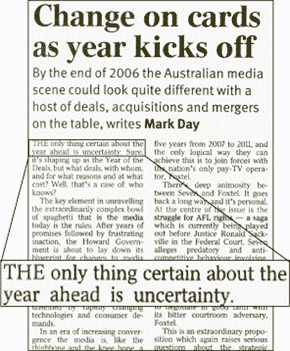 But one thing remains certain, as we move into the digital age and mobile devices offer a range of new delivery formats, the role of traditional media is being severely challenged. The mix and make up of tomorrow's industry will be very different from that of today.
key observations on the new media marketplace 1. Power and control are shifting back to the user, viewer and listener. 2. There is a greater emphasis on the quality of content and the capacity of media to engage their audience. 3. Convergence is blurring and confusing the boundaries between media. Indeed the traditional definitions of media will soon need to be revisited. 4. Younger audiences demonstrate very different media consumption patterns to their predecessors. 5. New technology is a double edged sword for advertisers. On one hand it offers better targeting, greater flexibility and stronger linkage. On the other hand it provides users with the capacity to more easily avoid commercial messages that are not embedded.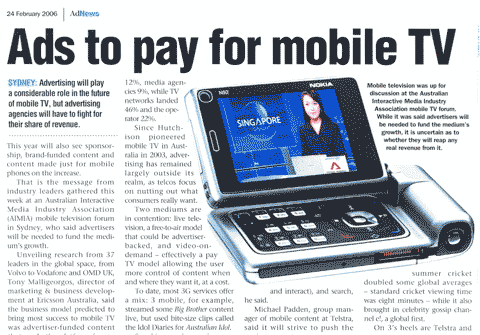 what does all this mean for advertisers? * The capacity to get things wrong has increased enormously * Last years plans need a more thorough review than ever before * Your core target needs to be examined in detail and predictions made on how their media consumption patterns will change.
* There is an opportunity to create some clear space around your advertising by doing things differently to your competitors.
* Those in their category that break new ground first will be best prepared as the market moves inexorably towards a new order. * There is a heightened need for a measurable return on investment for every component of activity.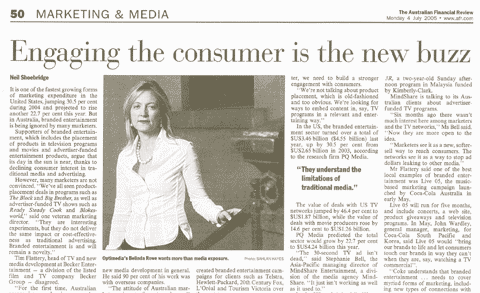 the P3Media Innovation Health-Check P3Media consultant Stephen Wright works with key media owners to predict the shape of the new marketplace. Collating and filtering conflicting views to build a balanced picture. The P3Media Innovation Health Check examines proposed media plans and provides an independent and informed view on how well prepared you are. This picture of change offers advertisers the opportunity to assess their preparedness for the inevitable changes ahead. To find out more about the P3Media Innovation Health Check contact media@p3.com.au or call Sydney 02 9279 4997 or Melbourne 03 9682 6800.
advertising summit 2006

Advertising, Marketing & Media Summit 2006 Australia's Communication Horizon 27th & 28th July 2006 – Langham Hotel, Melbourne

Darren Woolley will be a speaker on: Date: 27th July Time: 12 noon Discussion: 'The Future Agency Model'

Others on the discussion panel include Russel Howcroft, Marty O'Halloran, Andrew Varasdi, Adam Ferrier

For bookings call Elite Media Group on 03 9815 2107 or book online at

https://www.elitemedia.com.au/

P3 training workshops

P3 is well known for the P3TV Production Workshops for Advertisers, but we also hold customised workshops for advertisers throughout the year, on a wide range of topics.

Topics include: Print Production, Strategy Development, TPA Compliance, Creative Management, Relationship Facilitation, Media, DM and PR. For enquiries email georgia@p3.com.au

p3 sponsor cipsa conference

 

The Chartered Institute of Purchasing and Supply Annual Conference Crown Promenade 17, 18 October 2006

Darren Woolley will be Involved in the seminar on 'Buying from Advertising Agencies' – Day 1, 2-3pm

Also see P3 at Booth Number 30

Reserve your place at www.cipsaconferences.com.au
P3 – helping people achieve commercial purpose through creative process
Share this with a friend or colleague by clicking on the link below or add them to the 'p3 news' mailing list, by emailing their details to news@p3.com.au
Check out the new P3 blog at https://www.p3.com.au/blog/