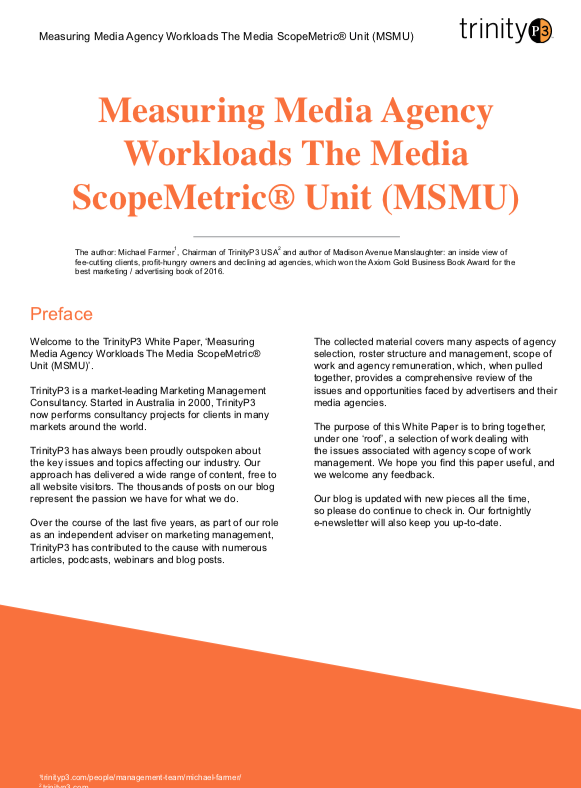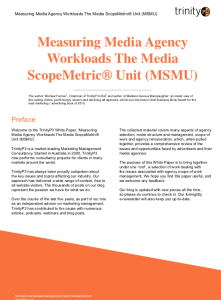 To receive an email link to download this white paper please complete and submit the form below.
TrinityP3 has been carrying out R&D on media agency workloads, resources (FTEs) and fees since 2007. Separately, Farmer & Company was carrying out research on the same issues for creative agencies since 2004. TrinityP3 and Farmer & Company coordinated their efforts to develop a "unit of work" of about the same size for media and creative agencies.
The ScopeMetric® Unit (SMU) for creative agencies was developed first. Farmer & Co researched "how much work is involved for a creative agency to complete a given deliverable in a SOW." Farmer & Co. documented over 4,000 different types of deliverables in creative SOWs. Each unique creative deliverable was assigned a calculated "SMU value" so that the average creative could complete 4.1 SMUs per creative per year. This is explained in Madison Avenue Manslaughter, authored by Michael Farmer. [This productivity value has increased to 5.0 SMUs per creative per year over the past 10 years, and Farmer & Company now uses 5.0 SMUs per creative per year as its normal standard.]
If the average creative completes 5.0 SMUs per head per year, and creatives account for about 40% of the resources in a typical creative agency resource plan, the average agency FTE completes 2.0 SMUs per head per year.
TrinityP3 completed its R&D on media agency SOWs and pegged the Media ScopeMetric® Unit (MSMU) at the same size. Each FTE in a media agency is expected to complete 2.0 MSMUs per year if the agency is appropriately staffed.
MSMUs, though, are not based on deliverables. The MSMU unit of work is based on media spend and complexity in media Scopes of Work, as described below.
Simply fill in your details to download the White Papers.