---

Listen to the challenges facing marketers in an increasingly complex marketplace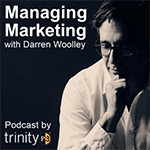 Debbie Morrison is the Director of Consultancy and Best Practice at ISBA, the voice of British Advertisers. She shares her insights on the challenges facing marketers and their procurement partners, and the work ISBA is doing to help their members address these complex issues.
Listen to the Podcast here.
Read the obituary following the secret death of the marketing generalist

There has never been a more interesting, challenging time to be in marketing. As things change in marketing – at varying rates and to varying degrees of course, depending on the category, the company, the market you are looking at, and the volume with which people are shouting about it – it is always useful to look at what isn't changing, and ask why and whether it should.
Click here to read more information. 
Listen and watch how to align your digital marketing to marketing

As the title says, the focus should be on aligning digital marketing funnily enough to marketing, which is the hot topic that everyone is talking about in terms of digital marketing and what its role is. As we say "it's not about digital marketing, it's about aligning digital to marketing".
Click here to read more information.
Read about the death of the customer and consumer marketing divide

There are marketing teams focused on customers and there are others focused on consumers. In consumer goods companies, they are often known as trade marketers and brand marketers. Or B2B and B2C marketers. But has the time come when the two are better aligned than managed separately?
Click here to read more information.
Read about the Death of the IT and Marketing Divide

With CMOs now often spending as much, if not more, on marketing technology compared to their CIO equivalents, we look at the challenges that Marketers (CMOs) and IT Managers (CIOs) are facing due to this technology revolution, and identify the benefits and the ways the two can and should work together.
Click here to read more information.
Smarketing – Its about the Death of the Marketing and Sales Divide

Marketing is marketing and sales is sales, and in many companies the two will never meet. Or never meet collaboratively. But smarketing is how marketers and sales can be aligned to create demand and deliver sales. It makes more sense than the internal battle that currently occurs between the two.
Click here to read more information.
Read about the death of the Data Analytics and Marketing divide

With customer data playing a central role in marketing strategy, it is time for organisations to align their definitions and terminology, establish common language, and then agree protocols for data capture and usage. It is an essential and yet often overlooked step when becoming more data-driven and customer-centric.
Click here to read more information.
Visit us On the Couch with Anton Buchner

Welcome to our fortnightly series of videos called "On the Couch @TrinityP3". In this episode Darren Woolley is on the couch with Anton Buchner, discussing the digital landscape and what this means for marketers today and into the future. It is an opportunity to subscribe to the TrinityP3 YouTube Channel and stay up to date with the latest advice, insights and thinking from APAC's leading marketing management consultants.
Convergence Sydney

Convergence Challenge is an Australia-wide student technology programme and competition that provides opportunities for students across technology, business, design, games, VFX and other media, to team up and use their creativity, passion and knowledge of technology to create applications, products, business solutions and integrate solutions that can change the way we live and work in Australia.
Speakers and panelists see here
Register here
What's Hot
Here are the most read, most shared and most commented on articles from the TrinityP3 blog in the past month:
---