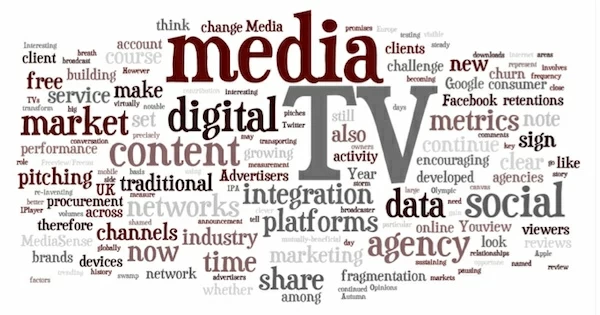 I belong to a group on LinkedIn called Media Minds which is managed by Media Sense International.
They recently published their Quarterly Review of media which included a review of Media in 2010, including this word cloud.
The Review reads:
Media Minds celebrates its first anniversary this week, so it's an opportune time to review the recent trending issues in our Group and to make sense of the events of a year which sprung many surprises.
We were surprised to see "TV" as the main word in our Wordle graphic for this edition of Media Minds Quarterly, but the TV screen has upstaged all other media this year. Its successful ingredients were a gain in display market share; the World Cup; the live election debates; 3D technology; the global phenomenon that is X Factor; and newspaper moguls moving in for Channel 5 and BSkyB.
2010 has also been remarkable for the increasingly close and mutually-beneficial relationship between the "old" media of TV and the "new" media of social networks. As TV re-invents itself across VOD platforms with the help of connected or smart TV sets, the social networks are re-inventing the art of conversation and the water cooler moment. The stream of jokes about X Factor contestants on Facebook, the storm of abuse after England's capitulation against Germany on Twitter demonstrate the natural connectivity between TV and the Web.
Brands have been quick to latch onto the natural symbiosis between TV and social media: Old Spice's Man your Man could Smell Like, Nike's Write the Future, Aviva's Big Picture, Cadburys' Spots and Stripes are great examples of brands exploiting the viral power of consumer networks.
Social gaming has spawned a number of commercially successful models, such as Angry Birds and Plants vs Zombies, which could make the transition into "old" media next year. Social buying site Groupon has grown to 44 million users in 2 years (2.5 million in the UK), confirming social media is the next big thing for retailers.
To see the full report click here.
Or why not join Media Minds by clicking here?
Want more articles like this? Subscribe to our newsletter: