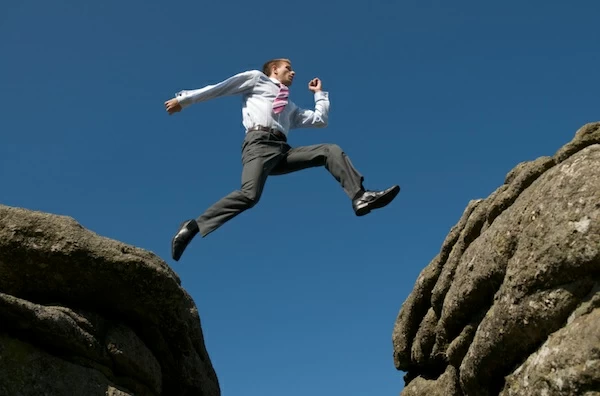 This is a guest post by Stephan Argent – a member of the Marketing FIRST Forum, the global consulting collective co-founded by TrinityP3
When it comes to digital and "traditional" media, clients and agencies seem to have come to a chasm that can best be described as a "Digital Divide".  It's not good for clients. It's not good for agencies.  And worst of all, it's not good for consumers.
What's the digital divide?
Some years ago, we had two types of communication described as "above" and "below" the line.  Then along came the thing called "digital" and we stuck our web designers in a corner and let them build websites and banners thinking they wouldn't do any real damage.  After all, it was just a website, right?
But bit by bit, the bicycle and tattoo department (a quote from a former boss, by the way) started to create a dialogue with the consumer.  Consumers were able to buy stuff.  Send feedback.  Ask questions.  Express opinions.  Choose.  All kinds of typical marketing activities were now in near reach of digital resources.
And so the divide between "traditional" marketing and media, and digital came into view.
For now, let's call it the D-M-Z or Digital Media Zone.
So in the D-M-Z we've got agencies scrambling to deliver online strategies, services, campaigns and solutions and clients screaming for strategies, solutions and campaign executions that address the full 360 perspective of their businesses.  At the same time, client based C suites are questioning their organization's very DNA and trying to figure out whether or how to integrate marketing and digital initiatives, and whether the thing called Facebook belongs in PR or Marketing.
To be honest, it's a shambles.

Nobody's really stepped up to the plate with a cohesive plan to deal with the full range of communication tools that's now on offer.  Very few are providing holistic thought leadership.  And agencies are still dividing and conquering – "Press one for traditional.  Two for digital."  It makes no sense.
As an industry we've got to come up with a far more holistic approach to our marketing, digital and communications needs without creating silos along the way.  And that applies to both agencies and clients.
Clients need to look at more holistic roles that encompass the required communications skill-set.
I would argue the idea of a Chief Digital Officer, by way of example, is already an anachronism.  It was perhaps fine when we were stumbling around trying to create websites, but digital tools, whether we realize it or not, are now firmly entrenched in the role of Marketing.  We need to stop creating leadership digital roles and then leadership marketing roles that create a split in leadership.  Or have one dominate the other. CMO's should now be armed with a deep digital skill-set as well as a full grasp  of how those digital tools can drive the business, generate insights, generate loyalty and generate profit.
Agencies need to step up too.
We need stop dividing out traditional and digital agencies (or department silos within agencies) and step up with a structure that's going to help drive clients' businesses.  Sure, there are agencies that have taken steps to "integrate" but do those agencies have leadership that fundamentally have digital DNA ingrained  in them?
Structural and organizational challenges aside, one of the key business tools agencies have to address is stripping the planning and briefing process back to its wires and creating something that's a truly intelligent encapsulation of how to drive a client's business.   A good example is the summation of the target market outlined in a planning or briefing document.   We'll see demographics and psychographics, perhaps a persona or two and maybe an encapsulation of how we want them to react vs. how they're reacting now.  But it's not enough.  Where's the broader ecosystem of influencers and reference points that help drive those decisions?    How is all that mapped into a strategy that can drive creative solutions across all media?
When I very first started in this business in England, at what was then Lowe & Howard-Spink, the planning and briefing process was masterful.  It needed to be.  Hundreds of hours of development time had gone into creating key questions that enabled breathtaking creative solutions.   But the world's changed.  And that process doesn't work any more.
Companies and clients have glossed over the planning process in a reactive scramble to get a brand presence in online and in social media so they appear digitally savvy with their customers.
Serious mistakes made by not planning before launching a social media campaign are painfully evident, yet many clients still don't want to invest time and money to get it right the first time. Do a quick search on Nestle and baby formula on Facebook to see just how badly wrong social can go if you don't get it right.
Yes, there are some evolutionary versions of the planning process  – but nowhere are there revolutionary versions of it which address the fundamental DNA questions clients  must ask as a matter of urgency.
So here are my top ten suggestions for evolving our business to where it needs to be:  A partnership between client and agency specifically for the purpose of driving that client's business in the digital age:
Clients and agencies:  We need to stop thinking about "Digital" and "Traditional" as two separate entities.  They're the same thing.  Stop creating silos and accept the D-M-Z is where your business is going to thrive if you set it up properly.
Everybody in your C suite, Marketing functions and chosen agency needs to get digital.  If they don't, they need to be educated.  If they can't get there or can't operate effectively in the D-M-Z – you need to switch out for people who can.
Clients need to demand more sophisticated planning and briefing processes.  Agencies need to spend time putting real horsepower into developing those with a view to the end state being a truly 360 D-M-Z solution that encompasses the whole ecosystem.
Feeling Social? If you can't stand the heat, don't go in the kitchen – because you won't get out!  Social strategies need to be planned out so they're integrated into your company's DNA, not bolted on as a marketing nice-to-have.
There's no silver bullet, so avoid the "shiny object syndrome".  The adoption of any new technology as the holy grail of solutions can't exist alone.  If you decide you want to test QR codes in store for example, you've got make sure you've got the technical infrastructure and in-store training to back it up.
One of the keys to driving our business forward is "responsible experimentation".  We're in an industry that's changing so rapidly, both clients and agencies need the elbow room to experiment with solutions and strategies in their own D-M-Zs.  And if the strategy needs adjustment along the way – so be it.
Hire smart Project Managers. Personally, Project Managers drive me nuts.  Always pushing timetables, GAANT charts and booking update meetings.  Regardless of how I might feel during the process, a great project manager is a golden asset in navigating through D-M-Zs and getting your project delivered.
No matter what digital solution you're creating as part of your ongoing marketing initiatives, consider how it fits in to your broader marketing strategy and what its going to take to run, adjust and measure it.
No matter what technologies appear in future, The brand is still king.  Everything you do needs to be focused on the customer and reflect the core attributes of your brand.
Follow the money. I'm not suggesting that every initiative has to have a quantifiable R-O-I off the bat, but I am suggesting that agencies need to do more to focus on the client's bottom line revenue and EBITDA targets.  And clients should expect no less of the agencies they partner with.
Want more articles like this? Subscribe to our newsletter: