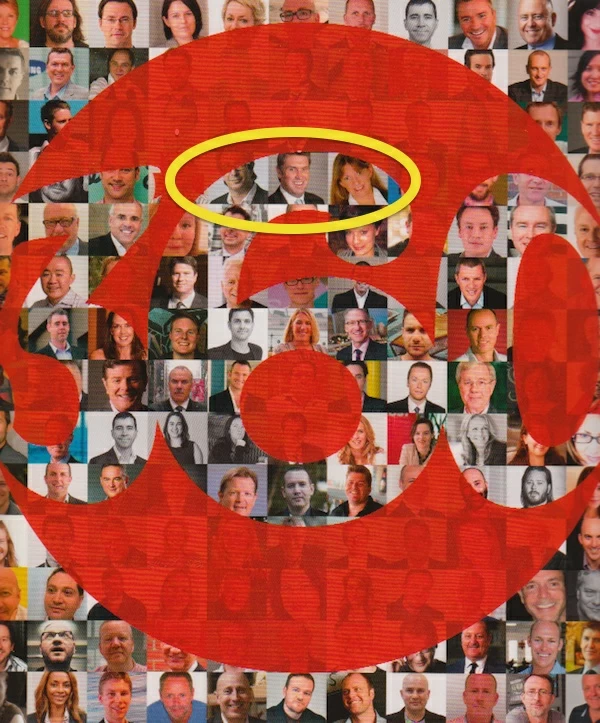 This post is by Denise Shrivell, Founder of MediaScope which offers a growing range of resources & services for marketers, agencies, media owners and advertising sales specialists.
Just after Mumbrella360 last year I first met Darren Woolley over a coffee. 12 months later our photos were on the front cover of the Mumbrella360 conference guide sandwiching David Gyngell as we promoted our State of the Media session where we presented results of a joint industry survey…
The idea for the State of the Media industry survey came about through several conversations where we shared very similar and passionate colleague feedback regarding the ongoing and worsening challenges facing the media trading process.  When such topics appear in the media trades it ignites various opinions, much finger pointing and often many anonymous inflamed responses. Everyone has a view – whether expressed openly or behind closed doors – and the issues seem entrenched industry wide.
In March this year our survey went live where we presented a list of 12 challenges and possible solutions and asked everyone touching the media value chain to rank the proposed challenges from their own unique perspectives. Respondents were also given the opportunity to share their opinions through open comments.
Our aim was to recognise and give a voice to large, small, multinational and independent segments of our deep and diverse industry and find alignment across these multiple stakeholder markets – and of course revive the debate through the slightly provocative question 'Is the media industry all talk and no action?'.
Results of the survey were presented at the Mumbrella360 conference in early June, followed by a panel discussion with representatives from multinational and independent stakeholder sectors – marketer, media agency and media owner/publisher.
Survey results were published through a State of the Media white paper featuring the following top line insights:
Marketers & media agencies are clearly aligned on challenges surrounding cross channel audience measurement and campaign effectiveness.
Media agencies & media owners are aligned on challenges surrounding staff recruitment and retention, this being the number one challenge highlighted by media owners.
Media owners also recognise increasing competition from other media channels and pressure on business models as key challenges.
All stakeholders identify an ongoing disconnect between marketer, agency and media owner with marketers specifically highlighting this as a top issue.
Not surprisingly independent media owners highly rank the challenge – limited scope for outside the square or new opportunities.
Keeping up to date with key market trends in a fast evolving industry was also a key challenge for all stakeholder sectors.
These survey results highlight challenges which are often raised and quite well known in our industry such as the need for cross platform planning & buying, cross platform campaign measurement & attribution – and recruitment, training & retainment.
Slowly some of these challenges are being addressed though progress is slow.  As an example the MFA's (Media Federation of Australia) efforts in the creation of an automated trading hub – particularly for TV, has stalled – but MCN recently announced the launch of their automated PayTV buying platform.  Automated platforms in radio and digital signage channels are emerging overseas and will eventually hit our market.  Digital media is fairly well down the track with their exchange based trading systems – though not without pain points.
However, the many open comments attracted through the survey emphasise the deep-rooted and ongoing frustration felt at all levels of the media trading process and the impact this is having on campaign outcomes and importantly our broader media industry.
"Increasing dysfunction across all parts of media trading results in less than optimum returns for clients & raises questions about the long-term viability of all involved in this process."
This dysfunction was the focus of a very open and honest Mumbrella360 panel discussion where procurement and agency remuneration were recognised as core catalysts to the many challenges raised.

Offering their views in the panel discussion were:
Marketers:
Rob Dingwall – Media & Marketing Operations Manager – Kellogg's Australia
Lynda Pallone – Marketing Services & Integration Manager – Blackmores
Media Agency:
Toby Hack – Managing Director Australia – PHD Media
Chris Mort – Chief Executive Office – TMS Aust
Publisher:
Tony Kendall – Director of Sales – Bauer Media
Zac Zavos – Managing Director – Conversant Media
After the session 2 of the panellists offered their further input…
Chris Mort – CEO of one of Australia's largest independent media agency – TMS  commented – "The issues of remuneration and staff retention have spread through the industry like a plague but over the last 10 years it has certainly accelerated with the rise of procurement departments. I don't believe there are any easy solutions – the situation simply has to be managed as best as possible like any supplier operating in any category. Keep as low a cost base as possible, keep it as flexible as possible, ensure your remuneration arrangements allow for a possible upside and be decisive – don't procrastinate on the tough decisions. However – when it's all said and done – clients hold all the cards as they pay the suppliers and they find themselves under increasing internal pressure to reduce costs. As I said – there are no easy solutions."
Zac Zavos from independent digital media publisher – Conversant Media – publisher of The Roar and Lost @ E Minor commented – "The panel provided an interesting set of opinions. The key takeouts for me were the importance of strong briefs from brand owners. And from a publisher's perspective, understanding the rebate model in which your client agency is working under. Media agency people and processes are significantly constrained and it's unlikely this will change soon. So as media owners we need to work within these constraints."
The many frustrations raised in the survey are clearly symptoms of the top line issues surrounding procurement and remuneration, the resulting squeeze on media agency margins and the flow on effects down the media trading line.  These symptoms include – lack of resources and experienced staff, time pressures resulting in poorly briefed media, unsustainable work hours, staff retention, dealing with an increasingly fragmenting media market, the separation of media and creative, lack of innovation and outside the square campaign recommendations. The list goes on….
Media agencies are now forced to look for other revenue streams with issues also being raised around transparency on rebates and agency trading desks.
There are difficulties within all sectors of the media trading process. Feedback regarding client expectations and understanding of a continually evolving media market were uncovered.  Both large and small media owners are pivoting fast to develop advertising and non-advertising related business models – and establish their position in a continually changing and increasingly complex, competitive marketing environment.
As highlighted in the Mumbrella360 session, clients and marketers "hold all the cards" and until the entire advertising and media function is recognised as an investment rather than a cost these challenges will continue.  Moving the CMO (Chief Marketing Officer) to the board room table has also been signalled as an important step in this process.
After the session many colleagues approached me expressing their opinions and sharing their own experiences.  It's a topic we all have views on as we're all impacted in our day to day professional lives.
So where do we go from here?
Firstly we should recognise it is indeed a wonderful time to be part of a dynamic and exciting industry – it's certainly not dull.  However, there are no straightforward or easy solutions particularly to the larger challenges raised.
To try to alleviate the frustrations and attempt to find some kind of resolution our entire media industry needs to understand and consider the problems.
Through MediaScope, I aim to keep the momentum going by providing an independent and neutral platform with opinions from a broad industry cross section.  I'll also review and highlight products and services which can help alleviate at least some of the symptoms of this dysfunction through the streamlining of trading processes and workflow inefficiencies.
If you'd like to get involved and share your opinion please get in touch. I'm aware we all have livings to earn so I can offer a platform for sensitive anonymous comments – as long as they're expressed rationally.
To follow the ongoing debate please subscribe to MediaScope's weekly newsletter here.  You can also access a copy of the State of the Media whitepaper by emailing me – denise@mediascope.com.au
However – as Darren mentioned at the end of our session 'it starts at the grassroots'. What one thing can you do today to help improve our industry and address at least some of these challenges?
I'll continue to have a go and do my part to ensure this time next year we'll be having a different conversation – not with all the solutions but a conversation based on a better understanding of the challenges.
And finally, if given the opportunity again – I wonder who Darren and I will be sandwiching on the cover of next year's Mumbrella360 conference guide…
Want more articles like this? Subscribe to our newsletter: