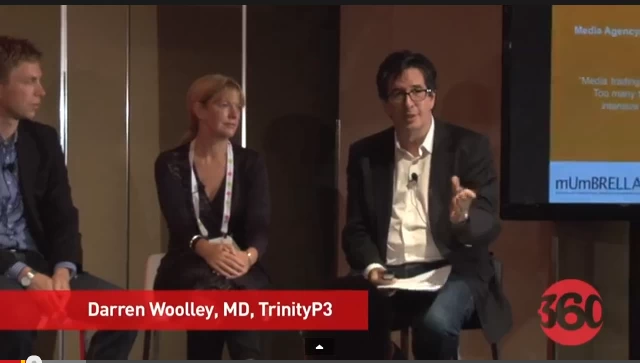 This post is by Darren Woolley, Founder of TrinityP3. With his background as analytical scientist and creative problem solver, Darren brings unique insights and learnings to the marketing process. He is considered a global thought leader on agency remuneration, search and selection and relationship optimisation.
At Mumbrella 360 last year, Denise Shrivell, managing director of MediaScope and I, Darren Woolley, managing director TrinityP3 convened a panel including Lynda Pallone, marketing services and integration manager for Blackmores, Rob Dingwall, media and marketing operations, Kellogg's, Toby Hack, MD, PhD Australia, Chris Mort, CEO TMS Australia, Tony Kendall, director of sales, Bauer Media Group and Zac Zavos, co-founder and managing director, Conversant Media, to discuss the issues that arose from the industry research we had undertaken.
The video of the session, filmed by Mumbrella, has just been posted on YouTube. Here are the three parts from that session.
Part 1: Key insights from the results
In this first part we established the purpose of the research and outlined some of the key insights from the results. One of the key insights discussed is the disconnection between the three key stakeholders being marketers, media agencies and the media owners. Then the discussion moves on to the topic of staff retention and training and the challenges and importance of getting this right. (Duration – 14:58)
Part 2: The challenges of fragmentation and greater complexity
In this part the discussion moves on to the impact of programmatic buying, the automation of the trading process. What are the benefits and what are the issues and how will we define the media agency of the future. This is just a small part of the many changes being driven by technology, with greater fragmentation and greater complexity a challenge for all stakeholders.   (Duration – 11:25)


Part 3: Procurement and value in the media category
In this final part the panel opened up to questions from the floor and there was a rigorous discussion about the impact of procurement on the media buying process and a discussion about where the value lies within the media category. The session moved on to the question of media rebates and the issue of transparency and ultimately the importance of trust.  (Duration – 8:54)
The summary of this research and Denise Shrivell's report on the Mumbrella 360 session can be read here.
I hope you enjoyed the session, the discussion and the videos.
Let us know if you think we should revisit the research and the panel session this year at Mumbrella 360 by leaving a comment here.
Want more articles like this? Subscribe to our newsletter: