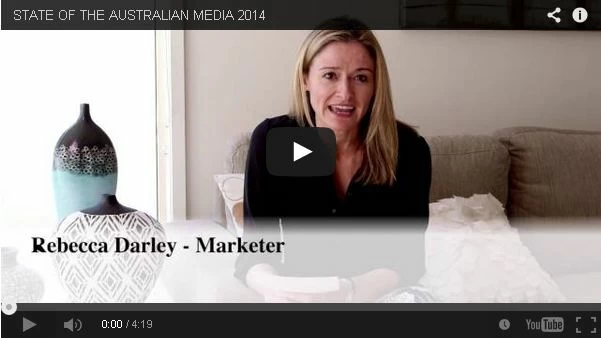 This post is by Darren Woolley, Founder of TrinityP3. With his background as analytical scientist and creative problem solver, Darren brings unique insights and learnings to the marketing process. He is considered a global thought leader on agency remuneration, search and selection and relationship optimisation.
Last week at the Mumbrella360 event in Sydney we presented the findings of the 'State of the Media' research undertaken by MediaScope and TrinityP3. The top line of the results is available here on Mumbrella. Or a copy of the findings can be obtained by emailing Denise Shrivell at denise@mediascope.com.au
We decided as part of the session we would illicit responses to some of the commentary provided during the survey. For this we extracted some of the more controversial, negative and derisive comments made across the three groups of marketers, media and agencies and media sales / media owners.
The style of the video was inspired by Jimmy Kimmel's "Celebrities Read Mean Tweets About Themselves" with local media industry celebrities including Marketer Rebecca Darley, Ten Network's Kylie Rogers, IKON's James Greet, PHD's Toby Hack, GroupM's Greg Graham, Mediabrands' Henry Tajer and Procurement Lead Dirk Correll.
Some of the commentary on the day of the conference and since has suggested that the video is overly negative, but this was deliberate in structure to provide the discussion. The truth is there have been improvements reflected in the survey results. But there are also new issues arising this year over last year.
I think overall the best response is a comment made by panelist Andrew Lamb who wrote on Mumbrella "The negative sentiment is there, but it probably is representative of a small % of what is going on. For the most part, we collectively are doing a good job. Can we all do better? Of course. But sometimes the small negatives overshadow the large positives".
But more importantly is what the industry thinks. MediaScope and TrinityP3 are planning to run the survey again in March 2015. We hope you will add your voice to the on-going conversation. In the meantime I would love to have your reaction to the video and the media industry here.
Transcript:
GRAPHIC: State of the Australian Media 2014
Fees and margin pressure concerns continue
James: I don't trust my media agency as much as I should. I simply do not know how they make their money. Well, you should trust your agency as much as you care to. And you should know how they make their money.
Dirk: The increasingly higher expectations from clients demanding quality, quantity and results in less time with less remuneration with a constant threat, "oh well if you don't want to do it, we can find someone that will". Well we can, and look, the eighties are over.
Toby: Media agencies, business models are bankrupt. Business is underwritten by rebates and OMI.
I think that any media agency which business is underwritten by rebates and OMI should be bankrupt.
GRAPHIC: With growing concern over how agencies make their money
James: Days are the middle man taking massive margins should be behind us, yet, those trading desks still get away with it. All placed to the point of whether or not people are doing a fair job and getting paid a fair, reasonable margin for it doesn't it, really?
GRAPHIC: And under deliver in their performance
Greg: Agencies are typically reactive in media development but proactive in margin protection. Why wouldn't we be? However, that may hinder innovation and further accelerate commoditisation of audiences. You bought in procurements, you sowed the rush to the bottom, what do you expect?
Rebecca: Agency margins. There's not enough being generated. This effects the quality of work and the quality of staff. Marketers out there manage your procurement teams. That's all I've got to say on that one.
Toby: I get the impression that they're more focused on getting campaigns out the door as opposed to providing the best solutions to their clients. Holy depressing thing to read.
GRAPHIC: These problems made worse by a lack of collaboration
James: Stop keeping the client away from the media owner. Stay out there.
Rebecca: Advertisers should be more open to meeting media owners and tech solutions directly. This one hurts. There are so many of us marketers who are so keen to work with you to find a fantastic solution. Call us, work with the good ones, let's get involved together and find great solutions.
GRAPHIC: It is clear there is something wrong, but what?
Greg: People are busy. Some planners book the same media to save time. That is not always in the best interest of their clients. Look, that's pretty fair.
Toby: For the vast majority of media agency staff, I think there is a lack of real understanding of their own client's business, the audiences they're trying to reach and what they are trying to achieve. Well I think that's bullocks.
GRAPHIC: The real challenge is still how to measure and how to value media
Rebecca: Knowledge equals empowerment. There's simply too many marketing managers seduced by the idea that measurables like clicks are the only media spend that offers value. Wow. Measurability has its place, we all get that, but let's be striving together to create really incredible brands.
Dirk: Marketers and bean counters need to better appreciate the benefits that each media brings rather than simply seeing it as a cost. Well, it is a cost.
GRAPHIC: With a continued perception of under-performance at all levels
Henry: On the whole, I don't believe media agencies are doing a good enough job educating their clients on digital channels and mobile. What the (beep) do they think this is, high school?
Kylie: We need to be in television to achieve our objectives and what annoys me greatly is the free to air product is terrible other than the ABC where obviously, we can't be. Wow, what a dumb comment.
Rebecca: The calibre of many clients true marketers has diminished badly over the years and this has amplified the problem of margin pressure and staff retention. This is all of our responsibility. As marketers we've got to step up. As media agencies and owners, you guys have got to be pushing us. Don't roll over and accept yes for an answer.
GRAPHIC: So what can we as an industry do about it?
Director: Phil RichProduction Company: 2Feet Films
Want more articles like this? Subscribe to our newsletter: