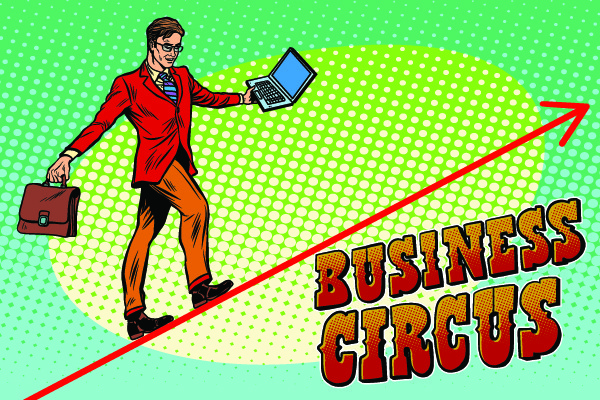 This post is by Stephan Argent, President of Agency Search and Media Management Consultancy Le Riche Argent and a member of the Marketing FIRST Forum, the global consulting collective co-founded by TrinityP3
Unless you've been hiding under a very large rock, you'll have noticed we've got a three-ring circus going on in Ad Land that's been casting a very dark shadow for way too long.
Merriam-Webster's definition of a three-ring circus is:
A circus with simultaneous performances in three rings
Something wild, confusing, engrossing, or entertaining
Well, it is a simultaneous performance of money, agencies, and clients. It's wild, confusing and engrossing, but very far from entertaining. In fact, I'd classify it as downright bloody dangerous because it's creating a chasm of mistrust that's distracting everyone from focusing on what they should be doing, and both marketers and agencies are at boiling point.
Make no mistake, everyone's at risk here. Some agencies' future and very survival are at stake, while clients are at risk of squeezing the life out of the whole advertising industry – their own teams included – in their quest to lower costs and drive increased profits.
And while many have tried to manage the financial fallout, the brightest minds in our business still haven't succeeded in creating a new financial model that everyone can stand behind.
So what the hell's going on? Well, let's see what's under the circus tent:
Ring number one – Money
Or, if you prefer, the contortion act and tigers. It's a 'contortion act' because money has to be budgeted and dispensed under extreme scrutiny and pressure, and 'tigers' because well, they're on the extinction list.
Whichever way you look at it, money is the big act and evidence of pressure is everywhere you look.  For example:
It's quite an act. But meanwhile in…
Ring number two – Agencies
Here I'd suggest we've got clowns, elephants and lion taming because not all agencies in ring number two are created equal. But before anyone gets bent out of shape, let's bring in the clowns:
Two clowns come to mind in particular, Arthur and Marcel.
It's a not so hilarious act that essentially sounds like cancelling Christmas to buy daddy a new car and completely misses the point. The point – which is where the other holding company clowns come in – is the tone deafness of spending millions of dollars in travel, award entries and renting absurdly expensive yachts at Cannes under the guise of 'creativity' and then crying wolf they're not making any money.
Coulrophobia aside, we've also got trumpeting elephants assuring us there's absolute and complete transparency in their holding company's digital media advertising platforms. Yeesh. Come on people, there's more smoke billowing out from this one than Donald Trump's White House clowns telling us there was no election collusion with Russia.
To complete the act, we've got the lion tamers who may or may not be recovering enough profit from working on their client's business and are working feverishly to keep their clients happy and secured.
Ring number three – Marketers
And to round things out, we've got juggling, knife throwing and fire breathing acts in ring number three.
With seemingly endless budget reallocation and cutting, combined with more frequent CMO turnover, marketers are invariably doing a juggling act to keep everything going.
But not all clients are blameless in this circus. Whether you want to call them knife throwers or fire breathers, pressure to reduce costs has caused some short-sighted behaviour (never a good trait among knife throwers…) that may cut costs in the short-term, but always reduces value in the long-term.
One such act involves clients who just expect their agencies to do more either for the same amount, less or (worse still) – for free. The other involves a blindfold where procurement teams are sent to evaluate, negotiate or renegotiate costs and contracts without being fully briefed on what their organisations determine to constitute 'value'.
And let's not forget the fire breathers, those clients who view their agencies as banks and set payment terms at 120 – even 180 days – and then wonder why their agencies become 'difficult' to deal with.
So where's the ringmaster to bring some order to all this circus chaos?
While some might argue the ringmasters are the clients because they're ultimately in charge of the money and their agencies, I would argue that if they are indeed ringmasters, they can't lead with the whole ball of wax sitting on this financial sinkhole.
The only way to bring some order to the chaos is a multi-tiered approach that involves the entire C Suite – not just CMOs – and some fresh thinking among the agency holding companies. In particular I would suggest:
C-Suite shake-up. Beleaguered CMOs need a stronger voice at the boardroom table with CEO's providing greater support and financial tolerance when things get tough.
Media transparency fire. The media transparency fire needs to be acknowledged and eliminated. Without it, the uncertainty of mistrust will continue to hamper efforts for marketers to believe anything they're being told when it comes media and money.
Digital Media Regulation. As if the point needed to be underlined, digital media requires regulation to ensure holding companies and their agencies play by a defined rulebook.
Fair value. Marketers need to recognise or be coached on the concept of fair value for their agencies. 'Stuff for free' or 'more for less' isn't a sustainable strategy and agencies must be able to make a fair profit. And that includes daft payment terms.
Marketing and procurement. Marketing and procurement teams need to agree and be incentivised on what constitutes as best value for their organisations and to accept that it's never just 'lowest price'.
Compensation re-engineering. A series of alternative agency compensation models need to be explored and drafted into new contracts that meet both advertiser and agency needs.
The answer to this financial circus and agency compensation conundrum isn't dependent on the agency, the holding company or marketers in isolation. It requires everyone to acknowledge marketing budgets have always been – and are always going to be – something of a contortion act and to implement constructive strategies manage around it.
Unscrupulous business practices or unrealistic expectations aren't acceptable (or workable) solutions and everyone needs to accept that no matter how crazy this business might get, they're just not part of a circus act anyone wants to see.
This post was originally published by Le Riche Argent.
See how TrinityP3 can optimise your agency productivity and performance 
Want more articles like this? Subscribe to our newsletter: