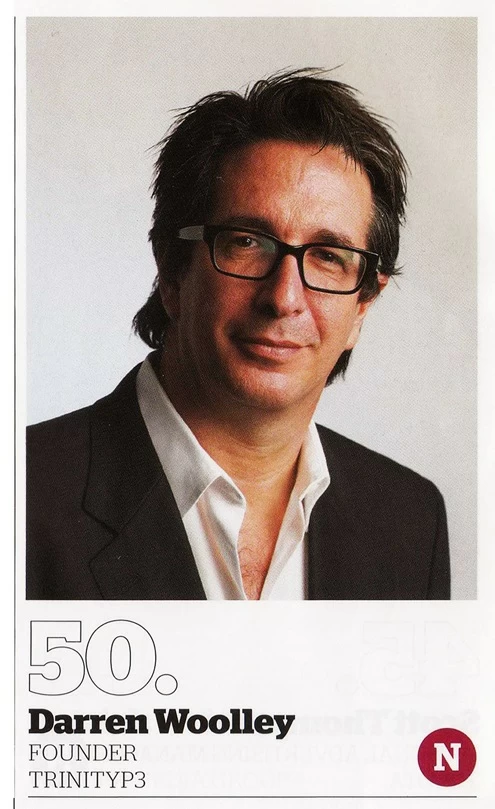 On August 12, marketing and advertising trade magazine, AdNews, published their Power 50 naming the 50 most powerful and influential people in Australian media, marketing and advertising.
Since its inception in 2006, Darren Woolley, Founder of TrinityP3 Strategic Marketing Consultants has consistently been named in the Power 50.
AdNews referred to Woolley as the "Mr Wolf" of the marcomms industry in reference to the cult-classic film Pulp Fiction, where a cool, calm and collected Winston "The Wolf" Wolfe (played by Harvey Keitel) is the man they call to consult on the situation, direct the clean-up, and generally save the day.
It is a reputation which AdNews points out has seen TrinityP3 "consult and negotiate on more than $500 million in media and creative agency contracts, over $2 billlion in marketing expenditure, and reviewed over $100 million in production spend" in the past financial year and "work with scores of the world's top advertisers – including Lion Nathan, Diageo, IAG, Singtel Optus, Vodafone and McDonald's".
AdNews sums up Woolley's place in the Power 50 by saying "If there is a pitch process underway or a marketing department in trouble, there is a very good chance that Woolley has been called in to save the day".
The AdNews Power 50 in alphabetical order:
Peter Boone
Paul Borrud
Mark Buckman
Kurt Burnette
Coles
Mike Connaghan
Senator Stephen Conroy
Patrick Delaney
Andrew Demetriou
Tom Dery
Damian Eales
Mark Fennessy
Anthony Fitzgerald
Richard Freudenstein
Andrew Gordon
David Gyngell
John Hartigan
Rhys Holleran
Peter Horgan
Greg Hywood
Tony Kendall
David Leckie
Nick Leeder
Rohan Lund
Jack Matthews
James McGrath
Siobhan McKenna
Harold Mitchell
Rob Morgan
Lachlan Murdoch
Helen Nash
David Nobay
Marty O'Halloran
James Packer
Katie Page and Gerry Harvey
James Parkinson
Mark Reinke
Mark Scott
John Sintras
John Steedman
Kerry Stokes
Ryan Stokes
Henry Tajer
Scott Thompson
James Warburton
Scott Whybin
Kim Williams
Peter Wiltshire
Darren Woolley
Woolworths
Want more articles like this? Subscribe to our newsletter: