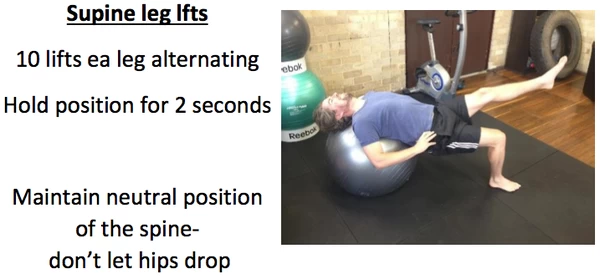 This post is by Anton Buchner, a senior consultant with TrinityP3. Anton is a lateral and innovative thinker with a passion for refocusing business teams and strategies; creating visionary, data driven communication plans; and making sense of a more complex digital marketing environment.
For those that normally follow my posts (thanks Mum), you'll know that I focus on making sense of data, customer engagement, digital and social advocacy marketing in the context of – hello hello – the real world that we humans live in.
I tend to follow a typical format. A creative opening of sorts (that's sewn through the post), an outline of key challenges facing marketers in today's ever-changing communications landscape, and then tips, hints and ideas to help solve them.
However for this post, I'd like to mix things up a little, and tell a very short story.
So if you're interested, please read on.
I experienced a lower back problem on the penultimate day of 2013. Now if you've experienced lower back pain, you'll know that virtually every movement of your body centres through your lower back. And heaven help you if you sneeze! For those that haven't, hopefully you get the picture. It's debilitating, frustrating and in my historical experience, slow to solve.
However this time I discovered a Kiwi Physio, called Dean, not that being of New Zealand origin has any bearing on this story.
He's located in the old Biggest Loser compound in the serene North Head Sanctuary above Manly Beach. He was a breath of fresh air when it comes to physio experiences as I've seen many over the decades due to an ongoing niggling back problem.
It was a one-on-one consultation with no others lying on beds next to me sapping my consultation time. There were no machines to take up half the consultation time while you wait for the physio to see other patients. And Dean believed in a non-rushed, hands on appointment to pinpoint the problem area and then identify the impacting body physiology.
In short, he delivered a focused, solutions-based service.

Fast forward a week and a half later, and after 2 visits my back pain was virtually gone. I was doing daily exercises on a Swiss ball, and am now a big fan of pilates to strengthen my core.
Ohh ah – a strong core. I sound so Zen-like. However take it from me, Bandaid solutions, machines and ongoing physio visits are simply masking the real problem.
The point of this post is not to expose the physiotherapy industry, as I'm sure different physios work for different people. However I do want to highlight the simple fact, that when you focus on a challenge, and really pinpoint the issue based on an insight, then you have the platform to rebuild a solution.
Then, and only then, will the solution be sustainable and have a long lasting impact.
So what's the moral of my story?
Anyone trying to jib customers with a short term quick business win, or dupe prospects into switching brands based on falsehoods, obviously runs the risk of opening up a can of negativity. Especially given the speed to market with social media channels.
However why manage negativity? Wouldn't you rather get on the front foot and create a world of positivity and true brand happiness for your customers?
To do so, you will need specialist communications agencies. And you most likely have a large roster of agencies that your organization uses for different solutions.
Are you working effectively with your multitude of agencies to truly differentiate and spark sales growth? Or are you simply running from agency to agency trying to create Bandaid solutions?
Please ask yourself one question:
Are you getting a focused solution?
And if the answer is no, then you may need independent assistance to help align your strategic suppliers, assess &/or rationalize your roster, and score the performance of service partners. TrinityP3 has worked with a multitude of clients over the past 12 months including Arnotts, ANZ, Ebay, Honda, McDonalds, Nestle, Suncorp, Volkswagon, Woolworths and many more.
So, taking a leaf out of Dean's book, we'd love to spend some one-on-one time with you to focus on pinpointing the real causes of marketing frustration. There is always a solution. And sometimes it takes an external eye to help you solve it.
Want more articles like this? Subscribe to our newsletter: