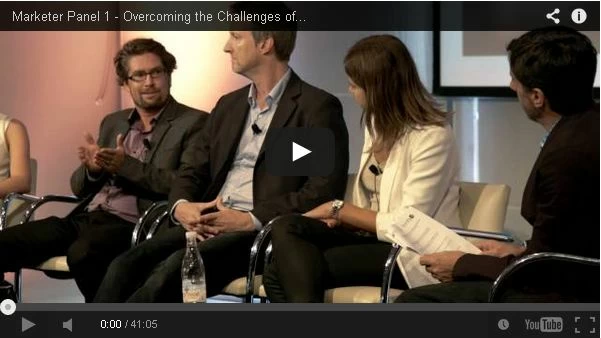 This post is by Darren Woolley, Founder of TrinityP3. With his background as analytical scientist and creative problem solver, Darren brings unique insights and learnings to the marketing process. He is considered a global thought leader on agency remuneration, search and selection and relationship optimisation.
This is the first of a series of posts based on the transcript from the video – How to overcome the challenges of content marketing – from the May 2014 seminar, How to be an Effective Content Marketer.
With the recent explosion of interest in content marketing, many marketers are rushing to embark on projects without adequately preparing for the very real challenges that content marketing poses.

From organisational buy-in and resourcing issues through to technology roadblocks, the average marketer faces a number of challenges when establishing an effective content marketing approach.
Featuring a number of brand marketers who have established successful content marketing processes, this panel will discuss the challenges associated with content marketing and share strategies to overcome them.
MC:
Featured panellists:
Introducing the panel
Ed:
Okay so what I would like to do now is to invite the panel up onto the stage.  Okay, I would like to introduce these guys one by one and if we can start off with Luana.
Luana is Senior Manager for Strategic Marketing Legal Tax and Accounting at Thomson Reuters. So Luana did you want to just kind of give us a bit of an intro into what you do and the type of content marketing that you might've done?
Luana:
Yeah absolutely Ed. So as Ed just mentioned, I've been at Thomson Reuters for six years and what we do, we provide information, information services to legal and taxing accounting professionals which you know, it's a challenge in itself when you think about marketing and in the past couple of years we've been really tasked as a marketing department to transform the way that we approach our goal market and the way that we have conversations with our customers and one of the big journeys and the big transformators in that piece is content marketing. So, we've embarked on that journey.
It's been one year and it's really been a fun ride. We launched a content platform, a website to house our content to fuel the strategy insight last year in October and we're now kind of you know, seeing how it goes for us.
Ed:
Good, I'm sure we'll get into some of that detail in a second. Todd, do you want to take over?
Todd:
Yeah. Todd Wheatland. I have been until today the Head of Thought Leadership at Kelly Services which is a Fortune 500 staffing and HR services organisation. We really started running into content very heavily about four, nearly five years ago and I guess a lot of big companies struggled to get moving.
One of the techniques that we used and a lot of others do is, choose a segment of the business to really run as a pilot to get some internal buy-in justification before then backing in and really re-engineering the whole marketing organisation so I feel that we really have made a significant cultural change around the way we go to market as a company now.
Ed:
Okay, cool. Anton.
Anton:
G'day, I'm Anton Buchner, I know a few faces in the crowd. For those that don't know me, I've been twenty years in content marketing, I'm going to say it from a direct marketing point of view so any direct marketers in the house today? Fantastic. Only two, three of us.
So you're all fighting young which is good but to Ed's point, that was very push marketing. Direct marketing in the old days of magazines I helped launch Foxtel into Australia. It was publishing magazines and pushing at people.
So more recently, the last ten years has been more about this push/pull and engagement. So I work with TrinityP3 on helping set strategic platforms for content marketers. I'll talk about this later about matching it to business objectives.
I think Oreo is a great example of content marketing. It drove sales so it's a business objective. But I've worked B2B, B2C, American Express, Enrouge, Procter and Gamble's beauty platform, talking to the girls in the audience, all about making content more engaging for target audiences.
Ed:
Cool. Skye.
Skye:
Hi. My name's Skye Murray, I work for Robert Half which is a global recruitment firm. I've been there for nine years in various capacities within marketing and PR. But I guess involvement in content marketing has probably been since the day I started but it's obviously evolved a lot during that time.
It started with thought leadership pieces such as salary guides or white papers but it's really transformed into so much more from podcasts, videos, to the way I guess, people like to consume content.
And I guess my main focus at the moment, I look after the social media program but also we launched a blog back in September last year so that's been our kind of new transition to the new media landscape.
Why don't marketers have a content marketing strategy?
Ed:
The thing that strikes me is quite worrying in a way. So many people claim to be spending on content marketing but they don't have strategies. What's behind that? Why don't people have a content marketing strategy? Is it all too new? Are we still in transition stage or what?
Luana:
I think so. It's too new so if you're experimenting with it, they know that they have to get to it and it's a compelling proposition because it's about owning the conversation.
It's about this idea of you know brand journalism and not really needing other channels to be saying what you want to say. But then you experiment with it and you don't really have a formal approach.
So I think it'll come with time but it's extremely important. I couldn't stress more the importance of having a strategy in the mix 'cause otherwise it's what you were saying before, it's tactical, not strategic.
Ed:
Interesting to do a poll, show of hands. So for marketers in the room or for the agency folk who represent brands, who has a formal content marketing strategy? I'd say that's about 3 or so percent.
Todd:
2%.
Ed:
Yeah. Any other perspectives on lack of strategy?
Anton:
Yeah, I might jump in. I agree. I have a different perspective. I think we're far too siloed. So I don't know who's in big business here versus small business, but if you look in big business, certainly in Australia and globally, we're so siloed.
So content marketing really came through either the publishing arm which used to be the old magazine publishing arm of the company, or probably more recently it's through the social media or digital division.
If you look at big businesses, you've got a social team, you've got a digital team, you've got a traditional marketing team, you've got research, data, metrics, etc and there's not a lot of cross fertilisation we've seen in management.
A probably gets it to your point, and B really has a KPI of coming together with each of the silos.
Do you need a content marketing strategy or should you just have an engagement strategy?
Ed:
Do you need a content marketing strategy or should you just have an engagement strategy? I mean, to your point about being siloed, is that becoming more siloed?
Anton:
Yeah I think they're different. I think you made a good point that engagement for me certainly isn't metric. In digital you can interact therefore you can engage, therefore you can measure.
If content's a thing, if content is a picture, text, video, a thing, that's what I think content is, it's sent through a social app or platform or through an email or through a video sharing platform like YouTube.
Look out for Part two of this series where the panel will look at some of the difficult questions posed by content marketing.
Video production by Hunting With Pixels 
Want more articles like this? Subscribe to our newsletter: