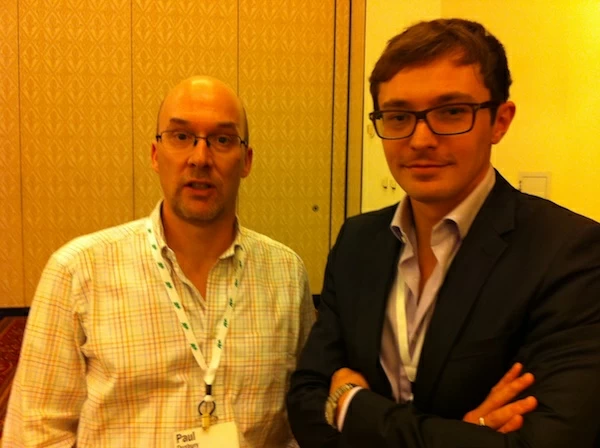 The pre-conference session kicked off with a presentation on the "maturation of marketing procurement" detailed in a session presented by Steve Lightfoot from the WFA and Paul Duxbury from SPIRE Worldwide.
Through research and case studies developed between the WFA and SPIRE they have identified four stages of Procurement developing in the marketing category.
Balanced Traditional
Success Through External Partnerships
Seamless Integration
Balanced Emerging
The stage a direct procurement team sits within an organisation depends on the two main critial success factors:
Sourcing capabilities
Organisational readiness
With four main performance drivers and more than 40 sub-drivers, they are able to identify the developmental maturation of the marketing procurement function within an organisation and compare this with the ideal and industry best practice.
The bottom line of the presentation is that in the marketing category, direct procurement is becoming more sophisticated and more developed, especially amongst the larger global advertisers. But in the process they are moving from the traditional balance of cost reduction to a more balanced approach across the four performance pillars being:
Integrated streamlined marketing process
Money / budget management
Supplier and roster selection and management
Continuous learning and improvement
Interesting findings from the research were:
The more mature, therefore the more the organisation had moved from Balanced Traditional to Balanced Emerging:
the more time procurement had been engaged (5 years +)
the larger the marketing budget ($3 bill +)
the more of the marketing budget was under procurement management (75%) and
the more centralised the management of the marketing budget.
Interestingly on the percentage of marketing budget under procurement management, this also varied by region with EMEA 70% – 80%, while the merging markets in APAC and LaTam were only 40% – 60%.
Having said that, the WFA found that 45% of their members with business in China and APAC had direct procurement managing marketing expenditure in the region.

The ANA Marketing Financial Management Conference is the only event of its kind. It brings together top marketing finance and procurement professionals from the client side with agency CFOs and other key industry stakeholders interested in efficiencies, cost savings, return on investment, and delivering greater value to organizations.
This post also appeared in AdNews
Want more articles like this? Subscribe to our newsletter: