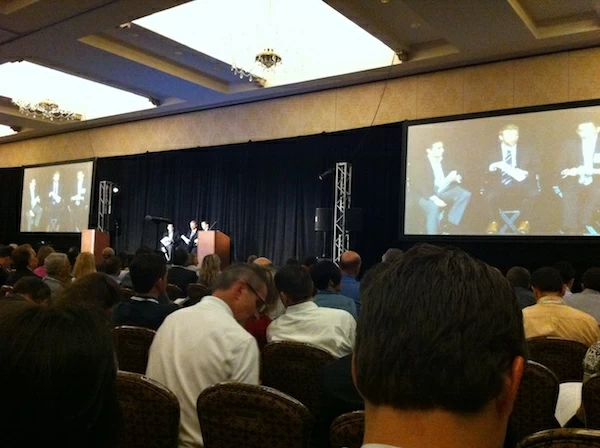 Global growth will continue to be patchy, so how do we maximise the opportunities.
Today was about obtaining a view of the world from four very different perspectives:
The economists laid the base of awareness that while there is growth in the global markets, this growth is patchy and unpredictable, with surprising figures showing that markets like the Middle East and Turkey are positioned for growth along with the traditional BRIC markets. This was based on population size and profile, government policy and regulations and media, technology and entertainment spend.
So against this background the next three speakers had more in common than differences:
All talked about the importance of optimising growth and yield over shorter term cost cutting
All reiterated the importance of metrics in not just measuring success, but to optimise performance
All spoke about the importance of integration, not just across marketing strategy, but within teams with finance, procurement and marketing needing to be aligned and then aligning their agencies and suppliers.
Interestingly all mentioned that to achieve this they recommended moving back to consolidating the number of agencies as a way of achieving this alignment and the associated collaboration.

Recent reports from the US have suggested that this is a trend as marketers find it increasingly difficult managing multiple agencies with recent appointments by Bank of America, Pepsi, MillerCoors, General Motors and Sprint.
The real difference between the various perspectives was in the focus on this change and approach.
The CPO focus, understandably was about achieving increased performance by building stronger business partnerships and strategic relationships, defining success, ensuring contract adherence, evaluating performance and aligning incentives.
The CMO was more focused on achieving alignment and maximising performance across the multiple media channels including bought, owned and earned and monitoring this activity and informing the strategy through marketing metrics and financial performance.
While the Agency CEO, talking largely to the finance and procurement audience, was focusing an positioning agencies as the junior partners, not the domestic servants to marketing and the business with a focus on leveraging the talent at their disposal to maximise the value of their client.
But through the whole day, the most surprising disclosure was from Martin Sorrell who in the Q&A session following his presentation candidly shared that within WPP the deeper you go into the company the more excited people are to be working collaboratively across the various companies within the network, but at the higher levels of management there are more silos and turf wars due to the structure of the organisation and that this is a challenge that he is addressing.
This post also appeared in AdNews.
Want more articles like this? Subscribe to our newsletter: